BookBuzzr author Bobbie Ann Cole's eBook She Does Not Fear the Snow recently hit #3 spot on the Amazon in Religion & Spirituality category. We reached out to Bobbie to learn more about her.
The screenshot below was taken on November 30, 2015.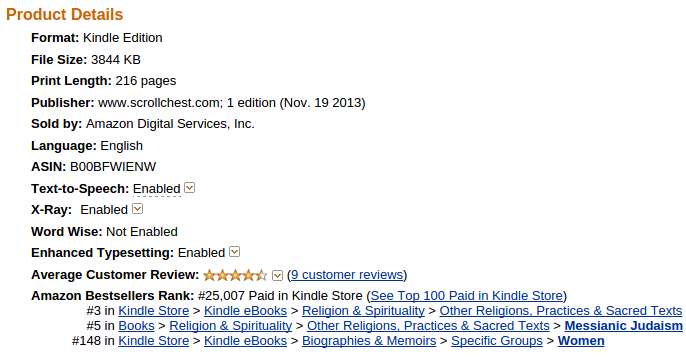 1. Hi Bobbie, thank you for joining us. Would you tell us a little about yourself?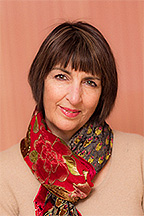 I'm very pleased to have been invited. Thank you. I am a writer, speaker and teacher of creative writing. My main genres are memoir and investigative journalism, although I also love to write fiction. My primary topics so far have been faith and Bible-based. However, I am currently working on a book about the Irish War of Independence in 1921. This is a true story that points up the emotions and feelings of people of both sides, the "rebels" and a pair of British newlyweds, who find themselves thrown together in a remote part of Ireland.
2. Your latest book, 'Love Triangles, Discovering Jesus the Jew in Today's Israel', is a sequel. Would you share a gist of your first book and how it leads up to this one?
She Does Not Fear the Snow is my coming to faith story that echoes the story of Ruth in the Bible. She came into the Land of Israel broken, declared her faith and was blessed with a new husband of faith. Following cancer, the failure of my long-term marriage and of my business, I also came into Israel broken, looking for something—some meaning and purpose. As a Jew, I never expected to find this in a church. However, reluctantly attending a church service with my Christian travelling companion changed everything for me and led to my meeting and marrying my own Boaz, Butch, from Canada.
A year after our marriage we went to live in Israel. Love Triangles is the story of the joys and challenges of living as a Jew who believes in Jesus in the Jewish homeland.
3. What are some of the activities that you have done to promote and market your books?
One of the things that I find works best is to focus on an event such as a free Kindle giveaway weekend. It may seem counter-intuitive to encourage book sales by giving one's book away but this can really create quite a buzz and certainly gives you something to say on social media as your book climbs the Amazon charts. There are many sites that will help promote your giveaway to avid Kindle readers and it's important to list with as many of these as possible. Some are free but many require a donation of $5 or more.
Another very useful tool that I intend to exploit more thoroughly going forward is guest posting. Rather than linking to the book, it is helpful to link to a free opt-in incentive and try to grow your list of followers. My incentive is called The Israel Jesus Loved, a Pictorial Guide (www.jesus-ebook.com).
4. What is the most important lesson writing has taught you, professional & personal?
Becoming a really truly author is a long-haul plan. I would compare the vision that has sustained me to that I had of myself as a horse-rider. I really wanted to get good at that and I needed to keep the vision before me through fear and generally being useless at it, which wasn't fun, but I was determined and I persevered.
The big difference with horse riding is that I knew when I was bad at it but I couldn't, at the start, understand why my early masterpiece manuscripts were lambasted or rejected.
Irrespective of this, published or unpublished, you can totally lose yourself in writing and go to a wonderful place of complete immersion, so that, irrespective of the quality of what you turn out as you're learning how to be a good writer, your experience can be profound.
5. When you are not writing, what do you do? What are some of your favourite ways to relax?
My favourites are walking and cooking. I enjoy cooking Mediterranean dishes and trying out what I call Bible recipes. I recently wrote a blog post speculating on the Bible food Jesus ate: http://testimonytrain.com/Biblefood.
I love to walk in the countryside and enjoy God's Creation. You will find me out in most weathers.
I enjoy movies and, of course, I read a lot, too, currently about Ireland and the Troubles which is the subject of my next book. I also like to read about Jesus' Jewish practice. Fiction books for me are a real treat but I am very picky.
6. Who are your 3 favourite authors? How have they influenced your writing?
My favourite author is definitely Daphne du Maurier. This is because of her tremendous sense of atmosphere and because she loves beauty and history, although her subjects are dark. Her economic yet graphic use of language is inspirational.
Beyond Daphne, I tend to have favourite books rather than favourite authors. Two great books that come to mind are Seabiscuit by Laura Hillenbrand and The Orchid Thief by Susan Orlean. Both of these skillfully turn investigative research into page-turning narrative.
7. What is your biggest challenge as an author?
My cup runneth over. I have so many book ideas in holding patterns. Also, today's author being a marketer as much as a writer, I find that I never set aside enough time for promotion since I want to get on to the next thing. I am trying to train myself to pace myself better.
8. What is your next book about?
I am currently working on a book about the Irish War of Independence in 1921. This is a true story that points up the emotions and feelings of people of both sides, the "rebels" and a pair of British newlyweds, who find themselves thrown together in a remote part of Ireland.
Thank you Bobbie, for your interview responses!

Naveen is the Customer Support Executive and Social Media Manager at BookBuzzr. When he is not working or playing GTA, he is working on finishing his graduation.