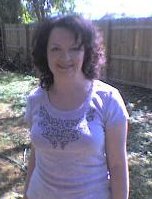 Karen Crumley
Over 20 years ago Wannabe ballerina K. Crumley hung up her point shoes, and sat down at the typewriter. A long-time lover of fairy tales by Hans Christian Andersen, Brothers Grimm, and Oscar Wilde led her to create stories of her own.  The most notable was The Golden Rose.  Crumley enrolled in Writer's Digest School for short fiction writing and improved her craft.  Ms. Crumley branched out, and began to create horror stories like Carousel, and more mature stories such as the novella Wishful Thinking, in which the protagonist is coincidentally a ballerina. 

Does K. Crumley ever regret her changing careers, from dancing to writing.  In a word:  No.

"It's all up from here"  Crumley states, as she launches her own small press Dragondreamz Publications, along with the quarterly periodical Full Armor Magazine.