Do you know Amazon holds at least 80% of the eBook market, if you are an Indie Author, definitely you want to make sure that your book is available on this fast-growing platform. Let's explore the ins and outs of Amazon KDP and at the edge it has over its competitors, such as Barnes & Noble, Kobo, and Apple Books.
What is KDP?: Amazon Kindle Direct Publishing Explained
Kindle Direct Publishing (formerly Digital Text Platform) is Amazon.com's kindle self-publishing platform launched in 2007 that helps authors and publishers to self-publish their books directly to the Kindle Store.
Traditional publishing involves publishing house that holds responsibilities and costs of printing,distributing and marketing the book. With Self Publishing authors have control from manuscript editing till marketing your book. Self publishing will give you more power and earn you readers & profits. You can approach companies who can provide you help with amazon kindle direct publishing
Amazon direct publishing works?
KDP allows Indie authors to self-publish eBooks and paperbacks. You get direct access to your book on Amazon and can edit your book detail page & option to add your book's availability based on country, making it more accessible for more readers. In self-publishing you have various options to choose what kind of Book Promotion Services or Marketing Tools you can use for your book marketing. With KDP you get full rights on your book, which you don't get in a traditional publishing.
Kindle Self Publishing – Ready to get started?
Do you know over 70% of books are sold on Amazon?
With KDP you can publish eBooks (Kindle) and paperback books. You can't publish magazines or periodicals. You can publish by choosing any book categories from Textbooks, Novels, Book Series, Children's Books, Comics, Poetry, Cookbooks & Journals.
---
Amazon direct publishing sign in
Let's get started…
Self-publish your book with Amazon KDP for FREE, get started today!
Visit https://kdp.amazon.com and register with your existing Amazon account or register a new KDP account with your email address.
Complete your profile by clicking on "Update" and fill-in your account & tax information. Click "Finished" & complete your profile.
Start setting up your profile like shown below

Creating a New Kindle Book
On clicking Kindle ebook, you'll see details page like below
You will find the fields like details, language, edition number, contribution etc make sure to give appropriate details. Very important is giving appropriate Book title, Description, Keywordsand categories to reach right audience.
Make sure to give relevant words that will help people to find your book. Include important keywords in the description to help people find your book in Amazon search.
Choose Your Amazon Keywords
Book Search Visibility is the key for more sales use relevant keywords you can add up to seven keywords per book.
what are keywords exactly?
Keywords are synonyms or word phrases that will closely describe about your book. If a user types-in the word or phrases into Amazon or Google they land up pages that closely match with search.
For example, if your book is about Self-publishing, you might find keywords like this useful:
how to self Publishing a book
self Publishing on amazon
self Publishing platforms
self Publishing
Select Your Amazon Categories
Amazon provides a thousands of categories and subcategories to choose from & all books that ranks 2,000 or less are considered to be highly purchased book in that particular category.
Click on select category you'll see the category pop-up like below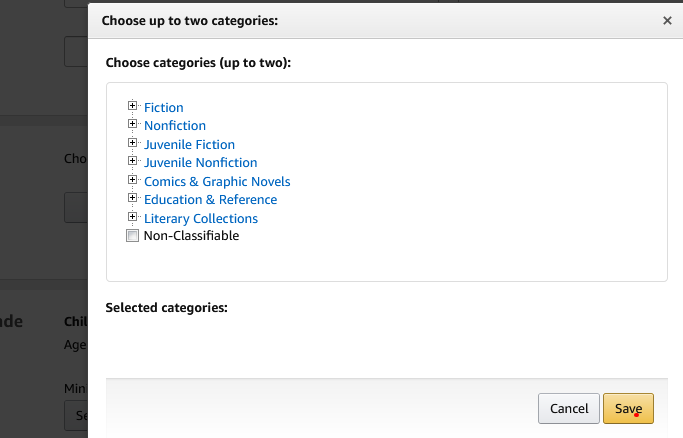 How to stand out while choosing a category
Check out your competitors' keywords & choose category with more search with less competition.
Seek additional categories added by contacting Amazon if needed.
Upload Your Manuscript
Upload your manuscript, in a supported kindle format.
Here's how to upload your book to Amazon:
Go to "Your Bookshelf" on your KDP account.
Click on "Kindle eBook Actions" & click on "Edit eBook Content".
"Upload eBook manuscript" that is saved on your computer /drive
Upload complete.
You will get a confirmation message on successful upload. Alternatively you can preview the manuscript for any errors. You can edit / re-upload Manuscript multiple times like below.
Check for any error using online previewer tool
Create Your Book Cover
Having a perfect book cover design is one of the key aspects in book publishing. Your book cover should speak for you. Make sure to hire a professional book cover designers and get your book cover done.
Thinking about the pricing "How much my book at initial launch ?"
You can price your book between $2.99 to $9.99. Still not sure, check this quick tips to determine your book price.
Competitors book price check. Compare the list price of relevant book in your genre
If you a beginner try keeping prices low.
Publish your book.
Try adjusting title, price, description for for better reach. After publishing your book share your book link to your friends, family & communities.
For more audience reach you can hire a professional book promotion services providers who can assist with taking your book to right audience. Alternatively you can create a new website describing about your book links & options to buy. Hire a developer who are well-experienced in handling author websites.