How to Avoid Becoming a Book Marketing Dinosaur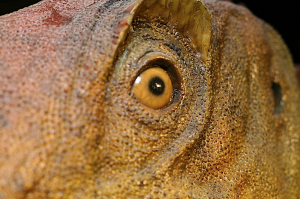 The technology landscape and associated opportunities for marketing your book is changing at an unprecedented pace. Online games, mobile marketing, Facebook, Twitter, the Kindle, the iPhone, the iPad and the Android are pushing the boundaries of what is possible when it comes to promoting and marketing your book.
As an author, it is important that you keep abreast of these emerging trends and technologies so that you can take advantage of these opportunities. Else you run the risk of becoming a book marketing dinosaur.
And the first step in avoiding the fate of the dinosaurs is for you to spend some time in educating yourself. When the team at BookBuzzr looked around, we discovered that there was a dearth of information and practical advice when it comes to book marketing technologies for authors.
So we decided to do fix the problem with a new kind of online learning environment … one that was focused on getting practical, actionable information from industry leading experts to authors in the most efficient manner.
Announcing BookBuzzr's Book Marketing Technologies Center (BBMTC)
In order to help you to successfully navigate through the swarm of new technologies and separate the noise from the signal, we at BookBuzzr are launching the BookBuzzr Book Marketing Technologies Center (BBMTC.)
BBMTC is the world's first and only online, free, learning program designed to help authors learn about emerging new technologies and associated opportunities for book promotion. BBMTC features a monthly online seminar or roundtable (aka webinar) featuring industry leading book marketing experts. Each month they will cover a new technology or emerging trend.
Our panel of experts will talk and share about technologies with authors and writers through webinars and blog posts to cover it comprehensively. This is our way of getting different viewpoints to the table about what is the latest trend emerging for authors in technologies that will help them reach out to more people.
We will have one webinar each month on the topic and as many view points as possible from industry experts as article/blog posts.
For each webinar the panel will share their views about the topic and discuss it in detail. The latter half of the webinar will be dedicated to answering questions from authors and writers. Questions can be asked before, during, and after the seminar on Twitter (with Hashtag #BBMTC) or on our BookBuzzr Facebook Page.
How much does it cost?
You can attend any workshop for free. Our generous expert partners are giving away much of their knowledge for free. Why is BBMTC free you ask? Our expert partners are doing this in the hope that at least some of the attendees will become their clients in the future. Also it's our and our experts way of giving back to the author community. Of course you are under no obligation to purchase anything.
What is the schedule and what are my next steps?
The schedule is outlined below. Please bear in mind that the schedule may change and we may make changes to the format of this program or the schedule based on feasibility and opportunities. Simply sign-up to our monthly newsletter to get notified about upcoming BBMTC events.
All seminars/webinars tentatively at 8:00 p.m. Eastern / 05:00 p.m. Pacific / Noon Arizona
January 2011 – Facebook Fundamentals for Authors
February 2011 – Using Twitter to Market your Book
March 2011 – Publishing on the Kindle and other readers
April 2011 – Marketing Your Book in an iWorld (iPad, iPhone, iPod)
May 2011 – Blogger Relations for Authors
June 2011 – How to Create Good Book Trailers
July 2011 – Podcasting Fundamentals for Authors
August 2011 – Online Gaming – Why it Matters for Authors
September 2011 – Marketing Your Book in a Mobile World
October 2011 – Marking Your Book on Amazon
November 2011 – How Authors can Use Technologies to Market Their Books
December 2011 – How Authors Can Succeed in the EBooks Universe
Feedback Requested
If you find a topic interesting or believe that you have the expertise to participate on a particular topic, or if you'd like to contribute and be a part of this program – drop us an email at freya [at] BookBuzzr [dot] com. We'd love to hear from you – the more views on a topic the clearer it gets :)