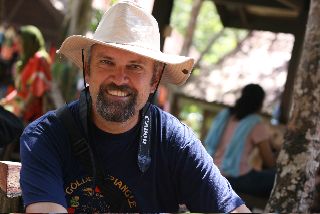 Jeffrey Miller
Jeffrey Morrow Miller was born in 1959 in Boulder, Colorado, and then grew up in San Diego, California before attending UC Santa Cruz.  After graduating with a degree in Biology he moved to South Africa and worked for the Department of Forestry and completed a Msc in Ecology at the University of Cape Town.

In 1984 he bought a 34ft sloop and sailed from Cape Town to Florida with his wife.  After working in the US for a few years they sailed cross the Pacific Ocean to Australia where they both attended the Australian National University.

After completing his PhD in Ecology, Jeffrey started sailing alone, and crossed the Indian Ocean, the Red Sea, and spent time in Turkey, Greece, Croatia and Venice.  He then decided to turn around and start sailing east, recrossing the Red Sea and the Indian Ocean, and is now in Langkawi Malaysia.

Since he has managed to avoid hurricanes, pirates, coral reefs, and corrupt customs officers, Jeffrey doesn't have any material to write adventure novels set in a sailing environment.  He is  therefore applying his background in ecosystem simulation modeling to fantasy world building.  His Books of Time cycle explores the dynamic network of an evolving society that is awakening after a long period of imposed stagnation.