How BookBuzzr's New, One-Click-Win Feature is Different from Amazon Free Day Promotions
Reviews!
You can love them or hate them. But you can't ignore them. All your marketing efforts will come to naught if your readers land on an Amazon page with just 1 or 2 reviews which look like they've been written by your friends.
One way to get reviews for your book is running an Amazon free day promotion. This works well for many authors although I've read on a few forums that the efficacy is going down over time.
At BookBuzzr, we've been playing around with a number of solutions for this problem. One of them is the "One Click Win" feature on our reader site – Freado.com
The idea is that a reader can get a copy of your book with just one click. This works great for ebooks since you can give away hundreds of copies at a very low cost which may translate into a handful of reviews for your book.
Here's how your book shows up on Freado in the prize listings section: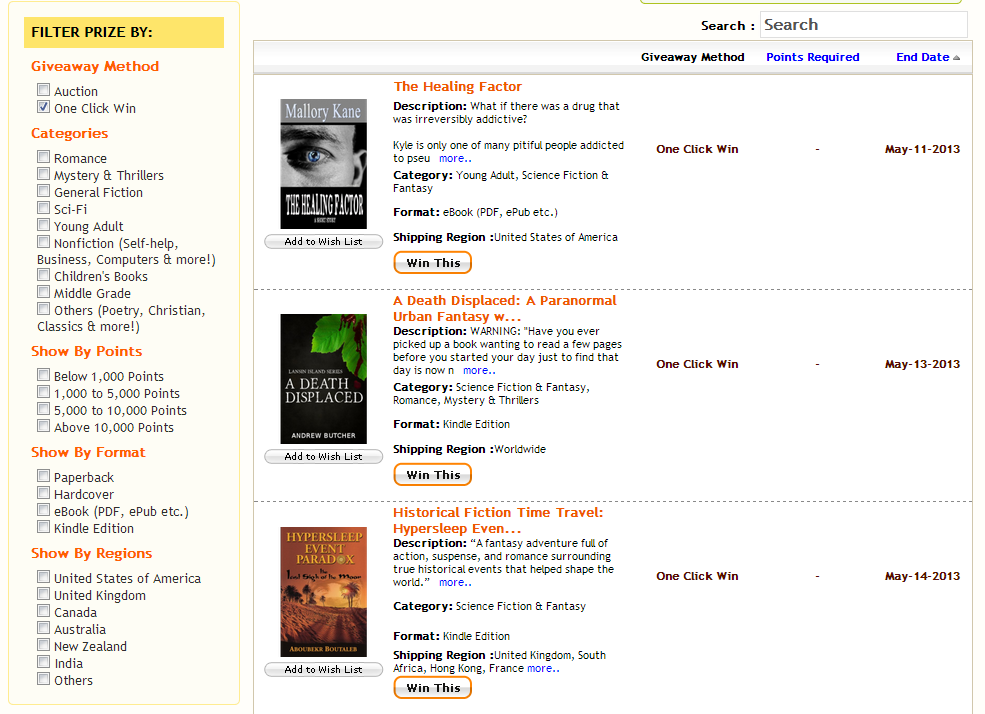 And here's how it shows when a reader clicks on the prize details page: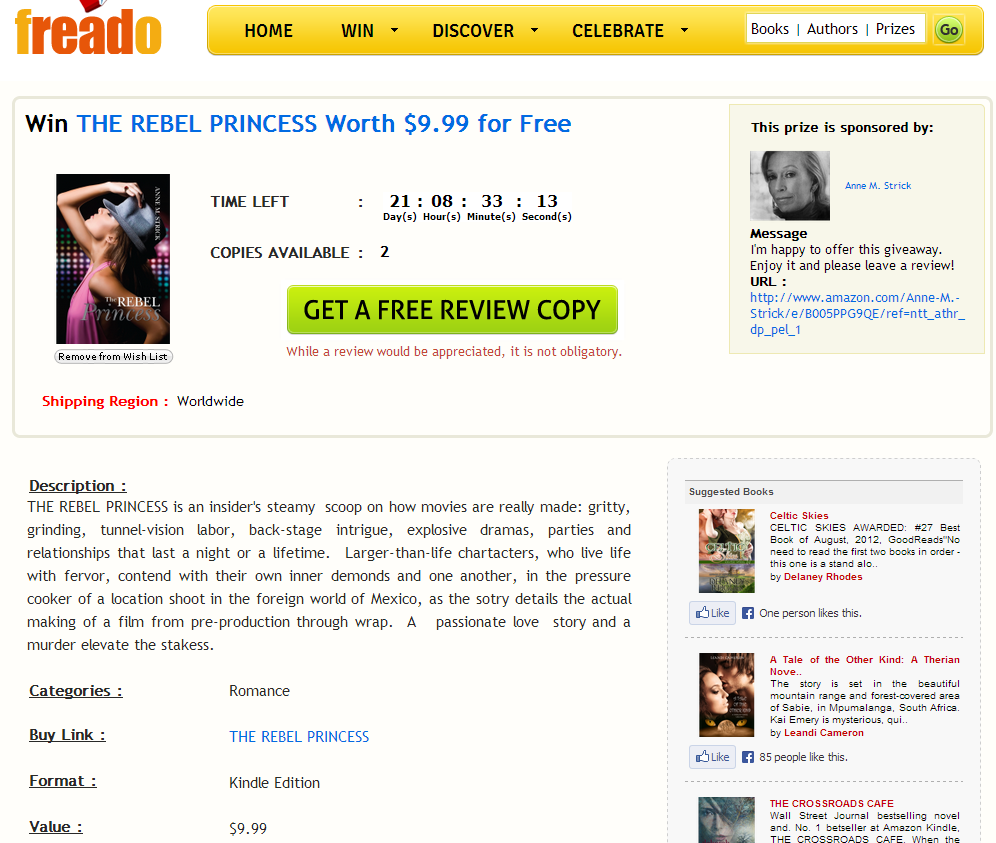 How this is Different from an Amazon Free Day Promotion?
The chart below gives a quick comparison between the two:
| | |
| --- | --- |
| Amazon Free Day | BookBuzzr's One Click Win |
| Promotion is limited to only 5 days every 90 days. | Promotion runs until the number of giveaway copies you've setup runs out. |
| Causes readers to download first and think later about  whether they really wanted the book in the first place … hence the ratio of books read to books downloaded is likely to be low | Since there is no pressure of time, and since readers are limited to a maximum of 6 free books per month, readers tend to really think about whether they want a particular book or not |
| A giveaway can happen only in Kindle format on Amazon | You can do a giveaway in all formats – ebooks, PDF, Kindle, even paper backs |
| Amazon does not share the names of people who download your book. This means that your 10,000 downloads are nameless, faceless entities with whom you cannot follow up. | With BookBuzzr's One-Click Win feature, you can build a relationship with your readers and follow up with them for reviews or feedback. |
This feature is available only for subscribed BookBuzzr authors. So if you're a BookBuzzr subscribed author, log in to your BookBuzzr Book Marketing Home page, click on the Book Giveaway section (below Build BookBuzz) and add your book. If you've not yet signed-up for a BookBuzzr subscription, why not take a look? Plans start from just $4.99 per month with a one month free trial.