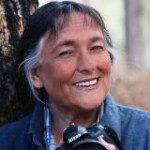 Writing since the late 70′, Aggie Villanueva's first novel, Chase the Wind, Thomas Nelson 1983, was published before she was 30 and her second, Rightfully Mine, from Thomas Nelson in 1986. Rightfully Mine has been republished.
For more information/photos/trailers see rightfullymine.
Villanueva freelanced throughout the 80s, also writing three craft columns and three software review columns for national magazines. She was featured on the cover of The Christian Writer Magazine October 1983.
After teaching at writers conferences throughout the Midwest, she founded/directed the 3-day Mid-America Fellowship of Christian Writers conferences for four years until 1990. For the past several years Aggie has blogged. She is founder of Visual Arts Junction:visualartsjunction, and is known for her in-depth interviews both in print and podcast at her internet radio show, Grandma Moses Southwest Radio http://www.blogtalkradio.com/grandmamosessw
Photographic art entered by 2007, and within two years Villanueva was dubbed the Grandma Moses of the American Southwest by her artistic peers, and is represented in several online and walk-in art galleries across the nation.
Critically acclaimed in the June 19, 2008 issue of the Rio Grande Sun:
…Villanueva is one of those rare individuals who uses new technology…to take a digital image to a new and exciting level….With some photographers this digitizing and manipulation are evident and stumbling…not so with Villanueva's work, which is sophisticated and well thought out….She has a knack for transferring her impression of a scene to the viewer that is remarkable and almost magical.
As Aggie states; "The Fairy Trail is real, folks. Welcome To My Path."
Find out more at the links below:
Purchase Aggie's book, Rightfully Mine: http://www.aggiev.org/rightfullymine
If you are a writer, The Rewritten Word course on rewriting: http://www.aggiev.org/therewrittenword
Discover Aggie's photographic art: http://www.aggiev.org/aggielogic
Contact Aggie: myaggie2@gmail.com
BookBuzzr recently interviewed Aggie who is the author of the book 'Rightfully Mine: God's Equal Rights Amendment' which has Praise and Reviews from authors :
"A carefully researched and inspiring story of someone who stands up against the crowd and seeks God with their whole heart . . . regardless of the cost."
Bill Myers – bestselling author of "Eli"
"Her portrayal of a humanity struggling between safety and destiny is touching, palpable, and memorable. This is easily one of the best biblical novels I've ever read."
KM Weiland, author of A Man Called Outlaw and Behold the Dawn.
"Along with the rich plot and subplot of the novel, Aggie exhibits a talent for placing the reader in the heart of the bedouin camps, in the very tents and activities of the characters she brings to life, with the economy of words that is the hallmark of a masterful writer."
Linda Yezak, Author/Reviewer
"One of favorite movies of all time is The Ten Commandments. Rightfully Mine is now one of my favorite books. The author, Aggie Villanueva, weaves a superb blend of biblical history entwined with romance."
Cindy Bauer, author of Chasing Memories & Shades of Blue.
1. Aggie, will you please share a little about yourself with us?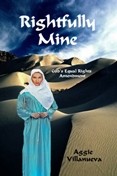 I'm a writer and a photographic artist. My first novel was published by Thomas Nelson before I was 30, in 1983, and they published Rightfully Mine in 1986, which I've recently republished.
I've freelanced since the late 70's, also writing 5 columns in national magazines. After teaching at writer's conferences from Chicago to Wichita to Minneapolis, I founded the 3-day writer's conference in Kansas City, Mid-America Fellowship of Christian Writers for four years until 1990.
For the past several years I've blogged, founding Visual Arts Junction, visualartsjunction in February 2009, and it seems, I'm becoming known for in-depth interviews because I enjoy doing them so much. I just published 2009''s Hot Authors: Interviews by Aggie Villanueva. All eBook formats: smashwords, paperback: lulu.
Photographic art entered my life in 2007 http://www.aggiev.org, and within a year I was dubbed the Grandma Moses of the American Southwest by artistic peers. I'm now represented in several online and walk-in art galleries across the nation in New Mexico and Alabama.
I love photography as much as writing, and work as hard at it. Within a year of picking up my first professional camera I was so honored to speak at the Marion Center for Photographic Arts in Santa Fe, NM, showing a large body of my work.
When I do something, I give it my all. I guess that shows in my work, whether writing or photography. I think that shows in everyone's work.
2. What would you consider the most rewarding part of the writer's life?
The actual writing part. No one has a problem finding the time to be with people, work, run errands, chauffeur the kids, etc. Our imposed solitude is better than psychotherapy. We meditate, ponder, search, and sometimes write. During this time we get to answer more questions than many people ever ask. But that's probably because we NEED to. We're probably a tad crazier than most.
3. How do you approach your writing? Do you plot or go with the flow?
Both. I research thoroughly, write dozens of pages written by each of my characters about themselves, then I create a detailed plot. When I begin to actually write, that may all blow away with the wind, but I know my characters and time period well enough by then to allow my characters complete freedom to do as they please.
4. Where or how did the idea of 'Rightfully Mine: God's Equal Rights Amendment' originate? What inspired you?
I'm showing my age here: In the late 70's and early 80's the big current event was ERA. Feminists were pushing hard to get an women's equal rights amendment passed. Debate within the church became particularly heated.
I had already written a slightly controversial novel with Thomas Nelson about a literal prostitute whom God chose to be the symbol of his beloved bride. I still chuckle about my editor, who was tense about the wedding night scene after reading my synopsis of a detailed portrayal, so they weren't surprised when I approached them about this book idea.
Still, they wouldn't allow me to use the blurb, God's Equal Rights Amendment. They told me it was too controversial a subject within the church, and might hurt my sales. I disagreed, as is evident from the title now that I've republished.
5. What's the most interesting comment you have received about your books?
"Her portrayal of a humanity struggling between safety and destiny is touching, palpable, and memorable. This is easily one of the best biblical novels I've ever read." From a review of Rightfully Mine by K.M. Weiland.
"There is an era in Israeli history where anticipation is a palpable hum, where the bedouin lifestyle gives way to the birth of a nation….Seamlessly woven into the plot is a love story of Rhett-Scarlett-Ashley proportions. …with the economy of words that is the hallmark of a masterful writer. Her characters are full-bodied; her action scenes are tense and exciting; her love scenes are both pure and seductive." From a review of Rightfully Mine by Linda Yezak.
6. What are the best channels according to you for book marketing?
I like to do it myself. I believe in self-publishing, and besides, traditional publishers almost require now that we have an established platform of followers before contracting us. So why give them most of the money when we've done most of the work?
I don't do much paid advertisements because I simply can't afford it. Most writers can't. I use social media heavily. Spend a lot of time on it. I like the aspect of sharing knowledge daily from our chosen fields. I invest in sharing that knowledge. I trust the aspect of building trust in order to make sales. Letting people know I'm trustworthy, and we're in this together, takes time and a lot of effort, but in the end it works. And I like the way it works.
7. Who are some of your favorite authors and books? What are you reading now?
For pleasure reading I'm into all of Michael Orenduff's novels in the Pot Thief series. http://orenduff.org/ He is the premiere writer of New Mexico. Even Governor Bill Richardson can't say enough good things about Michael's books.
But pleasure reading is rare. Mostly I read educational business and promotional books and reports to learn how to sell online, and how to use blogs to reach people and help them. I study a lot at On Blogging Well. onbloggingwell Linda Fulkerson is compiling an in-depth book and course that I'm looking forward to.
8. What projects are you currently working on that you'd like to share?
I'm deeply into the research for a book on chronically ill and handicapped artists. Since I fit this category, I know it's been therapeutic, and difficult, for me to thoughtfully compile a lengthy list of interview questions for the artists. So I get it when many have commented that it's a good thing I gave them up to a month to complete the questionnaire, because it's sometimes painful to dig around in these areas.
I empathize, because I've been through it also. I want to bring these problems to the forefront that millions of artists endure daily, silently, heroically, with no accolades for their courage. Few people understand, sometime not even closest family members, friends and co-workers, who don't quite always believe we're really that sick.
A possible working title for this project is Still We Dance: the Invisible Heroes of the Arts.
BookBuzzr thanks Aggie for such a marvelous interview. Connect with Aggie on fReado.
Aggie Villanueva
myaggie2@gmail.com
575-289-0408
Visual Arts Junction www.visualartsjunction.com
Novel Rightfully Mine www.aggiev.org/rightfullymine
Photographic Art www.aggiev.org