It was 1996. A single mother had written a children's book and a struggling agent had taken her on as a client. Twelve publishing houses had rejected the manuscript. The chairman of the thirteenth publishing house took home a sample chapter of the book but instead of settling down with it himself, handed it to his eight year old daughter. The girl came down from her room an hour later glowing saying, "Dad, this is so much better than anything else." and nagged him for the subsequent chapters. The publisher then decided to publish the book and the book went on to sell millions of copies.
If you have not already guessed, the author we're talking about is JK Rowling.
But the point of the story is this:
The twelve publishing houses rejected the manuscript because the people making the go / no-go decision were not the target audience. They were not eight year old children. I'm speculating that, had any of those publishing houses employed eight year old gate-keepers, the publisher of the book may have well been one of them.
JK Rowling knew her target market. Even though she says that the story came to her almost magically on a tedious 4 hour train ride, it is very possible, that subconsciously, JKR knew whom she was writing for.
This is part of the reason why publishers favor those with an existing platform. A platform is proof that a writer knows his or her target audience. A platform is nice to have but not absolutely critical for success. JK Rowling had no ready platform. But she knew the hearts, minds and motivations of her readers better than anybody else.
But time and again, we come across authors whose books are "mass market" and designed to appeal to everybody. This is a sure fire path to mediocrity and obscurity.
Does Your Book Polarize the Audience?
Will at least a few people in the world get put off when they read your book? Will they hate it enough to go to Amazon and give a 1-star review? Congratulations, you've probably got the seed of a winner! As John Locke says in his book 'How I Sold 1 Million eBooks' – "What I'm saying is, if you're not offending a significant number of readers, your writing is probably not very original. And the less original you're writing, the less loyal your fan base will be."
But How Do You Find Your Target Audience (Hint: It's at the Intersection)?
Let's look at how EL James did it. She started out writing fan fiction related to the Twilight series and created an X-Rated version of Twilight! EL James took the universe of people who were fans of the Twilight series but who preferred a slightly spicier and racier read. And the rest is just 50 Shades of history!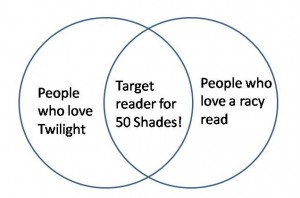 We've seen another BookBuzzr author  – Patt Ballard apply this idea really well. She writes romance books that feature big, beautiful heroines. In other words, she has taken the romance book market and segmented it in a really interesting way by appealing to those women who care about body acceptance.
We hope this article helps you narrow the focus and find your target reader.
Tomorrow we will address the critical issue of Positioning.