Guest Expert: Penny C. Sansevieri
Twitter is a great way to meet people, develop relationships, and promote yourself and your book or business. But it's important to avoid being seen as someone who just self promote.
Most of your tweets should be about helping others, but you also need to inject some personality, to put the "social" into social networking and help people get to know you.
Here are 50 ideas for tweeting or promoting:
1. Teach stuff – teach a little mini-lesson on Twitter. Delve into your area of expertise or just talk about book publishing and how to get published.
2. Share sites or blogs that your followers would be interested in. Be their "filter" to new and exciting information.
3. Use Socialoomph.com to post tweets to your account for later posting so you don't have to be sitting on top of Twitter every minute of the day.
4. Use Twitter as a news source: you can easily announce news both from your world (as long as it relates to your topic) and from the world of your expertise. For example, I've done tweets on book industry stuff, breaking news, etc.
5. Widen your network – follow other Twitter folk, this will not only give you some ideas for your own "tweets" but it's a great way to network with other writers or professionals.
6. Offer advice: use Tweetdeck.com or Twitter Search (search.twitter.com) to see who's asking for info on your area of expertise and then offer them some help/insight. This is a great way to build relationships.
7. It's ok to market yourself but be careful about pimping your stuff too much.
8. Be original, useful and helpful.
9. If you're on tour with your book or doing an event, tweet on that and invite your local followers to attend.
10. Tweet any good reviews your book gets, it's always fun to share the good stuff!
11. Every Tweet counts (don't tell people you're washing your cat); don't just tweet on useless stuff or you'll lose followers.
12. It's not all about you (again, back to the cat) people want to know useful stuff, I know, it's getting repetitive but there's a reason: it's important.
13. Promote your Twitter account in your email signature line and on your blog.
14. Network: don't expect your followers to grow if you're not following other people. Network, search for others in your area and follow them.
15. Personal is ok. Even though I said not to post useless information it's still not a bad idea to (from time to time) post a personal Tweet or two. Provide value and twitter-followers will beat a path to your door.
16. Follow everyone who follows you. You can use sites like Socialtoo.com and Socialoomph.com to autofollow everyone who follows you. These services can also send a nice welcome message to your new followers.
17. There is a lot of noise on Twitter, and the sooner you get comfortable with that the better. It's like being at one massive cocktail party; you have to find ways to filter out the noise. Sites like SocialOomph can help you do that.
18. Embed a link or some other sign-up in your welcome message; this is another great way to capture emails for your newsletter (assuming you have one).
19. Use sites like SocialOomph or Twitter Search to see who's talking about you and then follow them, too, or comment on their tweet.
20. It's ok to repeat your tweets. With the volume of messages people get your followers will often miss some of your posts.
21. Feed your blog through Twitter using Twitterfeed.com.
22. Join Help a Reporter out: Follow @petershankman for tweets on media leads (it's a great service!).
23. Don't feel like you have to respond to every tweet, but I generally try to respond to all tweets that are replies to mine (you can find these under @replies on your Twitter home page).
24. Want to stay on top of your market and find stuff to Tweet about? Then go to Alltop.com and search for your category. There are thousands of them up there. Here are a few to consider: socialmedia.alltop.com, twitter.alltop.com and publishing.alltop.com.
25. Review a product or book on Twitter.
26. Follow big names in your market on Twitter: this will often bring in their followers too, and you want to see what the "big guys" are up to.
27. Get a good picture: don't leave your avatar blank. Personalize your page if you can, but a good Twitter picture is a must.
28. Tweetbeep.com is a lot like Google alerts. You can plug in your keywords and you're pinged each time they are used.
29. Are you ready to add pictures to your Tweets? Then head on over to Twitpic.com, this site will let you upload pictures and tweet to them.
30. Use YouTube to share helpful videos you think your followers will love.
31. Music on Twitter is also possible thanks to TwittyTunes. This site is great for sharing music and it has a simple Firefox add-on that lets you Twitter on music you're currently listening to!
32. Invite people to subscribe to your ezine and offer an incentive.
33. Introduce other authors or experts to each other or to your Twitter followers (they should also be on Twitter).
34. Participate in Follow Fridays #FF and Writer Wednesdays #WW. Recommend your favorite tweeters by using the #followfriday or #FF hashtag along with their user names.
35. Link to your own articles and blog posts. Shorten the URL using bit.ly so you can track the number of clicks you get.
36. Link to great videos.
37. Ask for advice or ask questions that encourage responses.
38. Comment on someone's interesting Twitter background or clever bio.
39. Offer a free downloadable ebook or sample chapter, with no strings attached.
40. Thank others for mentioning you on Twitter.
41. Link to an interesting Wikipedia entry on your topic or specialty.
42. Link to a transcript from an interesting Twitter chat.
43. Post an inspirational quote or message.
44. Link to other blogs, helpful articles.
45. Reply to someone else's Twitter post.
46. Run a contest.
47. Promote a special offer exclusively to your Twitter tribe.
48. Retweet (RT) someone else's posts, it's a great way to network!
49. Thank someone for RTing your post; it's always great to acknowledge someone for doing that!
50. Talk about the latest trends in your industry.
---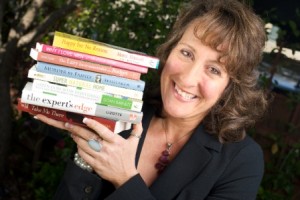 Penny C. Sansevieri, CEO and founder of Author Marketing Experts, Inc., is a best-selling author, an internationally recognized book marketing and media relations expert, and an Adjunct Instructor teaching publishing and marketing for NYU. Her company is one of the leaders in the publishing industry and has developed some of the most cutting-edge book marketing campaigns. She is the author of five books, including Book to Bestseller which has been called the "road map to publishing success." AME is the first marketing and publicity firm to use Internet promotion to its full impact through The Virtual Author Tour™, which strategically works with social networking sites, blogs, micro-blogs, ezines, video sites, and relevant sites to push an authors message into the virtual community and connect with sites related to the book's topic, positioning the author in his or her market. To learn more about Penny's books or her promotional services, you can visit her website. To subscribe to her free ezine, send a blank email to: subscribe@amarketingexpert.com