Your Amazon book page is like a party. If there is nobody there, it means that your party is not happening. If, on the other hand, there are hundreds of reviews – both negative and positive – and spirited discussions around those reviews, it means that there is life there. And a potential reader is likely to pay a lot more attention.
Write it and they will come?
The vast majority of authors believe that if they write a great book, it will be sufficient to get the reviews they need. You may even argue that your book will get its due, and that in the long run, life is fair. But the long run can indeed be a long time and we all know of authors who were penniless in their lifetimes but whose stature grew after their death. Your goal is to produce the greatest book ever and market it in the best possible manner. In the matrix below, you want to be in the corner that is up and to the right.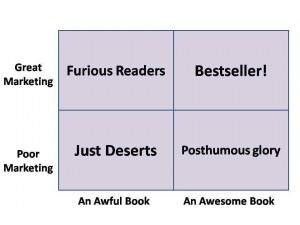 Master book marketers like Timothy Ferriss make getting sufficient reviews for their book on launch day the central part of their book marketing program. For example, when Tim's new book – The Four Hour Chef – released, there were over 50 reviews posted on the day of launch. In fact, a number of reviewers questioned as to how Tim got so many reviews on launch day. Others jumped in to let such reviewers know that Tim had sent out advance copies to hundreds of readers and these were all genuine reviews.

How Readers Think:
In the age of sock puppet reviews, readers have become sceptical … almost cynical. Here's how they think when they see your book page on Amazon.
| | |
| --- | --- |
| If your book has | The reader thinks |
| Less than 5 reviews | 'Not worth my time' |
| More than 5 reviews and less than 20 reviews | 'Friends of the author have left reviews for this author' |
| More than 20 mostly positive reviews | 'This author's probably paid for reviews!' |
| More than 20 reviews with a mix of positive and negative reviews | 'Hmm. Interesting. Let's check out what the negative reviewers have to say …' |
But how many reviews does my book need to succeed?
We looked at the number of reviews that some of the bestselling authors on BookBuzzr have got. Here are some numbers:
1. Cristyn West – 530 reviews for the book Plain Jane: Brunettes Beware.
2. Steena Holmes – 346 reviews for the book Finding Emma.
3. Alexandra Anthony – 145 reviews for the book Fated (The Vampire Destiny Series Book #1).
4. Stefhen F.D. Bryan – 82 reviews for the book Black Passenger Yellow Cabs: Of Exile and Excess in Japan.
5. Inglath Cooper – 65 reviews for the book Truths and Roses.
6. April L. Hamilton – 38 reviews for the book The Indie Author Guide: Self-Publishing Strategies Anyone Can Use.
7. Judy Powell – 35 reviews for the book Hot Summer (The HOT CARIBBEAN LOVE Series).
8. Kaylin McFarren – 24 reviews for the book Flaherty's Crossing
9. Gunnar Fox – 21 reviews for the book Kick Ass in College.
10. Cheryl Carpinello – 20 reviews for the book Guinevere: On the Eve of Legend.
How to get plenty of reviews (hint: Ask for them!)
Getting reviews takes hard work. Nobody likes to be the first to review a product that may or may not gain traction. The only way to get over the initial hump is to ask for them. Here are some tips to get reviews:
1. Don't cheat. Don't pay for them. Play fair. Respect your readers.
2. Reach out to the mavens identified in Commandment 5. You may ask what the difference between a maven and a book reviewer is … My definition is that a maven is one who is extra-passionate about your book and will go out of her way to get the word out. A reviewer, on the other hand, just cares about leaving a review. Not all of the mavens whom you reach out to may take an interest in your book. But the few who do will probably review it.
3. Ask the top customer reviewers on Amazon. According to this article on Joanna Penn's website, authors who submitted to popular reviewers on Amazon received 25% more reviews than average and earned 32% more revenue for their latest release.
4. Ask other authors in your genre. A lot of those authors will be willing to review your book if you'd review their book back. Of course, the danger with this is that if you don't like a particular author's book, you may have to deal with feelings of extreme guilt if you negatively review their book.
5. Make sure that you get all of your reviews in one single place. Some authors receive reviews via email but these don't count. At present, for better or for worse, Amazon is the most important game in town. Getting reviews on Amazon is more important than getting reviewers anywhere else. So make sure that your efforts are in this direction.
In our next article in this series we will be covering the issue of experimentation.