As you are probably aware, January is Facebook month at BookBuzzr Book Marketing Technologies Center (BBMTC) and we're going to be hosting a series of free, live, online events related to marketing your book on Facebook. Some of the biggest names in book marketing will be conducting these sessions and this will be a great way to increase your FQ (Facebook Quotient :))
We'll also be featuring a series of blog posts that relate to marketing your book on Facebook. This specific post focuses on the very first and basic step of getting your Facebook presence setup.  If you've already got a Facebook presence, you may want to look at other posts on this blog such as the one titled – 10 Ways to Market a Book on Facebook. However, if you consider yourself to be a complete Facebook marketing newbie, then this post is for you.
Let's get started.
Step 1: Understand what is meant by a Facebook Public Profile (FPP)
A Facebook Public Profile (formerly called Facebook Fan Page) is the place where you can share information about yourself with the world. It is accessible to people who may not be your friends. And it is accessible to search engines like Google thus giving you additional SEO juice. On this page, fans of your book can come and show that they patronize you (or your book) by clicking on the "Like" button. Earlier, when Facebook Public Profiles were called Facebook Fan Pages, people who "Liked" the page were called Facebook Fans. Now, they are not called fans but are referred to as people who Like your page. When people click on the "Like" button, three things happen:
i. Their photo and other details appear on your FPP thus creating social proof for other visitors of your FPP
ii. They give you permission to provide them with information (in essence they become followers of your content updates … very much like your Twitter followers.)
iii. Your messages begin appearing in their Facebook stream and when they like or comment on them, their friends see your message too!
Step 2: Understand the difference between a Facebook Public Profile and a Facebook Group
A Facebook group is visible only to people who are members of that group. A FPP is available to any casual visitor (even for someone who is not signed in to Facebook.) Both have their pros and cons. Here are some thoughts and observations:
i. Unlike groups, fan pages are visible to unregistered people and are thus indexed.
ii. The group status allows you to send messages to your fans and looks like a personal profile page, BUT posts aren't automatically displayed on member's newsfeeds.
iii. In a FB Fan page, administrators are not identifiable easily … this may be a good thing if you have an agent managing your FB page or if multiple people are managing a FB page. However, if your fans want to get in touch with you offline, it may be more challenging for them.
iv. Members of a group can identify and interact with each other much more easily than fans of a page
v. Members have to actively remember to go to the group page to see postings from other members
vi. A page can be viewed by non Facebook members
vii. A page will provide far better analysis in terms of users, time online the time , demographics etc. (not available in group)
vii. Groups can lose momentum. People may forget about them after they join.
ix. Groups cannot be combined into a Page
Conclusion: Facebook pages are better for authors looking to promote their books.
Step 3: Think About Your 'Hooks'
There are countless author pages that languish without any activity. This is because the authors have simply gone ahead and setup a Facebook fan page without thinking about what they will offer to their fans. In other words, you need to spend time thinking about your hooks. Some ideas for hooks on your page:
i. Prizes that you give away.
ii. Quizzes and mini-contests (check out Freado's facebook page to see an example of how we're running a contest on our wall featuring famous book authors)
iii. Extracts of your book that you offer to your Facebook fans.
iv. Links to interesting news on the Internet that you have curated
In general, think about what you can do to make your FPP engaging and entertaining for your readers.
Step 4: Visit Public Profiles of Other Authors
Now spend some time looking at the public profiles of other authors. Don't just look at the FPP's of super famous authors like Paulo Coelho or Timothy Ferris … but review sites of other authors who are beginning to make a mark. Two examples of such authors are Susan Bischoff who has enjoyed success in the last few months and JC Phelps who has nearly 200 fans. Think about what you like or don't like on these pages. What elements can you adopt for your own page?
Step 5: Click on "Create a Page"
Next go to any Facebook fan page. For this example, let's say you go to Freado's fan page at www.facebook.com/freadowinbooks. On the left column below the section that shows the people that like this page, you will see a little link that says, "Create a Page". Click on it.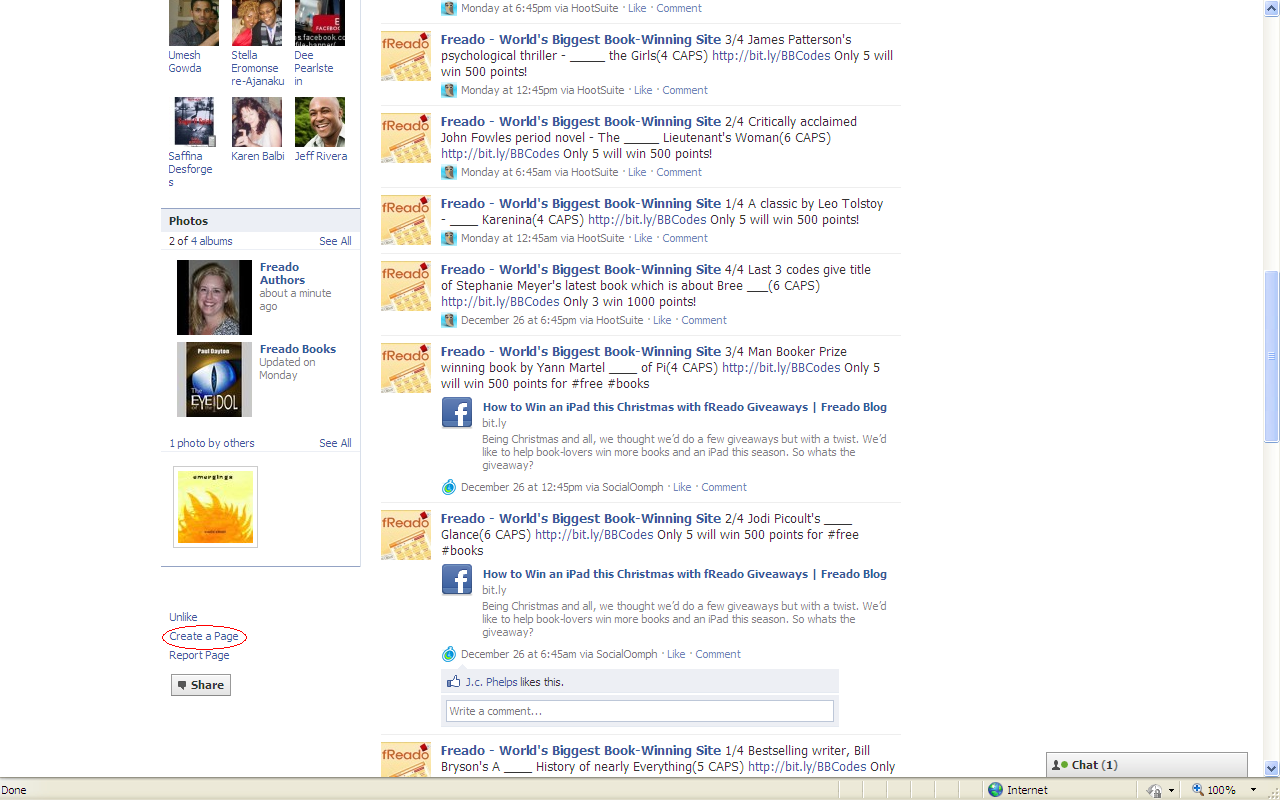 Step 6: Begin Creating Your Facebook Public Page
Now you will come to a page that allows you to begin creating your Facebook page. Choose "Official Page" in the right column and NOT "Community Page" on the left column.  Then choose "Artist, band, or public figure:". In the drop down menu that appears, choose "Writer." Give the page a name such as "Author Dingle Hopper". Make sure that your name appears in the page name along with the word "author". This is so that Google can find you easily and for you to differentiate yourself from other people with the same name. You can also create a Facebook page based on a character from your book (or on an idea from your book if you have written a non-fiction book.) You may also want to create a FB page for each of your books (especially if the target audiences for each of your books are non-identical.)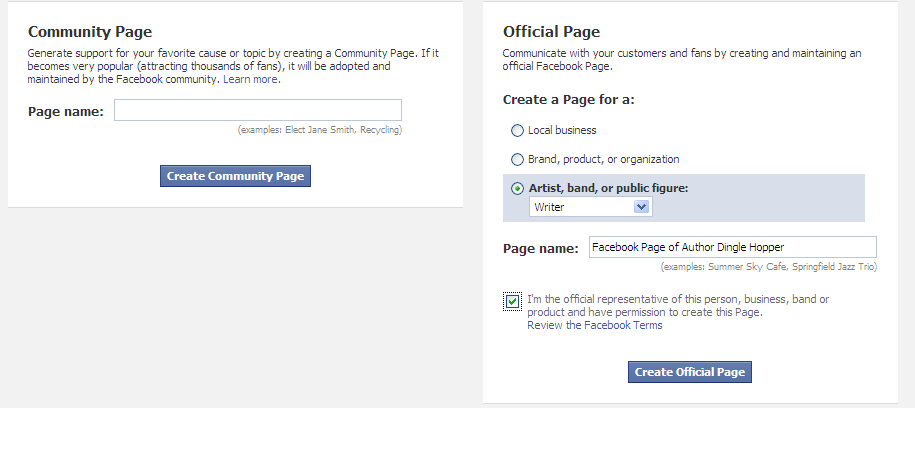 Step 7: Delete Unnecessary Tabs (Especially the "Discussions" Tab)
Once you're inside, the rest of the activities are pretty much self-explanatory. You upload your photos, add your book cover image and start posting content on your wall much like you would on your regular Facebook profile page.  There is however one important step that you need to take and that is to delete the Discussions tab. This is because it's really difficult to keep a healthy and active discussion going on without quorum – say a minimum of at least 500 regular visitors. Even so, there is some amount of overlap between the wall and the discussions application. You'd be better of deleting that tab so that your visitors don't stumble upon a sparsely populated discussion forum. To delete, click on the "Discussions" tab, then click on "Delete Tab"

Step 8: Get 25 "Likes"
Now get 25 of your friends to come to your page and Like it. Beg, borrow or steal if you need to. This is necessary so that you can get a shorter, more memorable URL for your Facebook page.
Step 9: Claim Your Facebook Username or URL
A Facebook username is much like a dot com domain name. All the good ones are usually taken. If you are lucky you may be able to get a short, memorable username (also called a Facebook URL.) To claim your Facebook username, go to www.facebook.comusername and click on the drop down menu. It's important to note that you need to have a minimum of 25 likes for your Facebook Public Profile in order to be able to claim your Username.

Step 10: Begin Refining Your Facebook Public Profile
Now that you've taken the first few steps, you will need to spend the next few months tweaking and improving your Facebook presence. Over the course of the next few weeks you will be able to get a lot of information on this blog and through the BookBuzzr Book Marketing Technologies Center webinars. Do make it a point to register since these are free events.
If you found this article to be helpful, you may also find the article on using the BookBuzzr Widget on your Facebook page to be quite useful.