Guest Expert: Joel Friedlander
Recently the Museum of Modern Art in New York announced the launch of its MoMa Books app for the iPad. MoMA Books is a free download that allows users to buy the museum's e-books from inside the app. Only four books are available now, but the museum's spokesperson Hannah Kim, says they are looking forward to launching many more titles.
MoMA has published e-books only in PDF format to preserve the layout and design of their high-production-value print publications. Now they have created their own viewing software inside the MoMA Books app.
Why does this matter to indie publishers? Almost all the news about ebooks focuses on the low-quality Kindle format, in which you can't maintain the type of controls that MoMA, and many other publishers of heavily-formatted or illustrated books feel are necessary to show their books properly.
But all along, another parallel story has been developing around the iPad (and other tablet computers trying to take some market share from Apple). On the iPad we've seen much more ambitious publishing projects, from an animated Alice in Wonderland to the opulent Martha Stewart magazine launch.
Books and other publications are still in the beginning stages of utilizing the convenience and display power of the iPad. Bringing together all these elements has the potential to completely remake what we think of when we think "book."
• Perfectly sharp rendering
• Beautiful and quick graphic display
• GPS functionality
• Audio and video seamlessly integrated with text
Of course, it's a lot easier for an indie author to put out an ebook for Kindle or ePub, or even to do a print book via print on demand, than it is to incorporate these capabilities into a book to sell for the iPad.
iBooks and Apps
In fact, these types of "enhanced" books and other digital texts aren't sold in Apple's iBookstore at all, but in their App store.
What's the difference? Well, for one thing almost any author who can handle a word processor can convert a simple book to ebook formats, or use a service like Smashwords or BookBaby to get a conversion and sell it through ebook retailers.
But creating an app requires a software developer. Not many self-publishers could take on the development of an app by themselves.
Developers Working With Authors
There are app developers eager to work with book publishers to turn their content into multi-function apps. For instance the well-known travel writer Lee Foster of http://www.fostertravel.com/ has created several apps from his travel books with the help of developer Sutro Media.
These apps incorporate photos, GPS location and other types of content into Lee's books, making them a lot more usable on an iPhone or iPad than the printed versions ever were. In the case of established authors, developers may be willing to take on the expense of app development in exchange for a royalty on app sales.
However these books and apps develop, this will be a serious challenge for indie authors. You'll need abundant resources or a partnership with an app developer to compete with these multi-media books. In some ways, it's hard to even call these programs books, but that's the way of the future.
When readers get the idea that they can buy a book (at ebook prices) that comes with linked video to show a location, for instance, or a painting of a historical character, or an audio that will play a famous speech mentioned in the text, or any number of other enhancements, I think they'll find that very attractive.
And keep in mind that many of these apps will run also run on the millions of iPhones people are carrying in their pockets and purses, and you've got one huge market.
With smartphone and tablet sales dominating mobile computing action, the potential for publishers is enormous and growing. The challenge for indie authors will be finding ways to integrate more media, and more involvement, into their books, and to find a way to get these books onto the platform where readers want to buy them.
Keep watching, this will be much more important and long lasting a development as anything Amanda Hocking or Joe Konrath do in the coming months. It's a good time to be thinking about what you might be able to add to your books to create an enhanced, media rich edition for Apple's insanely popular products. It's the wave of the future.
---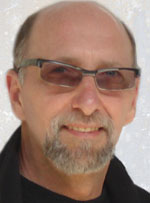 Joel Friedlander is the proprietor of Marin Bookworks in San Rafael, California, a publishing services company where he's helped launch many self-published authors. He blogs about book design, writing and self-publishing at www.TheBookDesigner.com. Joel is also the author of the newly-published A Self-Publisher's Companion: Expert Advice for Authors Who Want to Publish.
Follow Joel on Twitter