From The Frugal Editor
Guest Expert: Carolyn Howard-Johnson
When we're learning something new we may need a real, honest-to-goodness college- type reading list so that we're aware of every aspect of the new subject we're learning. It's especially important for people entering into the publishing industry because there is much misunderstanding and so much new.
Such a list is especially important for writers because many just beginning to market believe that their publishers take care of all the formatting (yes, sometimes!), editing (mmmm, don't count on it!), and grammar (maybe, but they may have a few grammar gaps of their own!) issues. Besides that, most don't realize how important marketing is—that, in fact, the first offense for selling a book to an agent or manuscript, as an example, is the editing of a great query letter!
Here are some of the people and sources I've mentioned or quoted in the text or appendixes of The Frugal Editor: Put Your Best Book Forward to Avoid Humiliation and Ensure Success And this list is based on one I use for my students at UCLA. I'm hoping it isn't so, but you may be surprised at the subjects covered that you know little about.
This article doesn't include the list of agents that I include in the Appendix of The Frugal Editor. They were my angels who contributed to the chapters on writing picture-perfect query letters. It also doesn't include a short list of common errors, sample query letters, sample cover letters and more. This article could only be so long!
On Editing
Lapsing Into a Coma: A Curmudgeon's Guide to the Many Things That Can Go Wrong in Print–And How to Avoid Them, by Bill Walsh.
Concordance is a text-analyzing computer program that makes indexes and wordlists, counts word frequency, compares usages of a word, analyzes keywords, finds phrases and idioms, and publishes to the Web.
Writing Help is a collection of computer programs by Roger Carlson, including "Passive Word Highlighter," "Preposition Highlighter," "Adverb Highlighter," "Adverb Eliminator," "Word Frequency Counter" and "Count Lines." You need some computer expertise to set your computer's security settings to accept macros, reboot your computer so the new settings will take effect and install the programs.
Editors
Barbara McNichol, editor and writer, was introduced earlier in this book. Learn more about her at www.barbaramcnichol.com.
Virgil Jose, writer and freelance editor, may be reached at scribe1937@yahoo.com.
On Grammar and Style
AP Stylebook by Associated Press.
Bryson's Dictionary of Troublesome Words: A Writer's Guide to Getting It Right, by Bill Bryson.
Chicago Manual of Style by the University of Chicago Press Staff.
Eats, Shoots & Leaves: The Zero Tolerance Approach to Punctuation, by Lynne Truss.
Far From the Madding Gerund, by Geoffrey K. Pullum et al.
Garner's Modern American Usage, by Bryan A. Garner, is complete and excellent for Americans. For our purposes–that is not to rile an agent or publisher–choose the more formal of possibilities it offers. Or, if the suggestion feels stilted, rearrange the construction of your sentence.
Grammar Snobs Are Big Meanies: Guide to Language for Fun & Spite, by June Casagrande. Use this book when you want to argue with an editor, not when you want to impress one. A more formal tome that may be used the same way is The New Fowler's Modern English Usage (Fowler and Burchfield). It isn't nearly as entertaining, however.
StyleEase for Chicago Manual of Style and Turabian's Manual for Writers is a computer program to help you automate some of what is in this book.
The American Heritage Book of English.
Audio divas bring you audios on many aspects of building a writing career: Titles include:
Contest Facts: How to Add "Award-winning" to Your Name;
Do It Yourself Indexing: The Way to Sell Your Book to Libraries, Schools and Anyone Else That Buys Nonfiction;
Fury and Destruction: How to Use Violence Effectively in Your Writing
Perrin and Smith Handbook of Current English has been around so long you might find it in a used bookstore. When you've read it, you'll know the difference between temerity and timidity–or at least know to look them up. "Half knowing a word may be more dangerous than not knowing it at all" is the kind of truth you'll find within its pages.
The Cambridge Grammar of the English Language.
The Elements of Style, Fourth Edition, by William Strunk Jr. , E. B. White, Roger Angell.
The Describer's Dictionary: A Treasury of Terms & Literary Quotations, by David Grambs.
When Words Collide–A Media Writer's Guide to Grammar and Style, by Lauren Kessler and Duncan McDonald
Great Little Last-Minute Editing Tips for Writers: The Ultimate Frugal Booklet for Avoiding Word Trippers and Crafting Gatekeeper-Perfect Copy-by Carolyn Howard-Johnson, a carry-with-you booklet crammed with fun little tidbits to brush up on when you're on the run.
Websites
A site that will help you with straitlaced, no nonsense rules of grammar:
http://www.rit.edu/~962www/grammar-misused_words.html.
A site that gives a lot of detail and practical tests for grammar is: http://www.grammar-monster.com/lessons/lhyphen.htm.
Craft
Writing Dialogue by Tom Chiarella is a must-read because poor dialogue technique is a glaring tip-off to editors and publishers that a manuscript is written by a beginner who has not taken the time to learn our craft.
Writing for Emotional Impact: Advanced Dramatic Techniques to Attract, Engage, and Fascinate the Reader from Beginning to End, by Karl Iglesias.
Larry Brooks's e-books on structure. Find them at www.storyfix.com.
Custom Dictionaries
Many professional organizations will share their print conventions with authors. Just ask. Here are a few:
Zoologists and those who write about wildlife will find free custom dictionaries at: http://home.comcast.net/~wildlifebio/c_dic.htm.
This site is for linguists and others who would like foreign language custom dictionaries:
http://www.bmtmicro.com/BMTCatalog/win/msworddictionaries.html.
Here is a custom dictionary for medical terms: http://www.ptcentral.com/university/medterms_zip.html.
To find a tree and woody plant dictionary go to:
http://shade-trees.tripod.com/tree_dic.html.
Post to be continued…
---
SPECIAL OFFER: Carolyn is giving a copy of her handout with 35 pages of excerpts and information on book promotion from her book marketing class at UCLA to all BookBuzzr Authors and readers. To grab your copy please email Carolyn with BOOKBUZZR FREEBIE in the subject line. Her next class is on August 7 on the UCLA campus. You can enroll at www.uclaextension.edu.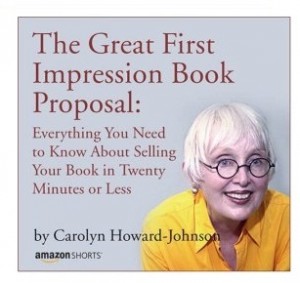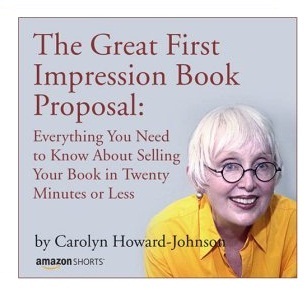 Carolyn Howard-Johnson is the author of The Frugal Book Promoter: How to Do What Your Publisher Won't, The Frugal Editor: Put Your Best Book Forward to Avoid Humiliation and Ensure Success and an Amazon Short, "The Great First Impression Book Proposal: Everything You Need To Know To Sell Your Book in 20 Minutes or Less." Learn more at www.howtodoitfrugally.com. She tweets writing and promotion tips at @FrugalBookPromo