Guest Author: Carolyn Watson Dubisch
Becoming a publisher was the last thing from my mind when I graduated from The School of Visual Arts in NYC in 1993 with my BFA in illustration in one hand and my children's book portfolio in the other. I just draw the pictures and the publisher writes the checks, or so I thought. After 10 years of drawing pictures for children's magazines and submitting and submitting my children's book dummies for review,(sometimes getting as far as "the committee" only to be turned down after months of waiting), I decided to become a publisher.
I self published my first children's book in 2001 and jumped right in to library fairs, and school visits. Sales were slow… Slower still was the internet back then. There was no Twitter or Facebook, at least not like it is now. Reviewers were not so interested in self-published books, so getting any was hard and I wound up donating a lot of my stock to Toys For Tots in the end. Even after all that I kept self publishing. I published 5 more books for children, and one thing I noticed every time was that once the creative part was done and my book was in my hand, my energy for promoting each title dwindled after a couple of months.
After my last book, "Night of The Armadillos" came out in early 2007, I realized this just wasn't working for me. Children's books is a glutted market and I didn't feel I had the energy or the funds to get noticed this way. With my husband's encouragement I moved on. He suggested trying my hand at comics, which as a market is full of independently published books that are not looked down upon like in children's books. So I began to draw "The Horribles", a gothic fairytale about a cast of monsters.
I spent a year writing and drawing 36 pages and felt ready to put it together as a book, but we didn't really have the money to invest in publishing right then. Also we were living in Argentina at that time and working with a printer in English was hard enough, getting what I wanted in Spanish was more than I felt ready for. After thinking long and hard about it, I decided to try posting it as a webcomic. I checked into several online sites and on September 21st 2008 I launched "The Horribles" as a webcomic on SmackJeeves.com.
The webcomic format was exactly what I needed. Each Monday a new page of "The Horribles"goes up online, and I always have a new page to promote. Since I keep creating more of "The Horribles" I have yet to lose momentum promoting it. My readership was growing to over 600 a week and I started posting it on two more sites. I wasn't even thinking about printing it, but then I received a letter from my alma matter in New York City. They were putting together a show for their gallery in midtown about "the graphic novel" and wanted to know if I had a book they could review. So I compiled "The Horribles" and rushed a pdf off to Lulu.com. In a matter of days I sent them a copy of my "new book". It was accepted into the show, and now I was "published" again!
The show "Ink Plots" opened on October 8th and is having an opening with free food and drinks this Thursday. This time around I've managed more reviews and visibility. I use Facebook, Twitter, MySpace, Jacketflap and made more connections than I could have hoped for before. I've read excerpts and done interviews on talk radio, and was recently reviewed on a webtv show called "Dr Twistid". I'm really enjoying having this book out and look forward to releasing "The Horribles, Book 2".
---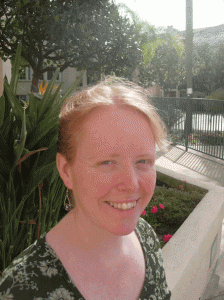 Carolyn has published several children's books through her own independent publishing company as well as contributed short stories and articles for Highlights for Children among other magazines, websites and audio productions. Carolyn expanded her range to comics with the launch of her popular all ages web-comic"The Horribles," and the original web-comic of "The People That Melt In The Rain." Look for "The Horribles" graphic novel on amazon.con and look for Carolyn ducking down under the shade of the palm trees in San Diego, CA.