It was a bright sunny day and Bangalore had just got cooler with rainfall over the last 2 days. Compared to other days the climate was good enough that we did not need the airconditioner in the office. For us it was just another day of regular work trying to meet deadlines for the massive new release that's coming up in May.
The timeline below describes how the day unfolded for all of us at the office …
11:30 AM
Srini (Our Office Manager): Vikram (our Chief Book Marketing Technologist) has informed that a guy will be coming from Amway today to address you boys by 12 Noon. If you people have any questions regarding the company or it's products, you can clarify with him.
12:30 PM
The Amway guy has still not reached our office. After sometime, the Amway guy calls and asks Srini for directions.
It's almost 12:30 PM now and Srini sir is guiding the person to reach our office.
1:40 PM
We are feeling hungry and are about to leave for lunch.
Srini: The Amway guy will reach here in five minutes and will address you people for in 10 to 15 minutes.
Rishabh (one of my colleagues): Then we will have our lunch and come back.
Srini: Wait, have lunch later. If you want take a chocolate. That guy will be here in five minutes.
Now I'm thinking "Oh god, why should we be hungry till he finishes his presentation. Who can grasp the content of what he says when stomach is empty?"
Its 1:45 PM now and we finally convinced Srini that we'd have lunch and come back. The Amway guy still seemed to be lost. We left for lunch.
2:00 PM
The Amway guy enters the office, "I am Mr. Jayant Kulkarni, I am sorry, I am late."
Srini: Boys have gone for lunch. You may need to wait till they return back.
Mr.Kulkarni: Ok.
Srini Sir: How did you reach here?
Mr.Kulkarni: I have got a bike.
Srini Sir: Where have you parked your bike?
Mr.Kulkarni: Nearby. Behind the office.
Srini Sir: Have you finished your lunch?
Mr.Kulkarni: Yes.
Srini Sir: Please tell me about your company.
Mr. Kulkarni went on to give a description of Amway and multi-level marketing and the opportunity to create residual income.
Srini Sir: Are you working part time or full time?
Mr.Kulkarni: Part time actually. I am making around Rs. 25 to 30K per month.
Srini Sir: Please wait. Boys will be coming soon.
2:15 PM
We all returned back to the office after a hearty lunch and were ushered into the conference room for a presentation by the Amway guy.
I saw a guy sitting in our conference room. He was reading the newspaper.
I came near my system, kept my mobile there and headed towards conference room.
We all settled there. The guy was looking old, wearing glasses, with a big belly and a very funny moustache. The guy stood in front of us with head bent towards left and continuously blinking his eyes.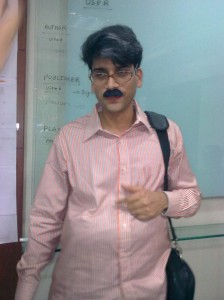 Srini: He is Mr. Jayant Kulkarni, working for Amway and heading Karnataka division. He will be introducing about his company.
Mr. Kulkarni: Hi Everybody. I am Mr. Jayant Kulkarni.
Do you know anything about Network Marketing or Multi Level Marketing.
All were looking at each others' faces.
Mr. Kulkarni went on to ask a number of other questions to which everybody answered. Mr. Kulkarni then asked "Do you know what is the day today?"
Ranga: 1st April sir.
Mr. Kulkarni: Hi Guys, I am Vikram. Happy fools day…(in original voice)
Bang… Hay it's our boss. It's Vikram in this posture with a fake moustache, fake glasses, cotton in his mouth and a complete disguise!
Only a few were able to recognize him but most were stunned to look at him in this way.
Nobody was ready to believe for a second that it was Vikram.
All we could say was "Ohh my god!" '
The seriousness of the conference room changed into laughter. All were stunned and not ready to accept ourselves as big fools. All were praising Vikram for his awesome acting.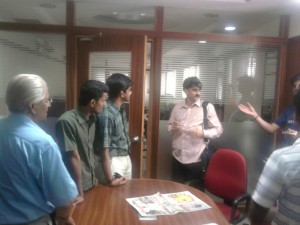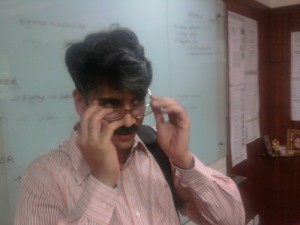 Vikram left the office to fool someone else, but our conversation went on long thereafter discussing the same from each individual's point of view and how each person felt…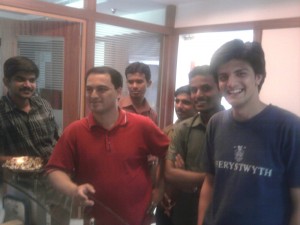 That's the end of this story…
But I'll end this post with another story concerning the history of April Fool's Day for you …
April 1st is called Fool's Day after Steve April. Steve April was born on 1st April 1579. He did 105 businesses in his lifetime. He lost all his father's assets and everyone started calling him as the father of Fools. At the age of 19, he married a 61 year old woman. She divorced him after a year because of his foolishness. He used to hear all kinds of fake stories like you. It's a great idea to fool you for fools day. Happy April Fools Day!
Many Thanks
Pavan S Shetiya
Team BookBuzzr/fReado