[A few days ago I came across Joel Friedlander's post – Getting Started with Scribd.com and passed it on to friends. One thing led to another and soon I was asking our in-house author Chetan Dhruve for his opinion. What he had to say would be of interest to most authors so, over to Chetan. :) ]

A disclaimer first: I'm a part of the BookBuzzr team. But I'm writing this post as a selfish author hell-bent on using the best marketing tools for my book, regardless of my affiliation with BookBuzzr.
Let me give you a quick background: My marketing journey began with a manifesto I wrote that was published on ChangeThis.com. The manifesto was so popular that I was able turn it into a (non-self-published) book titled "Why Your Boss is Programmed to be a Dictator". In some ways, the marketing process was reversed for me. The manifesto – effectively a book summary – was followed by the book, rather than the other way round.
Someone got hold of my manifesto and put it up on Scribd. What happened then? Well, it had about 500 readers when I last checked (a few moments back) – this is well over a year after it was put on Scribd. In the grand scheme of things, particular in relation to our ambitions of being best-selling authors, this is a tiny number of readers. In contrast, the ChangeThis manifesto has been posted on tons of torrent sites by people I don't know at all. This is in addition to the thousands of readers on ChangeThis itself. I don't have the figures, but it does seem to me that the number of readers of the manifesto on torrent sites and ChangeThis itself far outnumber those on Scribd.
So speaking for myself, Scribd hasn't worked for me – but I never expected it to and further, it didn't satisfy a burning need that I had as an author: to make my book look and feel like a real book on my website. Before BookBuzzr came along, books were represented by boring static book cover images on author websites. I thought this was crazy given what was happening, technologically speaking, on the web. Moreover, with the advent of Facebook, Twitter and so on, it was incredible that nothing was available that could help authors get their books onto those social networking sites.
BookBuzzr plugged in both gaps completely and effectively. First, the widget improved the look and feel of my book by leaps and bounds – like having Apple do its magic on my book. Second, the book appeared on Facebook and other places. Also importantly, BookBuzzr is, by far, the biggest source of traffic to my website.
So there's absolutely no comparison with Scribd but I don't blame Scribd for that –after all, it's a document sharing site. It's not meant to make your book or your website look good, neither is it meant to help you market your book. As an author, I'm looking for very specific tools that serve me – not a giant monster site that has millions of documents and users. Sure, you could put up your book excerpt on Scribd – there's nothing wrong with that. But I'm just saying that it didn't work for me, and the contrast with BookBuzzr couldn't be greater.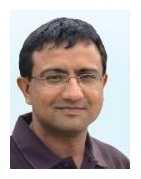 Chetan Dhruve has been a part of BookBuzzr from its inception. He has worked for several organizations including IBM, Cisco Systems and Britain's Department for International Development (DfID). He has an MBA from Cass Business School (London) and has co-founded internet startups. Chetan is the author of 'Why Your Boss is Programmed to be a Dictator'.