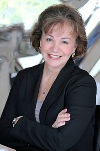 Linda Yoshida, writing as Kaylin McFarren, minored in English in college and for the past twenty years has led PR/marketing efforts for several companies within her family's international conglomerate. She is a wife and mother of three, and resides in Oregon. In addition to serving on numerous foundations and boards, she actively works with multi-published critique partners and is a member of several writers' organizations, including Willamette Writers and Romance Writers of America. Although FLAHERTY'S CROSSING is Linda's debut novel, it has already garnered numerous awards and received recognition as a 2008 Golden Heart® Finalist.
Kaylin sat before her computer writing FLAHERTY'S CROSSING as a source of personal therapy after losing her beloved father to colon cancer.
BookBuzzr recently interviewed Kaylin McFarren who is the author of the book 'FLAHERTY'S CROSSING' for which she has won numerous awards.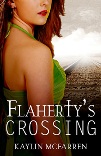 1. Kaylin, will you please share a little about yourself with us?
Although I was born in California, for most of my life I've lived in the Pacific Northwest. I've been happily married for 36 years and my family consists of three grown daughters, one son-in-law, and two gorgeous grandsons. I received my AA in Literature at Highline Community College, which originally sparked my passion for writing. I enjoy giving back to the community through participation and support of various charitable and educational organizations. My free time is filled with reading, gardening, oil painting, gourmet dining, collecting fine wines, international travel and golf. I'm also am a member of RWA, Rose City Romance Writers, and Willamette Writers.
2. How does your family feel about your writing?
They're incredibly supportive. My eldest daughter is an author as well and has become the perfect critique partner. I'm also blessed with a husband who loves to cook and welcomes the opportunity to discuss whatever I'm working on. He's my greatest fan and has, to my amazement, assumed all bragging rights. :D.
3. How and why did you become a writer?
Actually, I've always had an active imagination, probably my Irish roots burrowing into my brain. For most of my life, I was an avid romance reader, longing to slip into Jane Austen's corset. I tried my hand at poetry and writing short stories…anything to express my love of the written word. In high school and college, a few of my short stories actually ended up in school publications, but for the most part, they were tucked away in various drawers. As time went by, I married and was fortunate enough to travel to exotic places, meeting remarkable people, each with a unique story to tell. And along the way, I found inspiration and plenty of ideas to now channel into what I hope will be a long series of entertaining books.
4. What's the most rewarding aspect of writing for you?
I love the ability to delve into my imagination, to create a separate world where the complexities of life are simplified and problems can be resolved in a matter of pages. It's awesome to have readers so deeply entrenched in your characters that they see them as real entities and to hear how your story has impacted lives in a positive way.
5. What is the story behind FLAHERTY'S CROSSING?
Successful yet emotionally stifled artist Kate Flaherty stands at the deathbed of her estranged father, conflicted by his morphine-induced confession exposing his part in her mother's death. While racing home, Kate's car mishap leads her to a soul-searching discussion with a lone diner employee, prompting Kate to confront the true reasons her marriage hangs in the balance. When her night takes an unexpected turn, however, she flees for her life, a life desperate for faith that can only be found through her ability to forgive.
6. You are donating all your book proceeds to Providence Medical Foundation. Please tell us a little about it.
I sat before the computer writing Flaherty's Crossing as a source of personal therapy after losing my beloved father to colon cancer. You might say I was angry at him, at God, at the world in general. However, after writing this story, I had the opportunity to really look into my soul and consider the fact that so many other families have had to deal with similar and even worse situations. Rather than a memoir, my novel evolved into a fictional journey which brought about the resolution I needed to find. I never expected this exercise in writing to go to press, touch lives, or win literary awards. But as a result of my good fortune, I've arranged for 100% of my proceeds to go directly to the Providence Medical Foundation's colon cancer research department in my father's name. I'm now convinced that good things can grow out of the worst times in our lives if you just take the time to open your heart.
7. Would you like to share with us how you came to chose Kaylin Mcfarren as your pen name?

Let's see if I can make this as easy as possible. Although I'm married to a wonderful Japanese man, my grandparents on both sides of my family immigrated from Ireland many years ago. My eldest daughter's name is Kristina and besides being my best friend and critique partner, she is my strongest supporter – you might say, my other half – thus I created my pen name, Kaylin (K = Kris, Lin = Linda). My last name is truly my maiden name which is spelled according to my family roots in Kilkenny, Ireland. And since Flaherty's Crossing is a story about an Irish family, I decided to honor my father by using his name.
8. What's the most interesting comment you have received about your books?

I think this might be the 5 blue ribbon review I recently received from Dottie at Romance.Junkies.com: "Flaherty's Crossing is an amazing, emotional story of a young woman, who tries to come to terms with losing her estranged father and, at the same time, mend her troubled marriage. Certain aspects of the story were spooky, but the reader cannot help empathizing with Kate. I found myself emotionally involved with the story, laughing at times and near tears at others. Author Kaylin McFarrin is an extraordinary storyteller with the ability to touch your heart with her words and I look forward to reading more of her works. Brimming with witty repartee, well-drawn characters, creativity, imagination, plot twists, a few surprises and a bit of the paranormal, this story is unforgettable. If you are looking for a terrific story, assured to keep you up until you finish the very last sentence, "Flaherty's Crossing" is the one for you."
9. What are the best channels according to you for book marketing?
I would have to say word of mouth, internet sites like BookBuzzr, and active participation in virtual book tours. The more exposure and opportunities you have to promote your stories, the better shot you have in a very competitive market.
10. Would you like to tell us what you are working on next?

I'm currently working on a romantic suspense series (some might say action adventure) titled Severed Threads which involves an adventurous group of salvage divers searching for cursed treasures. Here's a quick summary of book one: In order to save the life of her estranged brother from a ruthless mobster, former marine biologist Rachel Lyons is forced to steal a legendary artifact out from under Jordan Novak, a salvage diver and former love interest. However, when she discovers that Jordan has his own unselfish agenda for recovering the treasure, Rachel must decide whose life and love is more important. Now that sounds exciting, doesn't it?
BookBuzzr thanks Kaylin for such an excellent interview. Connect with Kaylin on fReado.