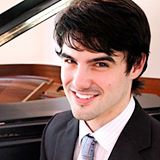 1. Hi Ben. Thanks for taking the time to do this interview. Would you tell us a little more about yourself? 
I live in the Pittsburgh area and am an avid reader and writer as well as develop cool tools for marketers like the AK Booster Pro. After having some success publishing stories and reports independently, I got the idea to develop AK Booster Pro as it would help automate many of the tedious and hard tasks authors face trying to marketer their book independently.
2. What exactly is AK Booster and why does an author need one? 
AK Booster Pro is an Adobe software (Mac and PC enabled) is broken into three sections. A 'Niche Finder' section, a 'Submitter' section and finally, a 'Reviewer' section which will help get your book more exposure.
Niche Finder
First, the 'Niche Finder' allow authors to find hot niches and keywords to write their books by extracting and presenting keywords Amazon Kindle customers are actually typing in. The 'rank' button organizes them by popularity and by typing in a seed keyword like 'vegetarian,' AK Booster is able to drill into untapped topics like 'vegetarian slow cookers' that people are searching for, but have not written about yet.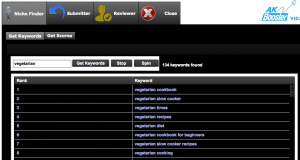 When you find an interesting keyword, switch to the 'Get Scores' section to see how profitable and how in demand that keyword idea could be. The demand score shows how many users are searching for this topic, the competition shows how competitive this idea is, and finally the overall score shows you have easy it is to rank and make money from this idea.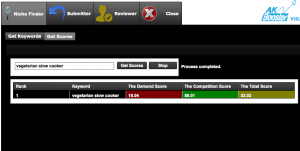 Submitter
The 'Submitter' section contains the largest number of free and paid sites to advertise and submit your book to during its KDP select free days. These include popular Kindle book sites like PixelofInk.com or KindleNationDaily.com. To submit your book, just click on the picture, fill out your info, and away your book goes.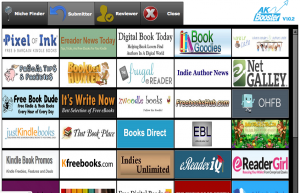 Reviewer
Finally, the 'Reviewer' section finds potential people to review your book who have left a review or are interested in your book's subject. You can search for reviewers on Amazon, GoodReads, and Facebook. Simply type in your book topic keyword and click search. AK Booster will do the rest and find you interested reviewers in your niche along with their contact information.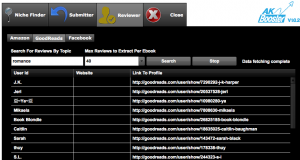 3. What are the current alternatives (both substitutes and competitors) to AK Booster and in which ways is AK Booster different? 
Right now, I am proud to say that there is no other software that can find niches, calculate demand and competition, submit your books, and find reviewers all in one. However, there are a few other tools designed to help authors market their books that work in a different way than the AK Booster Pro which is outlined on our sales page.
4. What is the appropriate way to use AK Booster in order to comply with Facebook and Amazon Terms of Service? 
When gathering the reviewer data, please don't spam or mass message people on Amazon, GoodReads, or Facebook. This is against their terms of use and will most likely get your account banned.
5. What is the cost of AK Booster and how can authors get a copy? 
AK Booster costs $17 for a single license and $27 for a multiuser license. The difference is outlined on our website. If this tool sounds like something helpful, please visit this link to learn more.