BookBuzzr author Toye Brown's book – Yearning For Love recently hit the #1 spot on the Amazon Kindle store. We reached out to Toye to learn more about her story.
The screenshot below was taken on February 14, 2014.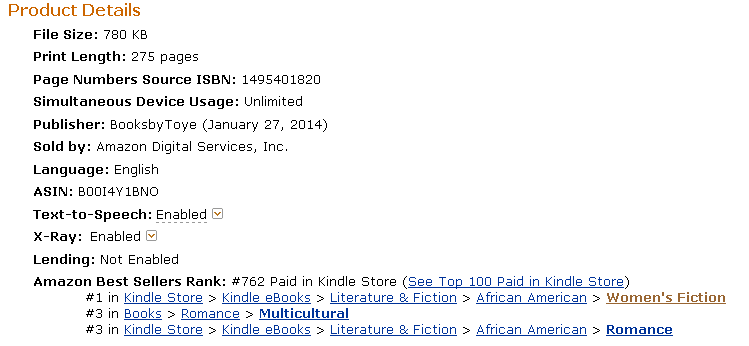 1. Congratulations Toye. We're so excited to have you here with us. To start with, can you tell us a little about yourself?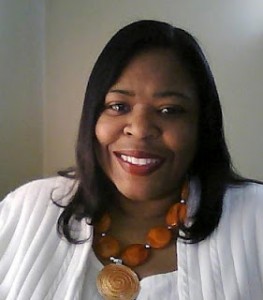 Thank you so much for having me. First, I live in Cleveland, Ohio. I am the mother of two adult children and grandmother of two adorable little girls. My first marriage, unfortunately, ended early in a divorce but my second chance at love, has been going on for twenty-one years, and is still strong. By day, I work for a major law firm and get some of my inspirations from that. Otherwise, I love to cook, sing, read, and just enjoy life.
To touch on my writing journey, I have always loved to read, and wanted to write a book when my kids were preschoolers. However, I had to provide for them since they were my first priority in life. So I became a writer late in life once they were finished with school and on their own. I wrote and self-published my first book Obsessive/Obsession in 2010 with Outskirts Press. From there, I couldn't stop. Here I am, sixteen books later, with a number 1 book on Amazon. It has been a hard and amazing journey, and I have developed a thick skin since that first book. Not everyone will like what is written, and not all reviews will be 5-stars. So to help me become more serious about my writing, I took a writing course to help improve my skills, and I learned from that course what I was doing wrong.
Also, I write in a few different genres. I love mystery and suspense, so I have a few books dealing with mystery/suspense with a little romance thrown in, and. I love crime dramas, so I have a series called the Detective Series dealing with police and FBI agents. Then there is my romance line. I love my African-American alpha males and females, but I also love my multicultural romances. Hence, my interracial love stories. I don't write those stories based on black and white, but more on love is color blind and a person's nationality shouldn't be the basis of stopping love from happening.
2. What's your book 'Yearning For Love' all about?
Yearning For Love is an interracial romance about two people who are searching for something in life, but cannot find it. Walker Albright is determined to find the right woman. He wants to settle down. Not with just any woman, but the right woman. He is tired of dating women that only want to use him. He is determined to stay single until the woman of his dreams steals his heart.
Nicole McLin is smart, pretty, and very much alone by choice. Her loveless childhood has kept her from letting anyone get close to her as an adult. She feels the neglect she received as a child, has left her without the ability to love another person. She is also dealing with a life-threating illness-diabetes. A self-taught fashion designer, she finally decides she wants to see how the real world lives and accepts the task of designing the perfect wedding gown for a woman. That woman manages to penetrate Nicole's walls and befriend her.
Patty realizes Nicole would be perfect for Walker and sets out to bring the two together. Once Walker meets Nicole at the wedding rehearsal, he is automatically smitten with the friendly woman, and instantly is aware of her reserved nature and uncomfortableness around other people.
However, Walker is determined to learn more about the African-American woman his soon to be sister-in-law never mentioned, but under the reluctant eye of his brother Jeremy. Jeremy is civil towards Nicole and somewhat likes her. Due to her being black, though, he feels his brother would be better off dating someone of his own race and tries to discourage Walker from pursuing anything with Nicole.
I'm going to stop here without giving too much of the story away. But, this is a story of overcoming fears and learning acceptance. It is a story about not letting past failures keep a person from pursuing love or a life everyone deserves.
3. How did you feel when you discovered that your book was number 1 book in the Amazon Kindle store? Did you go out and celebrate?
I could not believe it! I kept looking at the ranking waiting for it to change before my eyes. When that didn't happen, I immediately called my mother since she has been my biggest supporter. When I wanted to quit writing, she kept encouraging me to write and hone my craft because she saw I had a gift for storytelling. Then I proceeded to call everyone I knew and even wrote about it on my blog.
Since I do hold a day job, I will be taking my family out to celebrate this weekend to dinner. I believe every milestone should be celebrated, and this was a significant milestone for me. I take nothing for granted and situations can change in a flash, so I am enjoying the moment and grinning from ear to ear. I take pride in the fact that my readers appreciate my work. I have, and will continue to improve by hearing what readers have to say what they want in future stories.
4. What's a typical day like for you? How do you allocate your time between writing and book marketing? 
My days start early Monday-Friday. I first put in a full day at work giving my best there. During lunchtime, I might write a bit or jot down a few random ideas I get. My daughter gave me a notebook to carry around to jot down my ideas and this past Christmas, my son gave me a mini recorder so I can record my ideas and then upload them directly to the computer. That has come in handy.
The weekends are primarily for writing and marketing. I get up early and start writing. Sometimes I am up at 4:00 a.m. writing. Marketing is the hardest part for me. I'm a quiet person by nature and selling myself is hard. I do the social media promotions, and use outlets, such as BookBuzzr, which has helped me gain readers. I have gone on the road and attended several book conferences. That can be an expensive venture and tiring if too many are done in a year's time. I've also conducted radio interviews, as well as blog interviews and blog hops. It goes without saying the more exposure I've gotten, the more comfortable I've become with opening up and talking about my love of writing. But I'd prefer to write instead of doing the marketing. Unfortunately, I'm self-published so I am the whole package and cannot drop one thing without causing a disaster on the other end.
5. What are some simple steps that authors can take to improve their book's rank on Amazon and improve sales?
Build the suspense about the book before it comes out. Release small samples of the book as teasers to get readers interested. Once the book is completed, talk about the book to friends, family, tweet, Facebook, get it on Bookbuzzr to get it out there. I don't suggest spamming other people's pages, but blow that whistle and pat the self-back for a job well done. The book might not rise to #1 on the first day but the more tooting of the horn the more it will move up the charts.