A few years ago, if you gave away a copy of your free book, you could expect at least a few readers to gratefully read through your book and leave a review. Today, the competition is intense with Amazon listing thousands of free books at any given point in time. Many authors struggle to get readers to find and download their books on the Kindle free days. And people who download them might not read them, let alone review them.
In this interview, BookBuzzr author Owen Choi shares his Kindle experiences, both good and bad.
BB: Hi Owen. Thanks for doing this interview. Before we continue, can you tell us a little about yourself and your book?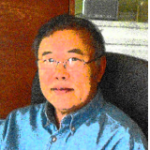 Owen: I was born in South Korea, and came to the United States in 1972. I worked in various fields of computer software, most notably in computer networking, and took an early retirement from IBM. I live in Raleigh, North Carolina, devoting my time to writing. Although I studied engineering and became an engineer, writing fiction was always my passion from childhood days.
With action and suspense, Tendrils of Life is an upmarket novel, interwoven with character-oriented narratives and visual detail. It's a story of love and hope, greed and revenge, and the quest for survival in the turmoil of war – a depiction of resilience of the human spirit.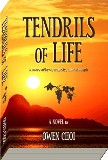 Acute food shortages and lawlessness plague communist-occupied Seoul at the start of the Korean War in 1950. A sixteen-year-old boy aches to return to the safety of his old home on a remote island he'd left five years earlier. But only his father, who is absent from home, knows the way. Please visit www.tendrilsoflife.com for the rest of the description.
BB: How many KDP Free Days have you had so far and what kind of results have they given you? Can you please share some stats and screenshots?
Owen: My first 90-day cycle started on July 26 of 2012, when my Kindle book was published, since then I had 11 Free Days.
My first 5-day period was between 10/17/12 and 10/25/12. I waited until the end of the cycle because I didn't have enough reviews until then. A month prior to the start date, when I finally had 5 reviews, I submitted my book to Pixel of Ink (POI) and Ereader News Today (ENT), then to some other sites a few days prior to the free days.  Freebooksy and some smaller sites listed my book on the first day (Wednesday), and there were 775 downloads in the US and India; the next day only 138. After two non-free days, a 1-day promo on Sunday resulted in 2,070 downloads. I didn't plan to have Free Days on Monday and Tuesday because I had heard they are not good days for promos. On Monday I noticed a spike in sales; it continued through the following day. Overall I sold 24 copies in 2 days. And I found out that ENT had listed my book on Sunday. The Free Days on Wednesday and Thursday weren't too good. Overall I had 3,367 downloads in the US, 104 in the UK, and 12 in other countries. In hindsight, it would have been a lot better if I had continued the free promo on Monday and Tuesday.
My second 5-day period was between 1/16/2013 and 1/22/2013. Up to that point I was so busy that I was going to skip the cycle, but just a couple of days prior to the starting date I decided to do it. I then discovered some new sites to post on. Although it was too late for many bigger sites, fortunately Kindleboards listed my book on the first day. My Free Days were Wednesday, Thursday, Sunday, Monday, and Tuesday. The best day was Monday (1/21) with 1,875 downloads, which was Martin Luther King day. The overall figures were 3,112 in the US, 102 in the UK, and 19 in other countries. I immediately lowered the price from $2.99 to $0.99, and my paid sales ranking improved. The following screenshots are from Bookbuzzr reports. (Note that the last Free Day ended at 3:00 AM EST, January 23.)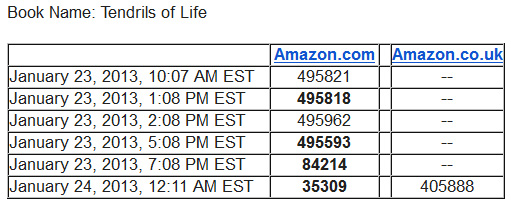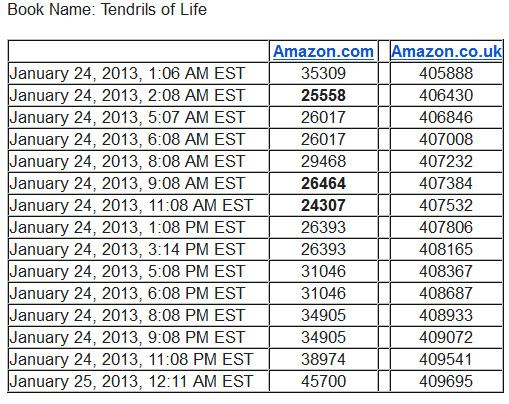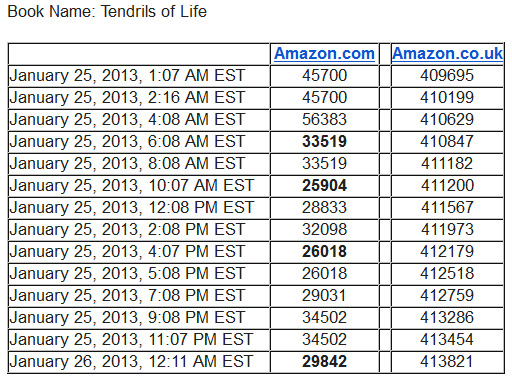 On 1/26, Digital Journal published an interview with me (www.digitaljournal.com/article/342129) and it improved the sales ranking.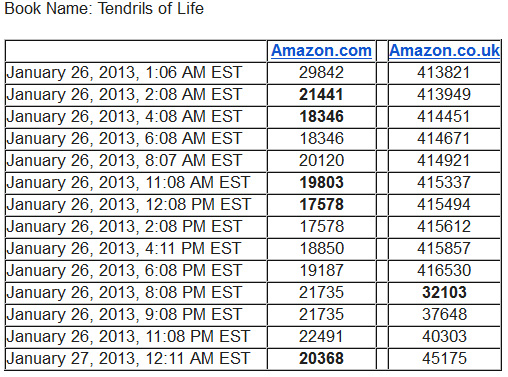 Then on 1/31, ENT listed my book as a bargain book (based on my earlier submission) and the sales ranking jumped again.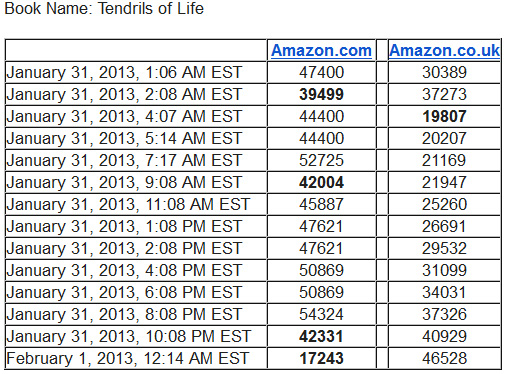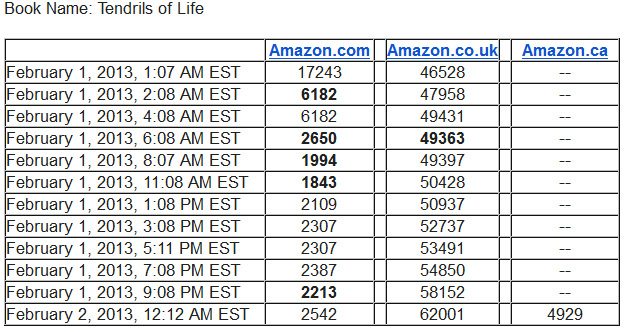 Since BookBuzzr doesn't currently report Free Day ranking, I'm not sure what was the best ranking I had, but the following screenshot was taken on 1/22 (Tuesday) around 10:50am.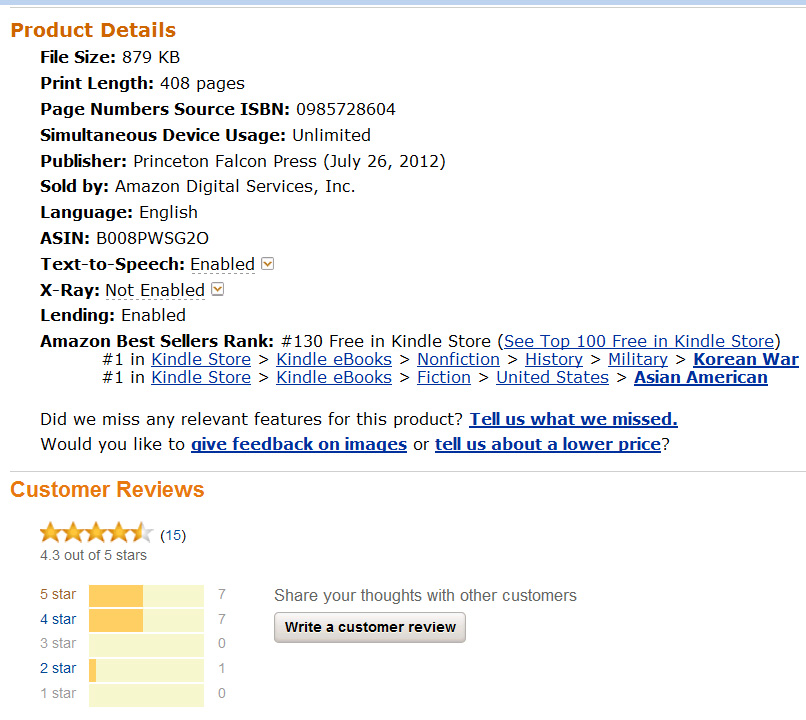 The following screenshot was taken at 10am on 2/1, which matches your report.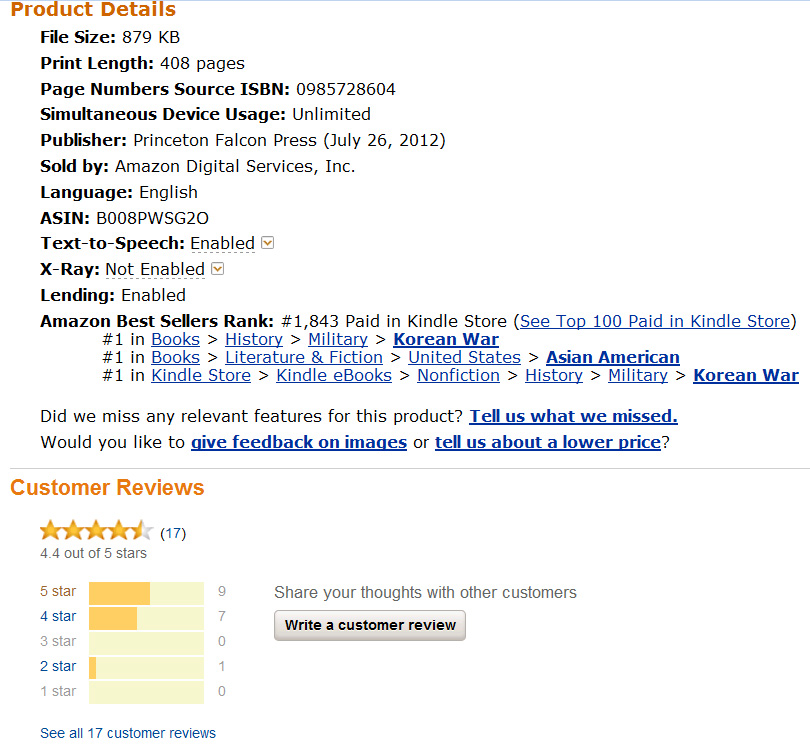 BB: Considering the effort involved, is it still worth doing a Kindle free day?
Owen: I would say it's definitely worth it as you can see above. I personally do not enjoy marketing, however, and I would rather spend time reading and writing. If a trusted organization such as Bookbuzzr would manage my entire marketing drive with some sort of loyalty sharing agreement, I would seriously consider it. As it stands, I cannot afford to stop marketing.
BB: What would you keep in mind the next time you do a Kindle free day?
Owen: We need to plan ahead and make sure some good sites list our books. I tried another promo on February 13 because I submitted my book to POI a month earlier. I wasn't sure whether POI would list it, so I was very unsettled. Only two days before the starting day, I decided to proceed just in case POI listed my book. But they didn't, and it was too late to submit it to many other sites. After one free day, there were only 252 downloads from the US and other countries, so I stopped the promo.
BB: How many reviews should a book have for a Kindle free day to work?
Owen: At least five reviews. But 20 or even 30 or 40 might be required for some big sites. Above all, the quality of your book is important. There are many low-quality kindle books today; potential readers would download them based on the description, but they may stop after a few paragraphs or pages; they wouldn't say nice things about the book to their friends. Quality is the most important factor to me.
BB: Can an author use the KDP Free days as a tool to get book reviews?
Owen: I'm not sure. I got a sizable number of reviews for the Kindle books, but I don't know which ones are for free copies and which ones are for paid ones. My impression is that at least some are from free downloads. My hunch is that a 2-star review I got was from a free copy: "I did not enjoy this book. It was too depressing and too long. I did not finish the book because of the nightmares it caused. If you enjoy terrible reality this would be a good book. Its scenes were so well written, they stayed with you and haunted your thoughts." But I really don't know. It was not a bad review at all; I appreciate her placing it. Many times we don't finish the books we buy depending on the book and personal circumstances. And I cannot guess what percentage of people who download free copies actually read them. It depends on many factors such as the quality of the book, the reader, and the circumstances the person faces afterward.
BB: I've heard that some authors price their book higher prior to their free day so as to increase the perception of value and then bring down the price after the free day so that readers who find the book after the free promotion can still afford it. What are your thoughts? What is the best way to price your book before and after the free day promotion?
Owen: I've heard that. Before my first free day on 10/17, I did increase the price to $9.95 from $2.99. After 2 free days, I restored it to $2.99, and I didn't increase it afterward. In my opinion, the gimmick doesn't work. People who download the book might say to their friends, "That book seems okay, but I wouldn't pay the full price . . ." On the other hand, I thought lowering the price to $0.99 after the free promo would satisfy the people who might have missed the free days. I think leaving the price at $2.99 (assuming that it's your normal price) allows you earn more loyalty, but reducing it to $0.99 will improve your ranking. If you set the price at $0.99, however, people might think the book is bad. Also, they wouldn't borrow it from the Amazon Lending Library (for Prime members).