BookBuzzr author P. O. Dixon's book – Pride and Sensuality: A Darcy and Elizabeth Short Story recently hit the #1 spot on the Amazon. We reached out to P. O. Dixon to learn more about her story.
The screenshot below was taken on April 7, 2014.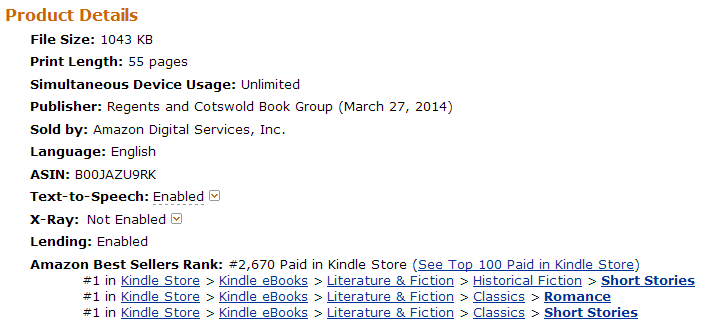 Hi P. O. Dixon, thank you for taking the time to do this interview.
1. Congratulations on the success of 'Pride and Sensuality'. Can you tell us a little about yourself and your journey as a writer?
I think of myself as a writer as well as an entertainer. Historical England and its days of yore fascinate me, particularly the Regency period with its strict mores and oh so proper decorum. I credit my ardent appreciation of Jane Austen's Pride and Prejudice as the impetus for my writing career.
When it comes to my writer's journey, I often remark that I arrived late in the game. It was only after I published my first story and later confided to someone in the "real" world what I had done that I was reminded I had written and shared stories with others during my teenage years. Indeed, the pursuit of advanced business degrees and professional career objectives literally had relegated my earliest writing endeavors to the furthest recesses of my mind.
Even after publishing my first book, I never supposed I would one day write for a living. My professional career meant too much to me to even consider such folly. By the time my fourth book was published, I could not imagine any other life for me.
Although it likely will not always be the case, all my books have been Pride and Prejudice adaptations. I love knowing that my readers are so passionate about a story written more than two hundred years ago and frankly can never get enough of it, for I feel the same way. Once I discovered the world of Pride and Prejudice fan fiction, my fervent passion for all things related to Pride and Prejudice took hold, and I was not truly satisfied until I began sharing my own stories.
2. What's your latest book 'Pride and Sensuality' all about?
Pride and Sensuality is my thirteenth Pride and Prejudice adaptation. Everything that occurs in Jane Austen's timeless classic leading to the last days before Darcy and Elizabeth are married, serves as the backdrop of this "what-if" story. It is a warm and diverting account of how Mr. Darcy and Miss Elizabeth Bennet, a young engaged couple violently in love, might have spent an evening at Longbourn mere days before their nuptials.
Its sultry title begs the question: If Pride and Sensuality were a film, what rating would it be? One reader said, "It is sensual, but does not cross the boundaries of what is tasteful." The reader went on to say, "PG rated for actual events, but PG-13 for the thoughts it puts in your head."
Well said.
3. Do you have a special time to write or how is your day structured?
As an author and publishing entrepreneur, countless activities consume my every waking hour. Though I would love to say I write every day, that is not the case. I devote as much time to education and training aimed at perfecting my craft as I spend on social media networking dedicated to building true fans. I have a growing library of writing and editing books as well as marketing books. If it's a bestselling Kindle marketing book, I have read it at least once or twice. I also make it a priority to stay abreast of the ever-changing publishing landscape in order to tweak my strategy accordingly.
With so much to keep up with, I find working with a Master Writing plan essential to achieving my annual writing goals and delivering planned releases on schedule. It's a helpful tool in allocating my time among all my writing priorities on a weekly basis.
4. Do you have a strategy for finding reviewers?
My most effective strategies for getting early reviews are reaching out to select bloggers who have enjoyed my work in the past as well as offering Advanced Reader Copies to my newsletter subscribers, upon request. In addition, at the end of every eBook, I ask readers to consider writing a review. Beyond that, I tend to rely upon the process of gaining reviews to unfold organically.
5. What are some of the activities that you do to market your book?
I believe it is important to have an online presence wherever new readers are likely to find my books. In addition to my website which has a landing page for each of my titles, I have two blogs: one is used solely to inform readers of exciting milestones for my books, and the other is meant to be more engaging with genre related posts and giveaways.
By the third round of story edits for each new release, I start paying close attention to parts of the story that will form the basis for the book's marketing campaign. Then, while the manuscript is in the editor's hands, I focus upon developing the release marketing strategy and preparing marketing materials.
I actively engage my readers on Facebook, using both my personal and author page. To make my Facebook posts more engaging, I provide lots of pictures often with inspirational quotes drawn from the books themselves. I especially like to use BookBuzzr's book widgets on my website, and I take advantage of the Book-tweeter feature. My favorite technique is incorporating excerpts from reader reviews in the scheduled tweets. Tweets that include the #Bookbuzzr hashtag are regularly retweeted, are often flagged as favorites and are featured in various Paper.li editions; hence serve as effective passive marketing.
Other things in my Marketing Toolbox are the use of free press releases, which I then promote to targeted Facebook users, an up-to-date Goodreads Author Page with new release book giveaways, regular Google + updates, and Pinterest boards for each book.
As important as all the other marketing techniques are, I'd say my most important strategy is increasing my newsletter subscriber base with true fans. I credit my newsletter members with Pride and Sensuality landing the #1 spot on Amazon's Best Sellers in Historical Fiction Short Stories on the day of its release.