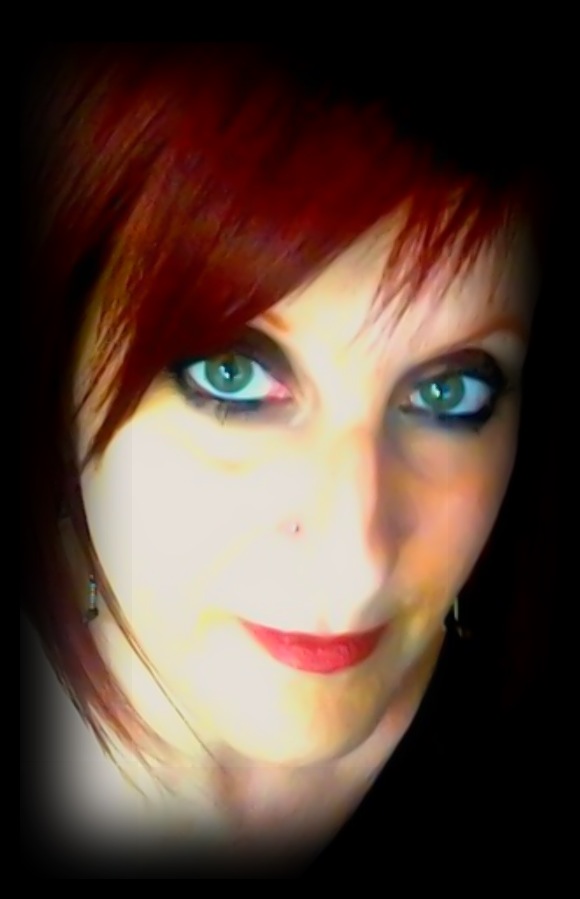 Rachel Thompson (aka RachelintheOC) is a bestselling author and social media/author marketing consultant. Her three books, A Walk In The Snark, The Mancode: Exposed and Broken Pieces are all #1 Kindle bestsellers! Midwest Book Review and two Amazon Top 10 Hall of Fame reviewers all gave Broken Pieces five stars.
When not writing, she helps authors and other professionals with branding and social media for her company, BadRedhead Media. Her articles appear regularly in the San Francisco Book Review (BadRedhead Says…), 12Most.com, bitrebels.com, and BookPromotion.com.
1) Hi Rachel … thank you so much for doing this interview and for your willingness to share your experiences and knowledge of book marketing. Can you tell us a little more about yourself?

Sure. I'ved in California most of my life, though I was born in Florida. I did try out the east coast for about four or so years in the early nineties, but had enough of the crazy winters! I'm a wife, a mom (two children, a boy and a girl), and when I'm not working on books or articles, I'm running my social media marketing business. Let's not discuss laundry.
I did the corporate thing in the pharma industry for over 15 years and quit in 2004. I've always been a writer, since the age of ten, and a lifelong avid reader. Books and words are my addiction.
2)  You've got a humongous following on Twitter. Can you share some tips which authors can begin implementing right away to improve their Twitter presence?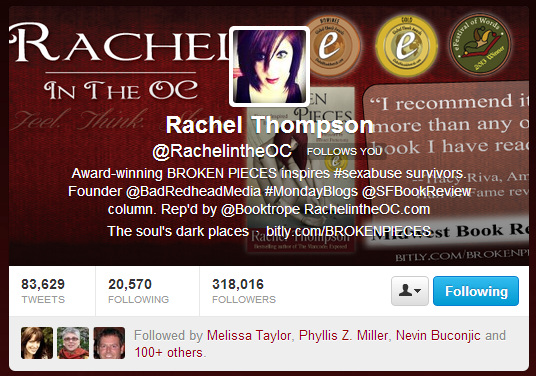 I've been on Twitter since early 2009, so I've had time to build a targeted following and have learned a few tricks.
a. Be authentic. Many authors say they just don't know what to talk about on Twitter, and I tell them they should talk about what they always talk about in real life! If you're completely stumped, start with your genre, share books and authors you enjoy, quotes, first-lines, etc. I do suggest going beyond that as you become more comfortable since none of us is one-note.
b. Don't spam. It's tempting to get on Twitter and do nothing but talk about our books and share links to our books, but that puts most people to sleep or worse, you annoy them and they unfollow or report you for spam. Connect with readers, discuss topics that interest them (how do you know? Ask them!), and provide information (resources, unique info, visuals) they may not see elsewhere. Avoid the 'hard sell.' Build relationships instead.
c. Understand Twitter rules and guidelines. Not sure what hashtags are? Read about it in the Help section. Virtually any question someone has about Twitter can be found there, or ask me. I'm at RachelintheOC (my author account) or my business stream BadRedheadMedia.
d. It's not quantity, it's quality. I've been reseraching fake followers, spammers, and bots for an upcoming article. I've tried a few 'buying' services to see what they offer, if the followers are real (no), and why so many people seem to look at quantity. I've learned this: clear out any fakes, bots or spammers (I use ManageFlitter.com daily to both follow and unfollow); follow readers – too many authors only follow only other authors; retweets and interaction count more in the eyes of Twitter and Klout when it comes to influence.
3) How do you reach out to readers and engage with them on Facebook?
Facebook requires that an author have a Page (as opposed to using our Personal Account) to sell. That said, I interact more with people on my personal account, sharing articles, pictures, and funny visuals. Same concept applies to Facebook as Twitter: ask questions, promote others, provide great content and sales will follow. And don't forget Google+! It's a Google product and not difficult to use. In fact, using it can increase your Google ranking.
4) You've got quite a few reviews for your book on Amazon… some of them from top Amazon reviewers. Do you have any advice to authors about reaching out to reviewers on Amazon?
I didn't do a special rain dance or anything to get my book in front of key people. I did, however, build relationships with them online – sharing posts, interacting, talking about life, whatever. Book bloggers and reviwers are our friends but treat them as such – too many authors throw books at these kind folks (most of whom do this review and blogging thing as a nights and weekend thing), so respect them and their time. Always, always be polite. Ask politely and don't be upset if they decline.
For the reviews that come organically from readers, I'm forever grateful because someone took the time (I hope) to read my book. That should be any author's goal, even if the rating is low.
5) What are some of the simple things that authors can do to take control of their book marketing?
If you don't understand what branding or marketing is, ask someone, read blogs and sites, buy books (Amazon has a ton). No author can live in a bubble – visibility and exposure are word of mouth now, as are book bloggers and book reviwers. And use tools like blog tours, advertising, and BookBuzzr to help achieve those goals!