BookBuzzr author Linda Watkins recently had an opportunity to celebrate. Her book – Mateguas Island – recently hit the number 1 spot on Amazon in the Horror > Occult category.
The screenshot below was taken on October 14, 2014.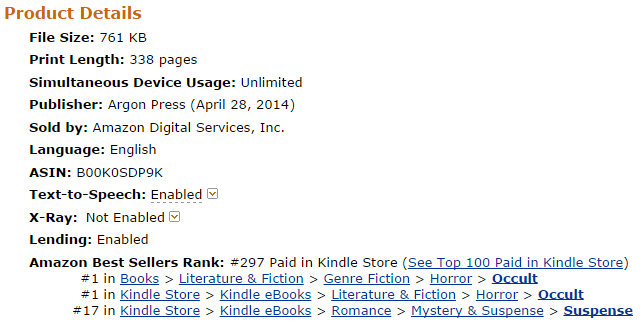 We reached out to her to learn more about her journey…
Hey Linda! Always a pleasure to connect with a fellow Carnegie Mellon alum! Why don't you start out by telling us a little bit about yourself?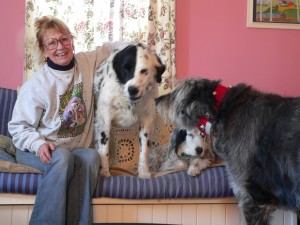 Sure. My family is from New England. We moved to Michigan when I was young and that's where I grew up. After college – at Carnegie – I moved to the San Francisco Bay Area where I spent most of my adult life, working as a financial analyst at Stanford Unversity School of Medicine. When I took early retirement, I moved to Oregon for a brief time, then on to Chebeague Island, Maine, where I resided for seven wonderful years. Chebeague is an "unconnected" island – there is no bridge or causeway; access is only by ferry or private boat. It was there that I wrote MATEGUAS ISLAND. Last year, for personal reasons, I gave up island life and moved to Western Michigan where I live today.
I'm single and live with my three aging rescue dogs, Splatter, Spudley and Jasper,
Why did you start writing?
I think I've always been writing. When we were young, my sister and I used to write satirical sketches based on the era's most popular tv westerns. Later in life, at work, I wrote "long forms" and business plans while, at home, I wrote songs, poems and bits of whimsy to share with family and friends. A novel, however, was something I never attempted until approximately four years ago when I started MATEGUAS.
I think there were two things that spurred me to actually sit down and write this book. First was a challenge from my sister who is also a writer. Second was the invention of the iPad! I got one of the first ones and it freed me from being tied to my computer. I could write anywhere – in my car, waiting in the parking lot on the mainland; on the ferry, going to and from Chebeague and in the wee small hours of the morning when my characters refused to let me sleep – they wanted their story told!
What's the story behind 'Mateguas Island'?
Well, as I mentioned above, I lived on an island not unlike my fictional one. Living on an unconnected island, there are times, most especially when a storm is coming (I experienced 2 hurricanes and an untold number of nor'easters while I lived there), that one can feel an overwhelming sense of isolation and claustrophia. These emotions play well into a story based in the supernatural. Also, you'll note my main characters moved to the island from northern California – just like I did.
Since horror is the genre I most enjoy, I decided to write a horror story, using a fictional island as the backdrop. It began, initially, as one of those "house" stories – you know, there's something evil lurking in the walls, etc. However, my characters had other things in mind and they led me to the story that is now MATEGUAS.
What's the best thing about being a writer?
Gosh – the people you meet in your mind! And, you can do anything to them that you want! Also, your hours are your own – you can write in the early morning, late at night or whenever the spirit moves you. It's so much fun creating a story – I can't really describe it – it's wonderful.
What's the worst thing about being a writer?
As a self-published writer, I have to do all the promoting of my work myself and I can't say I really enjoy it. I'd rather be writing. But promotion is a necessary evil and I have to do it!
What does a typical day look like for you?
I'm a morning person. I'm usually up around 5:30 – 6:00 am. After I let the dogs out and brew that first cup of coffee, I'm at the computer – reading emails, scheduling tweets, answering messages on FB and posting book promos there. After all that is done, I walk my dogs, feed them and then it's back to the computer again, either doing promo stuff or writing/editing.
In the early evening, I'm again back at the computer doing promos. After dinner, it's down time – I stop work and just relax.
What are some of the things that you did to market your book?
I've tried quite a few different things. I do Facebook promos in the numerous groups that feature books, I tweet and retweet, I've been on several different horror blogs as a guest, and joined in promotional events featuring book giveaways. I've also placed my novel on a number of websites that feature books. Outside of cyberspace, I've done signings and participated in charity events, giving away copies of my book
It was a BookBub promotion, that I'm now in the middle of, that catapulted me to the #1 Bestseller Ranking.
How did you learn about your book hitting the number 1 slot on Amazon?
As I mentioned above, I had a promotion going on, so I was watching the stats very carefully. The first day, the books were flying off the virtual shelves so fast, the Amazon ranking couldn't keep up with them! I think the lowest number I saw was 123 in all paid, which blew my mind. Getting the #1 ranking in Horror/Occult, ahead of Anne Rice and Stephen King and lots of other amazing writers, was just too awesome!
Who designed your book cover for you?
The photos on both the front and the back are ones I took on Chebeague Island. The colorization and lettering, etc., were done by a fellow writer, H. William Ruback, who also has a graphic design studio – www.incolordigitaldesign.com.
How did you get your book and author websites created?
Another fellow writer and good friend, Steve LeBel (The Universe Builders), helped me set them up initially. The rest was done by just trial and error. I learn best by doing, not by reading about doing!
How did you manage to reach out to your first few reviewers and get them to read your book?
My book is published under Argon Press which is actually a consortium of writers. The aforementioned Steve LeBel set up a website for Argon and, in that website, members of the general public have the ability to download ARCs (advanced reader copies) of our unpublished work. I obtained several reviews from those readings.
In addition, I reached out to reviewers who have pages on Facebook asking them if they would be so kind as to read and review my work. I also sent MATEGUAS to the Midwest Book Review and Readers' Favorite organizations in order to obtain editorial reviews. At the same time, I entered the Readers' Favorite International Book Award Contest and was so thrilled and elated when MATEGUAS won the Gold Medal in Fiction-Supernatural.
When is your next book coming out? Can you tell us a little about it?
The next book is the sequel to MATEGUAS, aptly titled: RETURN TO MATEGUAS ISLAND. The novel is in the final editing stages now. My goal is to have the editing done by the end of October, then its on to formatting, etc. I have the front cover done – the back and spine will come later when I prepare the print version. I hope to publish the eBook by mid-December 2014. The print version will come later – probably in January or February of 2015.
As for the story, it takes place ten years after Karen Andersen and her family leave Mateguas. Karen's daughters are now eighteen and want to return to the island to find out what really happened that night of the storm when everything changed. Karen, now married to Dex, naturally, does not want to go, but is eventually persuaded. There will be some major surprises in store for them on Mateguas, but I'm not going to give away anything here. Suffice to say, there is plenty of supernatural stuff going on as well as a healthy dose of romance. A brief excerpt of the novel can be found on my website, www.mateguasisland.com.
RETURN TO MATEGUAS is the second full-length novel in a three book series. I'm writing the final novel in my head right now and, once Return is publshed, hope to get started putting it down on paper! My goal is to publish that book by the end of next summer.