BookBuzzr subscriber Charlotte Riggle's book – Catherine's Pascha has been recently launched on Amazon and has begun garnering positive reviews. We connected with Charlotte to learn more about her book and her world.
The screenshot below was taken on Mar, 25 2015.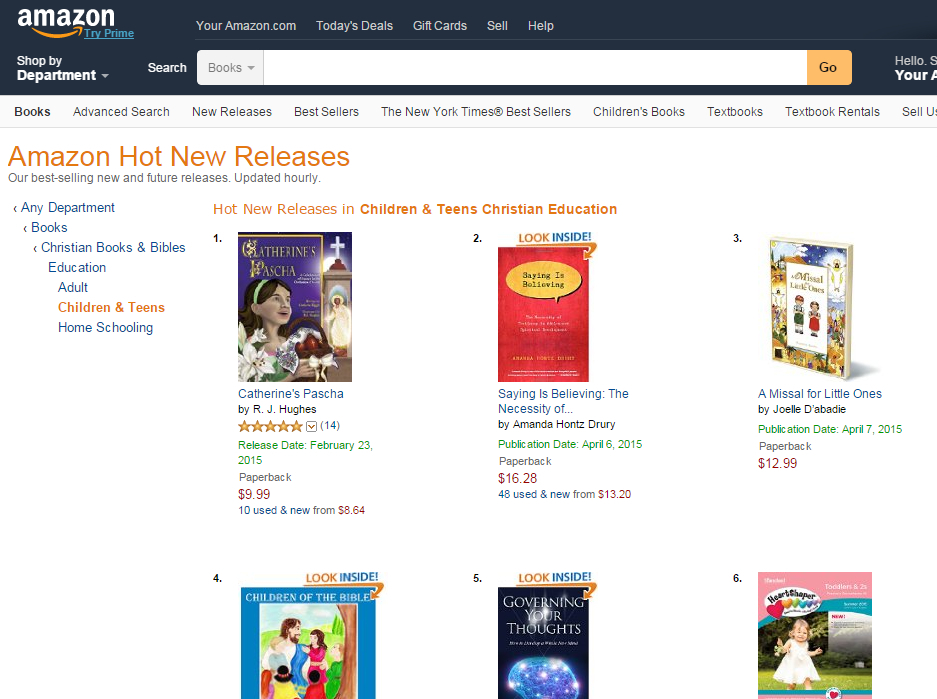 Can you tell us about yourself?
Even though Catherine's Pascha is my first book, I've always been a writer. For many years, I've mostly written things like computer help systems.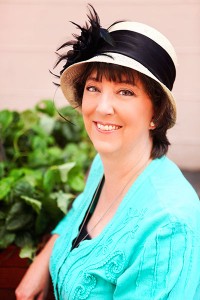 That's not as much fun as writing children's books, but it's a steady job. And, honestly, I've always been grateful that I could make a living doing something that I enjoy as much as I enjoy writing.
My husband is a junior high math teacher. He and I live with a large, fluffy white dog in a rambling old house in a small town in the Pacific Northwest. One of my kids called it The Ugly House. From the outside, it's very plain and very small. But it's bigger on the inside than it is on the outside. And it's full of books. Floor to ceiling, on shelves and ledges, in stacks on every flat surface, there are books.
I love the idea of tiny houses. But if I had a tiny house, I'd have to have two: One for me, and one for my books.
What is Catherine's Pascha about?
It's about a little girl celebrating Easter in the Orthodox Church. That sounds terribly boring, doesn't it? But in the Orthodox Church, we celebrate Easter (which we call Pascha) in the middle of the night. The service starts at about 11:30 at night, and it lasts for three or four hours. It's a wonderful celebration, with processions and candles and bells and incense. And then, after the service, at many parishes there's a huge party.
So the story is about a little girl struggling to stay awake for a celebration that she's been looking forward to for all of Lent, and even longer. It's like Christmas, only more so: the biggest celebration of the year, the most important, the most festive, the most exciting, the most fun.

Why did you write this book?
When my children were little, each year I gave each of them a beautiful new Christmas picture book. There were always so many to choose from. I never had trouble finding four or five beautiful books. Sometimes I had trouble selecting only four or five out of what was available!
I wanted to do the same thing at Easter, but there just weren't as many Easter picture books available. Not only were there fewer books, but the range of books was much narrower. There were Bible stories, and silly books about eggs and bunnies. There were a few impossibly didactic and boring books about the meaning of Easter. But I wanted to buy my kids the same kinds of sweet, fun, engaging stories that I bought them at Christmas. Unfortunately, those books didn't seem to exist.
I finally decided that the only thing to do was to write the book I wanted myself.
That was over twenty years ago. I did try to get the book published back then, and I got the most amazing rejection letters from the publishers I submitted the book to. They were personal letters, telling me how much everyone who looked at the manuscript loved it. But, they said, they had to decline the book because they couldn't figure out how to sell enough copies.
So I kept the manuscript for all those years. And just over a year ago, I was reading about how new printing technologies were affecting book publishing. The article said that rich, beautiful color printing was now available as print-on-demand, and that was going to revolutionize the market for children's picture books.
Perhaps "revolutionize" is too strong. But high quality color POD printing has certainly changed the market. Because of those changes, I was able to find a small, non-traditional publisher who was also an illustrator, and who was willing to take a risk on my book.
Although, to be honest, saying that I found her is giving myself too much credit. It's more like, when the time was right, not according to my schedule, but according to God's time, the publisher and illustrator that this book needed appeared.
And now Catherine's Pascha isn't just a story I told my children. It's a real book, a beautiful book, a lavishly and lovingly illustrated children's book.
You mention the illustrations. This artwork in this book is amazing. What was it like, working with your illustrator?
Oh, my goodness, it was wonderful! I couldn't have asked for a better illustrator. It's not just that Becky is a fabulous artist – she's that, of course. But Becky understood the story. She understood that the story is about one little girl on one Pascha in one parish – but at the same time, it's about the universality of Pascha, the universal joy of the Resurrection of Christ.
And I just love all the ways she chose to convey that universality. The most obvious thing is the way she used Orthodox churches from around the world to frame each of the pages of the story. So, while Catherine and her family are arriving at her parish, in the background of the page, there are people arriving for Pascha services at another parish somewhere else in the world. Each spread shows one or two churches, from Antarctica to Egypt, Jerusalem to Japan, Australia, Alaska, Argentina, and lots more.
Becky spent a great deal of time choosing the parishes, researching their history, their location, the local culture and traditions. And all her research shows in her beautiful artwork.
I also love the way she used the moon to convey the passage of time in the story. As the story is beginning, the sun is setting at Catherine's house, and the moon is beginning to rise. As you turn the pages of the book, the full moon moves through the sky, until, at the end of the book, the moon is setting and the sun is beginning to come up. It almost feels like the moon is a silent character in the story.
Becky always asked me for my thoughts about the spreads she was working on – was it true to Catherine? Was it faithful to the way things are done in Orthodox churches? Did it fit the images I'd had in my head all these years? And, always, it was the case that what she chose to do was even better than what I'd imagined. More than once, when she sent me a sketch of a spread, I ended up with tears in my eyes.
What's the best part of being a children's book writer?
I don't know if I can name just one best part. How about three?
The first best is simply that it's the fulfillment of a dream. I've wanted this book to exist for so long, and now it does. And there's a tremendous amount of joy in that.
The second best part is all the people who have fallen in love with the story I wrote, and have wanted to help with it in all kinds of ways. It's been absolutely amazing. You've heard the expression, "It takes a village to raise a child," right? It seems that I've had a village grow up around me, helping me bring this book out of my dreams and into the world. It's been amazing, and joyful.
And the third best part, and probably the very best part of all, is the children. When you read a book to a child, they don't pretend they like it to be polite. They let you know exactly what they think of the book. And when I've done readings of my book, the children in my audiences adore it. They love the story. They love the characters. They love the pictures. I've gotten emails from parents telling me that their children want to read it over and over, that they want to read it to their grandparents, that they want to take it to bed with them and sleep with it. I've gotten sweet notes from precious children thanking me for writing the book and telling me how much they love it. How can that not melt your heart?
What's the most boring or tedious part of your work as a writer?
Record-keeping. I have to keep track of mileage and other expenses. When I do a reading and sell books, I have to keep track of money in and money out. I have to keep records of what I do with all the books my publisher sends me. That's just what you have to do if you have a small business. And having a published book makes you a small business.
Your website has a clean look and feel. Can you walk us through the process of finding and working with a web-designer?
Sure. I spent a lot of time looking at web designers' web pages, and the pages they had designed. I realized pretty quickly that I couldn't afford the web designers that I liked. So, initially, I designed my own website.
I'm a writer, so the content was good. But I didn't know nearly enough to create an effective website. The worst thing about my initial design was that it just didn't work very well on mobile devices. I didn't realize that more than half the visits to my website were from people on smartphones and tablets. Visiting my site had to be an experience in frustration for them.
And that's if they ever found my site. Because the other worst thing about my site was that it was almost impossible to find if you didn't know it was there. Most of what I knew about SEO was out of date, and the rest of it was just plain wrong.
I finally realized that I was going to have to have some help with the site. But I knew that I couldn't afford the web designers whose work I liked. I wasn't sure what I was going to do.
But, just as with my illustrator and publisher, the right web designer appeared at the right time. A friend introduced me to a friend of hers, Tami Heaton, who is the president and creative director of Undeniable, a digital marketing agency. Tami is enormously talented, and in the past she's worked with folks like Disney Online, The SCI FI Channel, The Village Voice, MTV, VH1, Nicktoons Network, Sirius Satellite Radio, New York Times Digital and Rosie O'Donnell, among others. Of course, I knew from that list that I wouldn't be able to afford her.
But at the time we talked, Undeniable was still relatively new, and she had time to take on a small project at a discounted price. Small to her, anyway. But it was huge for me.
Tami evaluated my marketing strategy, and decided that I was doing everything right. Except that website. Event marketing, Facebook, all of that sort of thing was working well. But the website …
So Tami created a new website for me. She developed the design, and built it on WordPress. And then it was beautiful, and it worked on mobile devices, but it still wasn't as findable as we wanted it to be. So Tami taught me everything I needed to know about SEO, and we started making spreadsheets: keywords, URLs, headings, the names of art files, all sorts of things that would affect search engine results. And then, once we were both happy with the spreadsheets, we scrubbed the site to implement the plans.
Working with Tami was great fun. She's creative, flexible, clear about what she can do for you and what's better for you to do for yourself, and she's encouraging and supportive. She wants your project to succeed as much as you want it to.
What are some of the things that you are doing to market your book? How does BookBuzzr fit-in with your book promotion plans?
Our first step for marketing the book was the website. I don't think most websites for authors or books have much on them to get people to come back to the website. I wanted to create the sort of website that people would bookmark and come back to over and over. So we have tons of information on the website – history and traditions related to Pascha, recipes, worksheets and activities and lesson plans related to the book, more information about the illustrations, just all kinds of things. If we have information that people want on the website, if they come back to it over and over, then every time they come back, they'll be reminded of the book, and have another opportunity to buy it.
The second step was Facebook. There's a Facebook page for the book. I also participate in a number of Facebook groups, and in some of those groups, I can share a bit about the book. Of course, you can't overwhelm groups with endless posting about yourself or your pet project, and you can't post about your book in a group where that's off-topic. But Facebook, used well, is another place that you can let people know your book exists.
The third step was what we jokingly referred to as our MMO-PRPs: Massive Multiparish Offline Pre-Release Parties. We asked people at Orthodox parishes around the country to hold pre-release parties for the book between February 1 and February 22. We sent the party host a free copy of the book, and gave their parishes the opportunity to buy copies of the pre-release edition at a discounted price. I sent out "cookbook" instructions for hosting a party, for people who might want to host it but not plan it. But I encouraged people to do what they wanted – as long as they read the book to the kids, that was all I really needed. These were so much better than traditional launch parties. We had pre-release parties all over the country: Washington, California, Kentucky, Alabama, Massachusetts, and lots more. It was fabulous.
We also contacted a good number of bloggers who review children's books, and sent them advance copies. I've been really happy with the reviews we've gotten. Good reviews can give your book credibility – of course I'm going to tell you that I wrote a wonderful book, but, as they used to say on Reading Rainbow, you don't have to take my word for it!
We're continuing to publicize the book through events. I'm doing readings at churches, along with the occasional school or bookstore. Even though it's an Easter book, I'm hoping to be able to have the book at ethnic festivals at some Orthodox churches later in the year.
And we've got something really special coming up in August or September. FOCUS Pittsburgh, an Orthodox Christian charity, will be having their annual fundraising campaign for their Backpack Project, which provides food for the weekend for low-income kids. We've had a dollmaker create beautiful handmade dolls of Catherine and her best friend Elizabeth, and the dolls will be auctioned, with copies of the book, with all of the proceeds going to the Backpack Project.
Because Catherine's Pascha is a picture book, it's essential that people have a chance to see the pictures if they're going to buy the book. We have BookBuzzr widgets on our website and our Facebook page, and we've had people tell us how much they liked seeing a sample of the book. We looked at some of the other similar widgets out there, and the rest of them were clunky; the user interface just wasn't particularly good. The BookBuzzr widget is clean, easy, and usable.