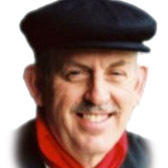 Frank S. Adamo is a life coach, certified career transition coach, international trainer and instructor, a published author of "31 Tips to Becoming an Effective Presenter" and a contributor to the books "Discover your Inner Strength" with Brian Tracy, Ken Blanchard and Stephen Covey and "Yes You Can!" with Jim Rohn and Dr. Warren Bennis.
Frank has been teaching and presenting workshops on various topics since 2005 and has spoken to audiences or provided training throughout Southern California, Tampa, FL; Springfield, IL; Las Vegas, NV; Tbilisi, (Eastern Europe) Georgia; Jakarta, Indonesia; Calgary, Canada and other locations.
As a keynote speaker, Frank has presented his two most passionate topics, "Believe in Yourself—Achieve your Dreams" and "Prepare with your Mind—Speak with your Heart," to various organizations including the Calgary Toastmasters Leadership Training Institute and the Lions International District Conference in Thousand Oaks, CA.
Frank is a detailed and results-oriented professional with a strong ability to work with people, both locally and abroad. He is a recognized expert in developing powerful, persuasive, and successful presentations. Frank has the ability to speak to small and large groups of people of all ages and he has proven abilities to identify, and provide solutions.
BookBuzzr recently interviewed Frank S. Adamo who is the author of two books '31 Tips To Becoming An Effective Presenter' and 'Discover Your Inner Strength'
1. Could you tell us a little bit about yourself?
First, thank you for giving me an opportunity for this interview. I'm a technical professional. I have a MS degree in analytical chemistry, and after about 13 years in the chemical industry, I started my own business in computer consulting, always applying my analytical skills to my business. I also used my right brain to create useful and effective software applications. After 20-some years in the computer industry, I began a transition to training and coaching. I am currently a life and communications coach, a certified career transition coach, an international instructor and trainer, the published author of 31 Tips to Becoming an Effective Presenter, and a contributor to the books Discover your Inner Strength with Brian Tracy, Ken Blanchard and Stephen Covey and Yes You Can! with the late, great, Jim Rohn and Dr. Warren Bennis.
2. How and why did you become a writer?
Well, I've always been a fairly good writer. You see, I had such a terrible fear of speaking to more than even 2 people, that writing was essentially my only effective method of communications. However, it wasn't until I joined Toastmasters in 1991 that I learned how to be a better writer. You may know Toastmasters as is a worldwide organization for communications and leadership skills. You would be correct; however, Toastmasters is much more. Members learn to get to the point and be concise when giving speeches. The same holds true when we write a speech, an article or even a book. That's why I believe my book is a great reference guide for anyone on the move.
3. Do you have a specific place or time that you write?
Yes and no. Of course, I use my computer in my home office to write; however, wherever I am and whenever I have some thoughts, I write them down on a notepad and then add them to my writings on the computer. If I'm inspired, I may spend an hour, two or three writing down my thoughts by hand. The bottom line, God controls the time and place I write.
Once I write a chapter or so, I need to print it out to read, proof and edit what I've written. I simply must have a hard copy to do this. Generally, I will make some cappuccino, turn on some soothing Irish, Italian or American Indian music, go outside to my backyard, turn on the water fountain, and begin sculpturing my book. To be a good writer, I believe a writer is like a sculptor. What I wrote on the computer is a well shaped but rough, draft—like a beautifully shaped slab of marble or a fine piece of clay. Then, I need to chisel away the unimportant words and phrases and rearrange the material until I have shaped a fine piece of artwork. Then I'll repeat the process until I have all the pieces (chapters) I need to complete a book.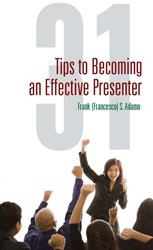 4. Can you please tell us about your book '31 Tips to Becoming an Effective Presenter' and why you wrote it?
Like I mentioned, I am a technical professional and being surrounded by scientists, engineers and computer gurus, I have heard many and given some technically enriching, yet quite boring presentations. Additionally, most presenters are very knowledgeable in the field or expertise, yet they have had little or no formal training on how to give presentations. Many may have had classes and training on developing PowerPoint presentations; however, there's a world of difference in creating a PowerPoint presentation and giving a presentation with or without PowerPoint.
Though there are other books on the topic of giving presentations, my quick-review reference guide was designed to be a must-have resource for every busy business person on the go, all executives needing to sharpen their skills, every company looking to hone their employees' presentation skills and all students ready to fast-track their career once they graduate. This is one of several tip books I plan, each of which will be available as an audio and e-book downloadable versions for smart phones, iPads or other electronic reading devices. The paperback version is and will be designed to conveniently slide into a suit pocket or purse.
5. What activities do you do offline to market your book?

I am active in Toastmasters and will be a lifer, i.e. I will stay in Toastmasters until the day I pass on and I'm hopeful I will be able to join the great Toastmasters club in the sky. Though it took time, I'm proud to say that my book is now available through Toastmasters International and I will continue to market my book in Toastmasters. I am also targeting colleges and universities throughout the country to promote my book and to set up speaking engagements on "Preparing with your Mind — Speaking from your Heart," to complement my book. It is the perfect interactive program to guide students through a series of steps to help them engage their audiences, no matter where they might be or what topic they are discussing. Lastly, I'm contacting corporations to show them how they can purchase a set of books for their employees at a discounted cost.
6.Have you ever read a book that really changed the way you look at things, if so can you tell us about it?
To be honest and even though I have written a book and I'm in the process of writing more books, I'm not much of a reader. I will read books about Abraham Lincoln. You see, I grew up in the Land of Lincoln in Springfield, IL and Abraham Lincoln was and is still my "mentor." The more I read about him, the more I realize how insightful he was.
Rather than reading, I loved to watch movies, TV shows, and now, DVDs because I am more of a visual/audio person. However, I'm not a couch potato. TV, in particular, has to be meaningful. Years ago, I would watch Playhouse 90 and in recent years, the Hallmark Hall of Fame movies. Both series had lessons of life and I learned much from these two series and other meaningful TV shows.
Two movies influenced me when I was younger. One was To Sir, with Love which was about a recent engineering graduate named, Mark Thackeray, played by Sidney Poitier. Mark couldn't find employment in engineering, and so he accepted a high school teaching position in the lower Eastside slum area of London. As he went through the school year, he transformed a class of juvenile delinquents into young responsible adults.
The other movie was Broken Arrow, not the most recent one from 1996, but the 1950 movie with James Stewart and Jeff Chandler. Dances with Wolves was very similar in that both showed a white man befriending American Indians. After healing a young Indian boy wounded by the whites, Capt. Jeffords, played by Jimmy Stewart, eventually meets Cochise, played by Jeff Chandler, and soon he befriends the Apaches. Regretfully, others were not willing to listen and learn and eventually, the Apaches were attacked.
Both movies illustrate how effective communications can play an important role in the growth and development of oneself as we learn to understand others. First, in To Sir, with Love, Mark Thackeray, a black man, teaches a group of white juvenile delinquents the value of life and turns them into young, responsible adults. Broken Arrow (and more recently, Dances with Wolves) shows how befriending a different race or culture can lead to peace—only if everyone would be willing to realize this. That's the point of these two movies. We all have to work together to understand and appreciate each other, in spite of our differences.
Though not my initial intent in writing the 31 Tips to Becoming an Effective Presenter, I did write the book to help others know how to be more effective in giving presentations. In turn, learning effective presentations will lead to better and more effective communications skills which others can use, both, at business and in the home.
7. Where can you be found on the web?
My Web site is www.fsadamo.com and I'm on Facebook, LinkedIn, Twitter, Skype, and most everything else as fsadamo.
8. What can we expect from you next?
My next tip book will be the 31 Tips to Feeling Comfortable and Being Confident when Speaking in Public. As I mentioned, I had a terrible fear of speaking, not for a few months or years, but for decades. Since fear of any kind will inhibit our progress to achieve our dreams, the sooner we understand fear and how to eliminate it, the sooner we can get back on track to fulfill our dreams.
The bottom line in all that I now do is to present and teach others to believe in themselves. Regardless if it's communication skills, presentation skills, people skills, business skills, personal skills, etc.; before we can achieve what we desire, we must believe in ourselves. For me, we must also follow God's path, not ours. I'm also in the process of writing a book, tentatively titled, Miracles of 2000, which relates to my experiences when my wife and I traveled to Italy for the very first time in the year 2000. That was the beginning of my transformation of placing God first in my life. Ever since miracles have happened such as submitting my 31 Steps to Becoming an Effective Presenter to only one publisher for the very first time—and they accepted my manuscript. Though Miracles of 2000 will not be a short reference book, it will be easily readable and inspirational.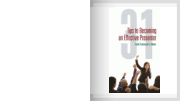 BookBuzzr thanks Frank S. Adamo for such a fantastic interview. Connect with Frank S. Adamo on fReado.