At BookBuzzr, we've been hard at work creating a brand new technology that will allow you to market your book in a viral manner on Facebook through quick quizzes. We've spoken about this technology in earlier newsletters. We used to refer to it as QuizBuzzr then. We've now renamed the technology as QuickQuiz based on user feedback after extensive testing.
We've shown the technology – a form of an online gameshow – to a selected group of authors, and they've been very excited. For example, author Michele Hughes wrote in to say, "I sincerely believe this is going to be an excellent tool for promotion. What this program allows is the ability to engage the reader with familiar topics while helping them associate with the author's book. I'm ready to utilize this technology immediately. I will be recommending this program to all my author friends as a top ten list for promoting new titles."
See a live, working QuickQuiz below:
How does it work?
1. You create a QuickQuiz on a topic that is likely to appeal to your target readers. For example, if you've written a vampire romance book, you create a quiz on the Twilight series by Stephenie Meyer. Each QuickQuiz consists of 5 questions and can be completed by your readers in about 2 minutes. Once published, the quiz becomes available on Facebook and on Freado.com. The quiz can also be embedded on your blog or website.
2. You share the quiz with your friends, fans and blog subscribers.
3. One of your readers who has an interest in the Twilight series begins playing the game. At some point during the game, if the reader does not know the answer to a particular question, she calls on one of the "QUIZ-KEYS" which can help her get closer to the right answer. But in order for a QUIZ-KEY to work, the reader needs to "Like" the game on Facebook. This causes the friends of the reader to learn about your QuickQuiz. Some of them may become interested enough to play the QuickQuiz.
4. At strategic points in the game, readers learn more about your book and because of the strong association between the game's content and your book's content, it is likely that some of them will buy your book.
5. With the points that a reader earns playing QuickQuiz games, she can win free books and other prizes on Freado.com.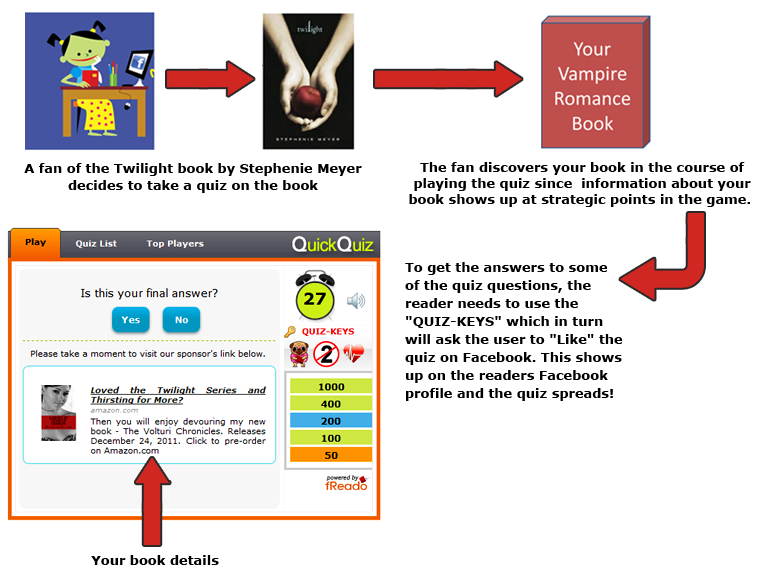 How You Can Use This Viral Book Marketing Technology for Your Book:
1. Sign-up for a BookBuzzr Author Pro subscription (the subscription costs $9 per month; the first month is a free trial; you can cancel at any time; there are a whole host of other benefits that come with a subscription.)
2. Go to your 'Book Marketing Home'.
3. Click on 'Freado QuickQuiz'. This will bring up the quiz creation interface.
4. Create the QuickQuiz. You can even embed pictures into your quiz and make it more interesting.
5. Share the quiz with your friends on Facebook.
Note: There is no extra charge to pay for use of this technology. It comes bundled with a BookBuzzr Author Pro subscription. You can create as many quizzes as you want. In fact, the more quizzes you create, the more readers you can reach.
Good luck and happy viral book marketing!