Getting Past the Arguments and Past the Gatekeepers
Guest Expert: Carolyn Howard-Johnson
An excerpt from the introduction of The Great First Impression Book Proposal: Everything You Need To Know To Sell Your Book in 20 Minutes or Less with seven basics to get you started.
Those who haven't learned to write a book proposal are haunted by that gap in their knowledge. It lingers much like the first horror story your counselor told you as you roasted s'more over a campfire at summer camp, and it becomes more frightening every time the prospect of a new book looms.
Book proposals are not something that are going away any time soon. In fact, they have becoming more omnipresent. Once only writers of nonfiction needed to write proposals to get their ideas past gatekeepers, the editors, agents and publishers. Now some publishers ask their novelists to write them. That is especially prevalent for novelists under contract for more than one novel, genre novels, and novels that are part of a series.
Many writers are put off by books on proposals. "It takes a whole book to learn to write one?" they say. "First we have to read a whole book, then we have to write a proposal which is practically like writing a whole book and then we have to write the darn book?" They're right. It all seems like too much.
And it may be. There are lots of books out there on how to write a book proposal and I recommend a few at the end of this short piece. But it is easy enough to learn all that you absolutely have to know in a nutshell and that's what this article seeks to do for you.
It's easy to make short stuff of the subject of writing book proposals simply because there is no one way to write a proposal. You need to know the basics but every proposal will vary with the project depending on the author's style, the genre he or she is writing in, and the way he or she visualizes the book. In this article, I give you a detailed version of a proposal for a nonfiction book, one that works because it makes it easy on the agent or publisher to find what he or she needs and digest it. Obviously, those writing proposals for fiction (and keep it mind it is rarely required that the writers of fiction books use proposals) will need to adapt these guidelines.
So, what is a proposal all about and why are we so uncomfortable with them?
A book proposal is a marketing tool and a tell-and-sell document. Writers tend to be artistic or academic or reclusive and probably never pictured themselves hawking any kind of product, much less something that they're so invested in. That doesn't mean they won't have to and it doesn't mean they can't learn to write a real kick-butt proposal. In fact, most already have the instincts for it, they just think that they must switch from real writing to brazen or boring. And know that once past the query letter, if your proposal doesn't impress a gatekeeper, all is lost.
So I'm giving you the seven top rules for writing a great book proposal. For details you'll want tosplurge on The Great First Impression Book Proposal: Everything You Need To Know To Sell Your Book in 20 Minutes or Less.
Rule #1: Don't slide into your business-letter writing mode. In fact, don't do that when you write business letters. Let your personality shine through. And, when appropriate, let the voice you'll use in your book be seen, too.
Rule #2: Don't rush it. I've seen people on Twitter say they've written a proposal in a day. Frankly, I wouldn't want to see the result.
Rule #3: Edit the proposal as meticulously as if you were editing your manuscript. You may want my The Frugal Editor: Put Your Best Book Forward to Avoid Humiliation and Ensure Success to help you with this.
Rule #4: Research the agents and publishers you're sending your proposal to. Sure, it's time consuming. But not so much as sending your proposal to gatekeepers who are sure to have no interest.
Rule #5: This may sound like repetition of #1 but, if you think about it, it isn't. Don't slavishly follow a template. An agent I interviewed for The Frugal Editor told me that "it's just plain creepy." She also said that if a writer can't be true to themselves, she has to wonder what kind of a writer they'd be. PS: This doesn't mean you can't use a template. But break away from it when it seems advisable, for heaven's sake.
Rule #6: Your job is to intrigue the gatekeeper you're sending your proposal to, then to convince them. In the process, you might also want to entertain them.
Rule #7: Your bigger job is to make it easy on that gatekeeper to get the information he or she needs quickly. That means, organize, organize, organize. And format so the organization is apparent.
---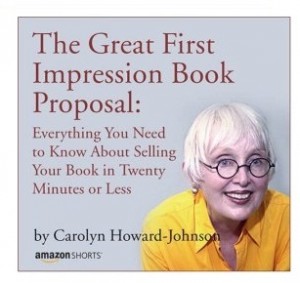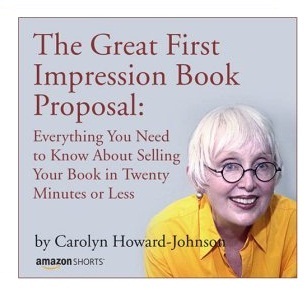 The author is Carolyn Howard-Johnson, author of The Frugal Book Promoter: How to Do What Your Publisher Won't, winner of USA Book News' Best Professional Book, and Book Publicists of Southern California's Irwin Award. Its sister book, The Frugal Editor: Put Your Best Book Forward to Avoid Humiliation and Ensure Success is also a multi-award winner. Her new booklet of word trippers is Great Little Last-Minute Editing Tips for Writers: The Ultimate Frugal Booklet for Avoiding Word Trippers and Crafting Gatekeeper-Perfect Copy. Learn more at: http://www.howtodoitfrugally.com.
Her complimentary newsletter Sharing with Writers is always full of promotion tips, craft, and publishing news. Send an e-mail with "subscribe" in the subject line to HoJoNews@aol.com.