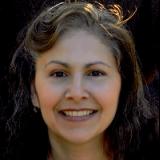 April L. Hamilton is an author, blogger, Technorati BlogCritic, leading advocate and speaker for the indie author movement, and founder of Publetariat, the premier online news hub and community for indie authors and small imprints. She's spoken at the O'Reilly Tools of Change conference and the Writers Digest Business of Getting Published conference. Recently, she launched the Publetariat Vault, an acquisitions crowdsourcing tool to serve trade publishers and self-published authors. In her popular self-published reference book, The IndieAuthor Guide (to be released in a revised and updated edition from Writer's Digest Books in November of '10), she offers aspiring self-published authors a roadmap to success. She is also the author of novels available in both ebook and POD form. She's been quoted in The Wall Street Journal, MSN Money and The Washington Times, profiled by ABNA Books and The Writing Cast podcast, and her book, The IndieAuthor Guide, has received favorable mention on CNET and The Huffington Post.
BookBuzzr recently interviewed April L. Hamilton who is the author of the book 'The IndieAuthor Guide' which was ranked fourth among the Top 10 Books of 2009 on BookBuzzr.
1. Welcome April. Can you tell us a little bit about yourself and how long you've been writing?
I've been writing pretty much since I've been old enough to hold a crayon. I dreamed of being an author as a girl, but since that didn't seem a very practical or clear-cut career path, I pursued other options for making a living. I was a technical writer, then a software engineer and web developer, for many years, and this has turned out to serve me very well now that authors are expected to be web-savvy and develop a platform.
2. What has been the highlight of your career to this point?
I think that would have to be reading the first review of my first self-published novel, Snow Ball. I'd published it in Kindle format in an effort to drive more traffic and attention to another novel I'd entered in a contest. The review was very positive, and that's when I realized it really would be possible for me to reach a readership through self-publishing. My other novel advanced no further than the semifinal round of the contest, but by the time it was eliminated, Snow Ball was doing so well I felt as if I'd already won.
3. Can you please tell us about 'The Indie Author Guide' and what led to writing it?
The IndieAuthor Guide is a how-to book that aims to be a comprehensive reference to self-publishing and managing a career as a self-published author. It's the book I wish had been available when I set out to self-publish.
There are a lot of books on the subject of self-publishing, but I found them all to be either too specific, covering just one aspect of self-publishing such as manuscript formatting or book promotion, or too general, lacking in the step-by-step instruction I needed. Many of them are geared to people who want to start a small imprint to publish other authors, and most were too dated, failing to address ebooks and author platform at all. Most service provider sites offer their own user guides and online help files too, but those I had to work with weren't clear and detailed enough. I found that in the end, I only discovered the numerous "gotchas" and best practices through trial and error, and once I'd done so, I thought it made sense to draw on my experience as a technical writer to document all I'd learned.
The book was originally self-published in May of 2008, and at the end of 2009 I signed with Writer's Digest Books to release an updated and revised edition of the book later this year.
4. What were some of the biggest challenges you faced writing it?
The challenges all came before I wrote it, during that trial and error process of self-publishing I mentioned. From all those years as a technical writer and a software engineer, being required to fully document my processes and the applications I developed, I find I have a natural drive to document any new skill or information I learn. At first I was just writing guides to individual steps or aspects of self-publishing and making them available to my fellow authors on my website, but it wasn't long before I realized I had enough material to write an entire book. So I did just that!
5. What according to you are the most rewarding aspects of writing?

I think the best part for me is more about the feedback than it is the writing. There's nothing so fulfilling as hearing from a formerly-struggling author that something in my book, on my blog or website has solved a problem for them or otherwise made their writing lives easier.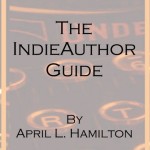 6. How and when did you first start marketing your book?
I think the first big promotion push came in the fall of '08, when the book was included in a Wall Street Journal piece called "Free is Priceless". The article was about worthwhile freebies, and how cash-strapped consumers could either use these freebies as gifts or use them for themselves, to free up more holiday shopping dollars. The reporter put out a call for items to be included in the piece, and I decided to volunteer electronic copies of The IndieAuthor Guide. That article led to mentions on The Huffington Post, MSN Money and The Washington Times.
7. Have you done anything special in marketing that has led you to the top of our charts?
I've made the entire IndieAuthor Guide viewable in a BookBuzzr widget on my website, blog and Facebook page, from cover to cover. This makes it very easy for me to share the book on a near-daily basis in tweets, emails, blog posts and the like without coming off as doing a hard sell, because if the book is free to view, I'm not really selling anything: I'm just sharing a free, valuable resource.
My goal for The IndieAuthor Guide right from the start was to maximize awareness of it first, then think about sales later on, after I'd established more of a name for the book and reputation for myself, so the decision to make the entire book viewable in a BookBuzzr was obvious. I figured once they'd had a chance to see it and try it out, many people would still choose to buy the book, and this has turned out to be true. But more importantly, it's been simple for me to spread the word about the book myself, and to get others to do likewise. Everyone appreciates a useful resource, and if it's free, so much the better.
8. Please tell us a little about the Publetariat.
Publetariat is an online news hub and community for indie (self-published) authors and small imprints I launched last February. There were already countless writer sites and communities, and I'd belonged to a number of them, but I'd yet to find one that was both entirely supportive of self-publishers and provided all the information and resources self-publishers want and need. I had a sense that self-publishing was on the verge of going mainstream, and knew that someone would be launching a writer community just for self-publishers soon. I also realized that with all my self-publishing writer acquaintances and contacts, and my experience as a web developer, I was in an ideal position to build and launch just such a site myself. So I did.
As for the name, in thinking about how self-publishers are distinct from other authors and publishers, I concluded it's the difference between operating as an individual and being part of a larger system. This led me to the site slogan, "People Who Publish!", which got me thinking about the community of self-publishers as sort of 'everymen', or the proletariat. From there it was a short jump to Publetariat (publishing proletariat), and the revolutionary design aesthetic of the site.
The site took off immediately, and has been in the top 2% of all sites worldwide in terms of traffic since its first month of operation. I think my early hunch about self-publishing going mainstream is being borne out, so the success of the site has a lot to do with its timing.
9. You are active in the Indie Author Movement. Can you share a little about it and what you see is the future of publishing.
Well, as I said, I believe self-publishing is going mainstream. We're beginning to see big-name mainstream authors dipping their toes in the self-pub pool, and publicizing their successes. Crime novelist JA Konrath has been very public about how much more money he earns on his self-published Kindle novels than he does on those released by his publishers, and Stephen R. Covey (the Seven Habits guy) has recently announced his plans to self-publish in 2010.
I believe the publishing industry is looking more and more like the movie industry every day, with big corporate releases dominating the sales charts and press, but also with a growing community of indies operating at the margins, producing and releasing work that's worthy of an audience but may not have the potential to bring in the blockbuster-level sales a megaconglomerate demands to cover its massive overheads. I'm sure the big publishers will always be there and will always earn the lion's share of book revenue, and the mainstream path is still the best choice for certain authors and certain books. But I think we're fast approaching a trade publishing world in which the decision of whether or not to self-publish will be made on a manuscript-by-manuscript basis, and will be no more nor less meaningful than one's choice of whether or not to release in ebook formats.
10. Who are some of your favorite authors and books? What are you reading now?

I have far too many favorites to list them all here, and they sometimes change. Even now, after decades of reading, I'm discovering new authors every year. But my all-time favorites, those I don't think I'll ever tire of, include Flannery O'Connor, Margaret Atwood, JD Salinger, Poe, CS Lewis (the apologetics), Thomas Merton, Stephen King, Neil Gaiman, Robert Harris, David Sedaris and Chuck Palahniuk.
I'm currently "reading" A Prayer For Owen Meaney, by John Irving. I put "reading" in quotes, because as with most of my book-length reading these days, I'm listening to the audiobook.
11. Is there a message you would like to give authors?
To authors, I'd say the days of being able to do nothing but write are over for the vast majority of us. Nowadays, we're on the hook to connect directly with our readership and take the lead in promoting ourselves and our books. It may not be fair and it may not be what we dreamed of when we dreamed of a career in authorship, but it is what it is and this is one genie that will not be stuffed back into the bottle anytime soon. So get yourself educated about author platform and get out there!
To aspiring authors, I'd say don't be too quick to give up on your dream. I'd given up on publishing my work for years before making the decision to self-publish, and that decision has changed everything for me. It's reawakened my love of writing, and has given me a cause and passion in life.
Don't assume that just because you haven't yet landed an agent or a book contract your work must not be any good. Lots of great work is rejected every day due to marketing concerns, and the cold, hard truth is that if your book doesn't look like something that can easily move thousands of copies in its first three months in print, it doesn't matter how good it is: mainstream publishers will think it's not worth their time and effort. Self-publishing may not be right for every author or every book, but don't dismiss it out of hand. It may one day lead you to some wonderful, unexpected places.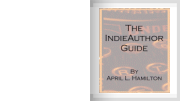 BookBuzzr thanks April L. Hamilton for such a marvelous interview. Connect with April L. Hamilton on fReado.