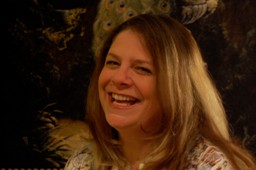 Cristyn West describes herself as, "I find catching serial killers (on paper of course), well… fun.
Do you really need to know anything more about me?
Ok, fine, I am also a veterinarian (for real, not just in my own head like the serial killer thing) and I find the thought of having a romance with a homo chiroptera pretty hot.
See? I told you, you didn't want to know anything else!"
BookBuzzr recently interviewed Cristyn West who is the author of the book 'Plain Jane'
1. Welcome to BookBuzzr blog, Cristyn West. Will you please share a little about yourself with us?
I grew up in a family of readers. My grandmother was a librarian, my aunt a teacher, and my mother an avid bibliophile. So it is no great surprise that I found myself a writer.
However I also had an deep love for animals as well so when accepted to Veterinary School, I jumped at the chance.
Now I juggle helping animals in need with my social media business along with writing.
2. When did you begin writing, and did you always envisage being an author?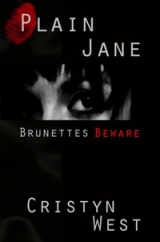 I began writing as a youngster in school, but I did not consider myself an author for decades. I think that having such an amazing respect for all those authors I read, I felt they might have come down from Olympus or something. I truly believed they were born to and everyone around them knew they were destined to write.
I was lucky enough to have several high school and college teachers that encouraged me, but it took nearly 5 years post-graduate for me to really embrace my own author-dom :-)
3. Is there a genre that you'd like to write and one you'll probably stay away from? Why?
I love so many genre and write in nearly all of them. My favs are horror and paranormal romance, but mysteries and historical thrillers are right behind. As any one who reads me know I like to have a lot of flair and heightened language so I like to write in genres where that style feels right.
Although I could never imagine turning down a writing challenge, I think war fiction would be the most challenging to me. While I respect our men and women in uniform and write military characters frequently, having the entire story based in a war zone does not feel like my style (unless of course you throw in an Incubus or something :-)
4. When you write, do you always know where you are going, or do your characters lead you in their own directions?
I always know my beginning and ending. The rest? Ah, that's wherein the fun lies! I have a vague outline of plot points, but from there my characters lead the way. Most of the time surprising me, the rest of the time annoying me.
5. Can you please tell us about your book 'Plain Jane' and why you wrote it?
As I was growing up, my family talked a lot about serial killers… at the dinner table! You can imagine my surprise when I grew up and realized that wasn't common table talk! So my fascinated began young and then with the explosion of police procedural shows, it took my love to a whole new level.
Before you knew it I was sketching out the perfect serial killer.
I made several decisions when I decided to write 'Plain Jane.' I wanted a serial killer no one had ever seen before. I wanted a profiler that teetered between genius and madness and a ex-lover that couldn't decided which she was more attracted to.
From there arose a taut and driven thriller. I know I have succeeded when I get blurbs and fan mail that describe 'Plain Jane' as 'disturbing' and 'macabre.'
6. How do you pick the character's names?
I take character names very seriously and can take weeks to finally land on one. How a name looks or sounds to a reader really shapes the character in their mind.
I knew I wanted a strong, masculine name for my lead. Kent pretty much felt right from the beginning. But then the last name. I was discussing his character with a friend and described him as a harbinger of doom for any that he met. Boom! There was his last name. Harbinger.
7. Briefly share with us what you do to market your book?
Well, besides BookBuzzr, of course, I also use social media extensively, Twitter, GoodReads, Facebook, etc. I have also formed the Indie Book Collective where dozens of indie authors come together to cross-promote and work to get independent books the same exciting stature as independent film.
8. What do you do in your free time?
Um, what free time? LOL
Usually I play with my dogs and boogie board in the ocean!
9. What are some of your favorite novels?
Oh, that is too unfair. I can list the books that helped shape me as a youngster; I, Robot. The Thomas Convenent Chronicles, Fahrenheit 451. Currently I read anything by James Rollins and George R.R. Martin.
10. So what is next? Will we see another novel?
I have a historical thriller in the vein of Rollins, Berry, and Brown coming out in August entitled 'Betrayed.' It is intense, international and controversial. Everything a religious thriller should be!
In terms of Plain Jane, yes there is a sequel in the works, which some of the stuff is freaking me out so you know it is scary, which should be out in 2011!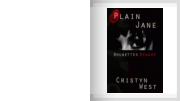 BookBuzzr thanks Cristyn West for such an excellent interview. Connect with Cristyn West on fReado.
Looking for a tightly plotted thriller to curl up with? Plain Jane…read 50 pages free: http://bit.ly/b60jVe Plus 50% off coupon! RH88E