Have you ever had a pang of Facebook fan page envy?
You know, the kind you feel when you stumble upon a famous author's fan page, and it looks really nice with lots of shiny little widgets and things to do? And then you move on with a sigh wishing that you had a large budget to be able to afford a creative agency to get your Facebook fan page done for you?
Those days are now behind you.
With the new BookBuzzr fan page widget releasing today, you will be able to customize your fan page with ease and show the world a much more professional image without having to spend a fortune on a designer. This blog post presents the key benefits of this brand new technology from BookBuzzr.
What Authors Are Saying: 
Prior to release, we showed the new BookBuzzr fan page widget to a few authors. Here's what they had to say:
Michelle Sutton, author of 'Out of Time':
"Everything your fan needs to know about you and your books are right in here. It's an attractive tool for promotion, plus it's easy to use."
Scott Hunter, author of 'Black December'
"It's like having a mini-website embedded into Facebook. It's all there: Bio, Video, links to social media and games, and best of all, the 'read free sample' application for each of my books. This feature makes it so easy to dive in and get reading as if . . . well, as if you're reading the actual book! Add to this an intuitive banner, colour and layout customization feature and you have a powerful new marketing tool to add to your Facebook account."
But Why Do I Need a Facebook Author Page Widget?
The problem with the new Facebook fan page design (which Facebook rolled out a few months ago with a heavy emphasis on the timeline) is that it can be fairly dry. And it takes a reasonable amount of work to keep the page looking exciting (post photos, run contests etc.)
Also, it can be a little like operating in a communist country with strict rules and harsh punishments for offenders. For example, you cannot put up banner images at the top of your fan page which promote events.
Finally, you cannot keep more than one item pinned to the top of the page. In other words, if you'd like to keep a bunch of videos, and links to promotions and deals  showing up at the top of the page, you can't do it. It keeps rolling down to the bottom as new posts keep getting added to your time line.
That's why, if you want to keep some key information showing up at all times on your Facebook fan page you need the new Facebook Author Page Widget from BookBuzzr.
Alright! Give Me the Tour!
Sure thing! But let's do it with some real, live examples – that of authors Michelle Sutton and Scott Hunter.
You can customize the banner images at the top of the page. Scott decided to have a portion of the book cover image of his latest book show up as the banner, while Michelle wanted a picture of herself shot in front of a historic building as her banner image.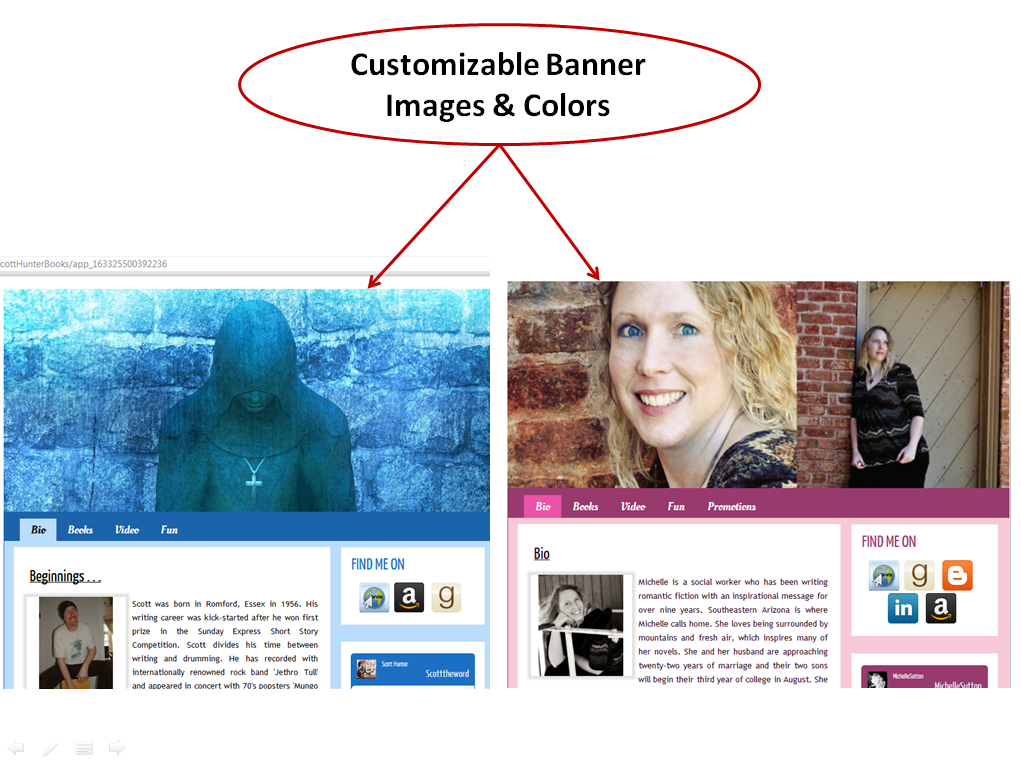 You will also notice that Scott chose a blue theme while Michelle opted for a purple-light pink theme to go with the mood of her new book. With the new Facebook fan page widget, not only can you customize the colors but also the tabs on the menu bar as well as the position of the various elements. Of course, if you want to save time we've got a number of default themes built-in for you and you could use those.
Also, you can put in links with icons to various places on the Internet where readers can find you. In the example above,  Michelle has added links to her blog, her Amazon page, her GoodReads profile, her Linked-in profile and her website. Scott, on the other hand has links only to his website, his Amazon page and GoodReads profile.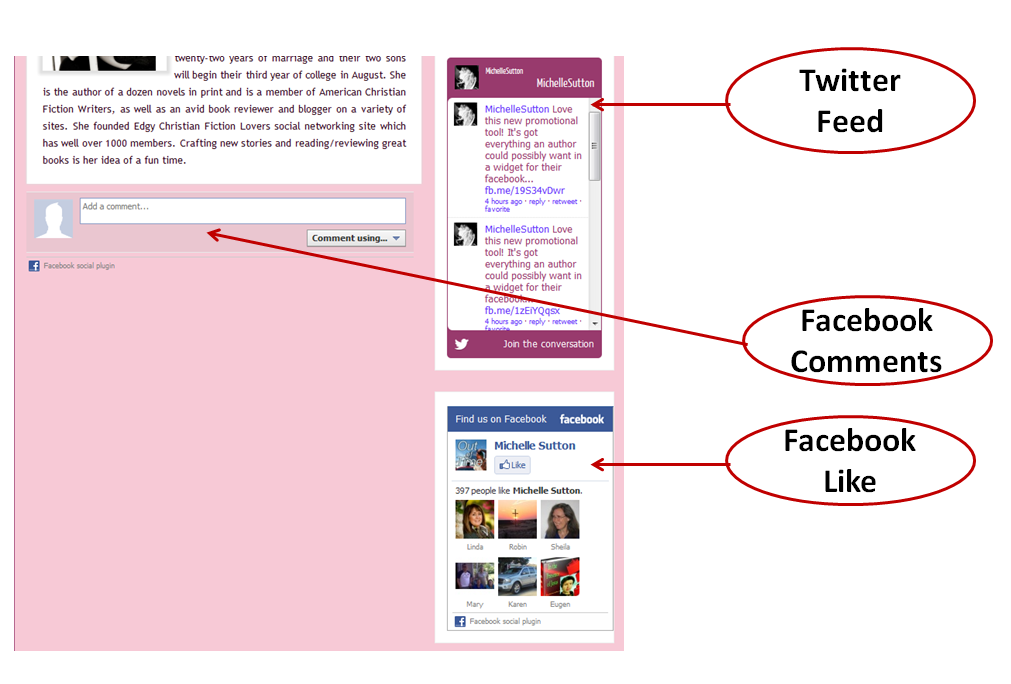 If you scroll down a little on the page you will notice that the Twitter feed of the author shows up. This means that your Facebook fan page visitors are exposed to your tweets when they visit your Facebook page and can choose to follow you from here itself.
Also, you can choose to have a Facebook comments box and a Facebook Like box show up on your Facebook fan page thus encouraging users to further engage with your page.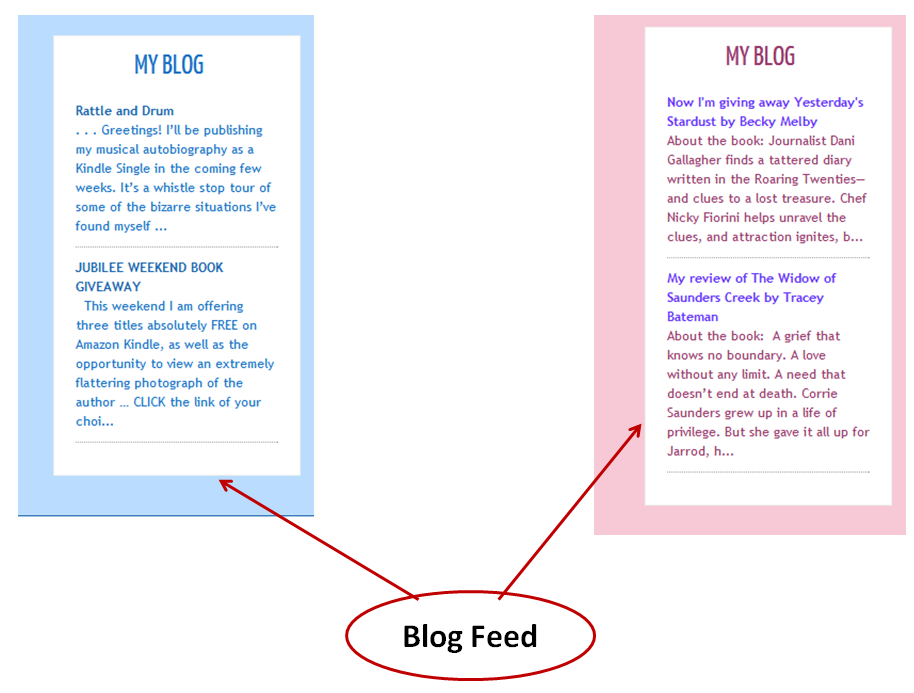 You will also notice that for the blog feeds of Michelle and Scott show up on their respective Facebook public profiles. So visitors will be drawn to the latest blog post.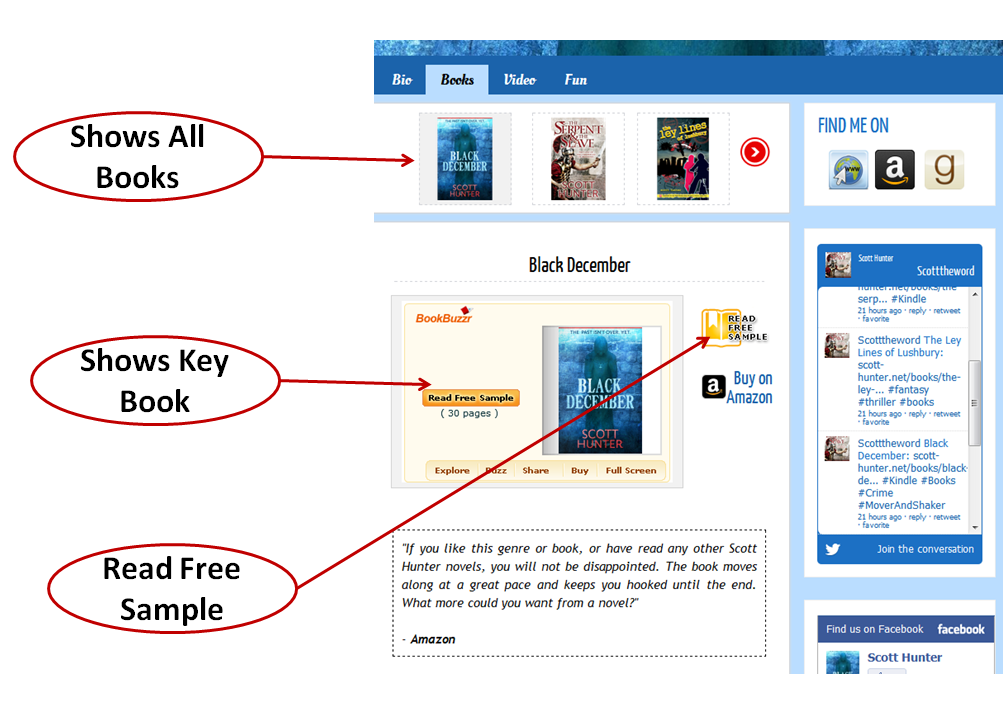 If you click on the Books tab, it shows all of the books of the author at the top. The author can choose to highlight a specific book which will show up as the default book on this page. In this case, Scott has chosen Black December. A visitor to the page can choose to read an excerpt of the book on this page itself in the popular flipper format. And as you'll notice, a prominent Buy Link to Amazon is the key call to action on this page (Ka-ching!!)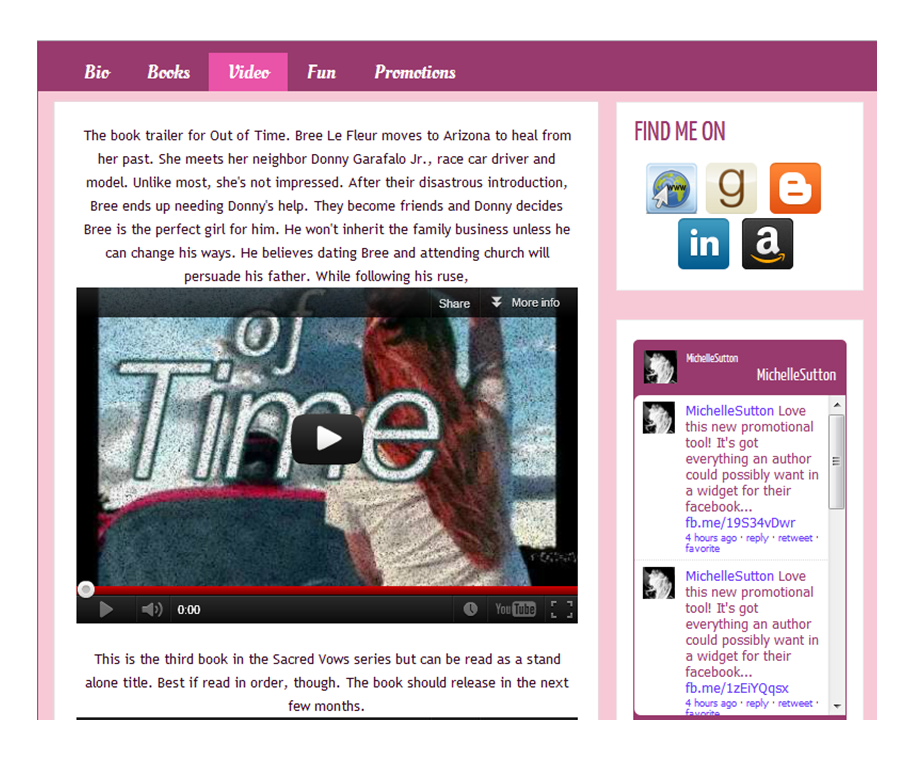 The video section shows up all of the YouTube videos that you think your audience may find relevant or interesting. In the case of Michelle, she has the book trailer of her latest book – Out of Time in there.
Other authors like Chetan Dhruve have put up videos that will be relevant to their readers. In this example, it is a bunch of disaster videos that were caused by poorly setup systems.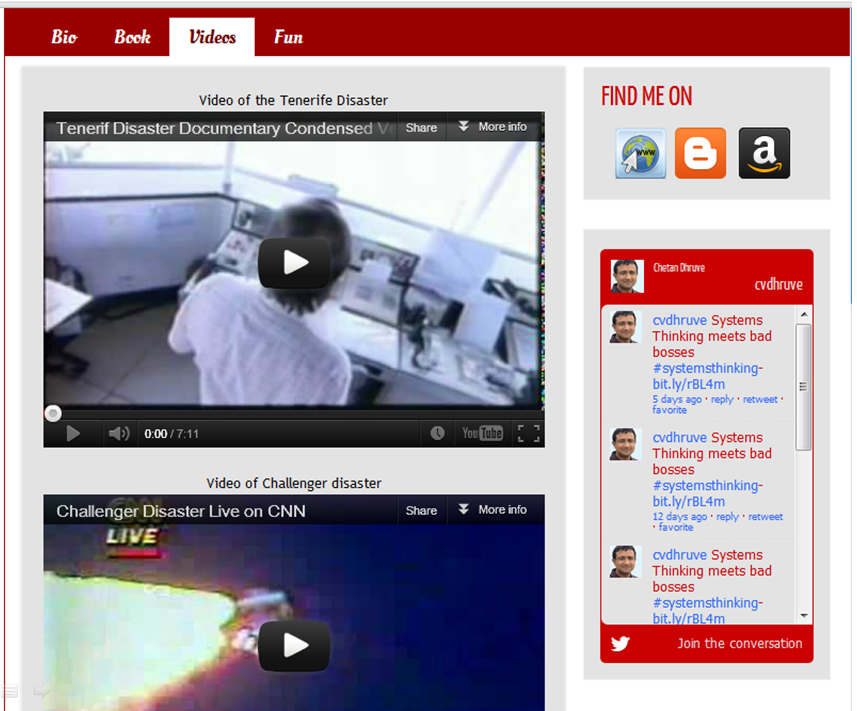 Clicking on the Fun section takes the reader to a page where they can play games and participate in quizzes. Michelle Sutton has created a game on movie actors.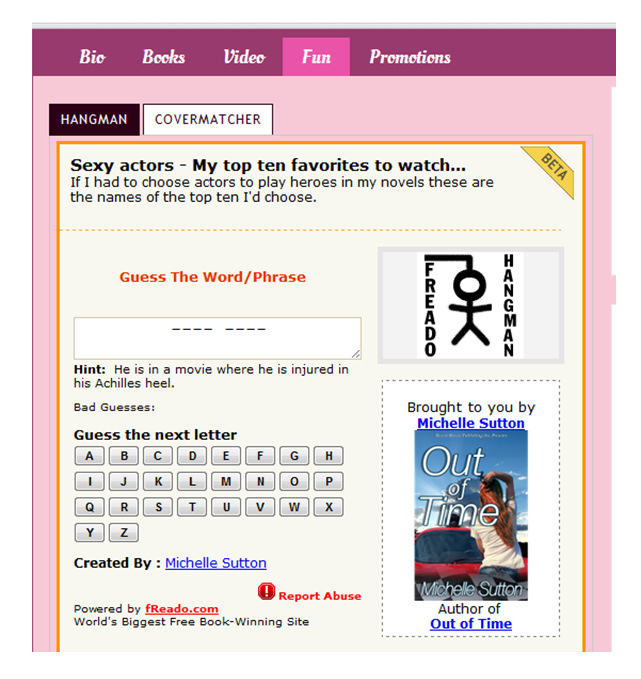 The Promotions and Deals section is the place where you can give links to interesting promotions and deals that you may be featuring. For example, in the example below, Michelle has a book-giveaway on GoodReads. And she has a deal where you can buy any paperback and save $2.99 plus an exemption on shipping costs.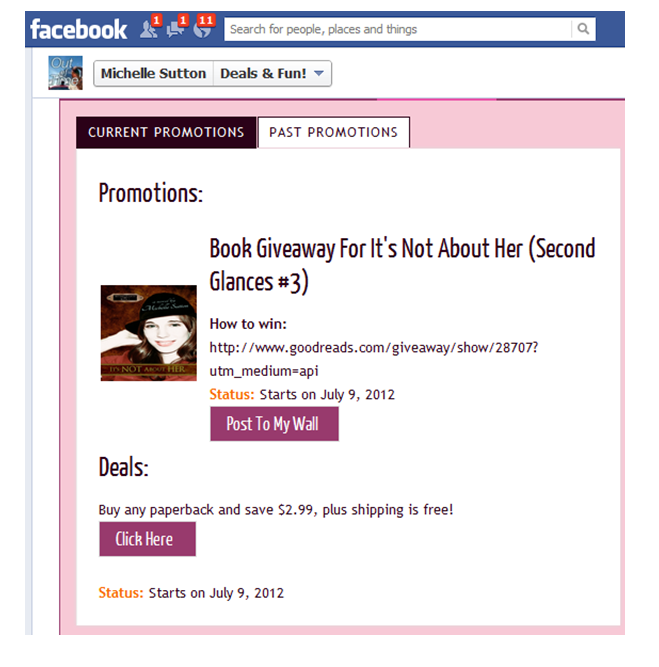 There are many other features hidden in to the technology and many more updates that are in the pipeline. In the meanwhile, we hope you enjoy what we've built.
Note:
This technology replaces the
earlier version of the BookBuzzr AuthorPage widget
.
If you are an existing subscriber, you can either upgrade to this new technology at no extra cost or choose to retain your existing AuthorPage widget which we will continue to support for a few more months.
To get the widget sign-up for a BookBuzzr subscription.
We want to hear your comments and feedback. Please tell us what you think below!