Guest Author: Rebecca Elswick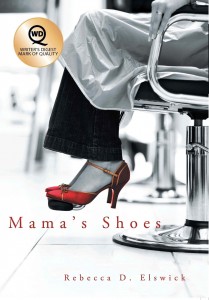 As we say here in the coalfields of Southwest Virginia – There's more than one way to skin a possum." I cannot boast that I ever skinned a possum, but I can boast that I "contested" my way to the publication of my debut novel, Mama's Shoes.
Do you ever think about entering writing contests? Do you hesitate because you think you don't have a chance? Do you say, "Nobody wins those contests anyway."? Well, I can assure you that someone indeed does win those contests and I have the book to prove it!
It began in 2003 with the first contest I ever entered. It was in Writer's Digest Magazine, and the contest was called "Opening Line." Each month, the magazine published a new photograph, and based only on that photo, you were asked to write the opening line for a novel. At that time I had not written any fiction. I am a teacher, and I had written and published about education, but I must confess I was one of those people who was going to write a book – one day. That changed the day I entered the Opening Line Contest.
The picture was of a pair of flip flops on the sand. A hint of surf was edging toward them. For several days I carried the magazine around with me and looked at that picture. Then I remembered something my mother, who is the queen of shoe lovers, said about shoes. Fond of pointing out a woman's dress, more than once I heard her say: "I want you to look at that woman in that beautiful outfit and those cheap shoes!" From there I came up with the line that would earn a runner-up in the Opening Line Contest, and ultimately lead to my debut novel, Mama's Shoes – Mama always said you can tell a real lady by the shoes she wears – but then, nobody ever accused Mama of being a lady.
That contest led to a short story. A friend of mine read it and told me that I needed to write a book about Mama and her shoes, so about four years ago, I began writing the novel. The line I wrote for the contest isn't the first line of the novel, but it is on page nine!
When I finished revising the novel, I entered the world of query letters and agents. I still have nightmares about that query letter! While I was searching for an agent, and acquiring a collection of rejections, I happened on another contest. This one I discovered on Twitter and it was sponsored by Writer's Digest and Abbott Press. It was called #Pitch2Win and the object was to pitch your novel in the 140 characters allowed on Twitter.  The winner received a publishing contract with Abbott Press.
Could this be an answer to my prayers – no more query letters, synopsis, and a mailbox full of rejections? I read the rules and decided I wanted to enter. There was only one problem, the contest ended at midnight, on Sunday, March 27, 2011 and it was just after 11:00 PM on March 26! I had less than an hour to come up with my pitch and the clock was ticking.
For the next half hour, I typed and erased; typed and erased. Just before midnight, I filled the space with the line that I wrote back in 2003 for the Opening Line Contest: "Mama always said you can tell a real lady by the shoes she wears – but then, nobody ever accused Mama of being a lady." I clicked send.
Abbott Press called me the next day! They wanted to know more about my book. Two weeks after that conversation, the contest released the names of the 50 finalists. Suddenly, I was glad for struggling over the query letter and synopsis because they were required for the next round of the contest. A month later, I got the phone call telling me I had won. In December of that same year, my book was published.
No, that's not the end of the story! In fact, I look at it as the beginning. Since Abbott Press is an Indie Press, I own the rights to Mama's Shoes which made it eligible for the Amazon Breakthrough Novel Contest. Yes, you guessed it, I entered Mama's Shoes. The contest began with 5,000 novels vying for the prize – a publishing contract with Penguin Publishing. Round by round they eliminated novels and Mama's Shoes stayed on the list. It made it to one of the fifty semi-finalists before losing to the final three. Not too shabby!
I also entered Mama's Shoes in the ForeWord Review Book of the Year Contest. ForeWord, one of the few remaining wholly independent review sources, reviews two-thousand-plus books a year from the country's top small presses. Mama's Shoes is currently a finalist for the Book of the Year in the general fiction category.
And last but not least, last week I was notified by Writer's Digest that they had reviewed my book and awarded it their "Mark of Quality." First, the book will be recognized in "Writer's Digest" magazine, and it will also be listed in Writer's Digest's F&W Media Catalog, which is distributed to over 200,000 subscribers. Additionally, authors receive a free pass to the annual Writer's Digest conference and reception, where they will have the opportunity to network with other authors, agents and industry professionals.
As I said, there's more than one way to skin a possum, and there's more than one way to publish your book. The bottom line is this, if you believe in your book, then explore every possibility to publish and promote it. Do not give up just because your book is rejected. I believe that every good story will find a home. And don't forget about contests! Enter them or someone else will win!
---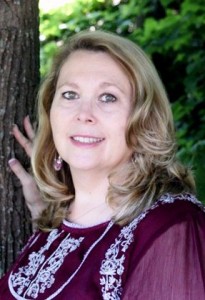 Rebecca Elswick lives in the coal fields of Appalachia where she was born, the daughter and granddaughter of coal miners. She has an M.Ed. degree from East Tennessee State University and teaches English and creative writing. Her short fiction has appeared in numerous journals and magazines. In she won 1st  place in the 2010 Appalachian Author's Guild Short Story Contest and the 2011 Sherwood Anderson Short Story Contest. Mama's Shoes is her debut novel.