: A Book Review by Vikram Narayanan (CEO BookBuzzr)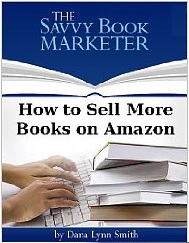 I recently had an opportunity to review the book "How to Sell More Books on Amazon". This book is short at less than 40 pages. But it is packed with actionable suggestions which, if implemented diligently, can yield significant results to an author. Here's what you'll find in the book:
1. A check list of essential and optional activities that you can do on Amazon to promote your book.
2. Strategies for increasing your visibility on Amazon to draw people to your book page.
3. Tactics to get more reviews for your book on Amazon.
4. A guide to conducting effective "Amazon Best Seller Campaigns."
5. Tips to drive traffic to your book page through the creation of "Listmania" lists and "So You'd Like To" guides.
6. Ideas to maximize your book's profit potential by utilizing the Amazon Marketplace feature and the Amazon Associates program.
7. Insights into the self-publishing and Kindle book publishing worlds
Throughout the book, Dana adds in helpful advice, opinion or commentary which she refers to as "Savvy Tips".
Overall, this book is a valuable starting point to help you make sense of the overwhelming amount of information and opportunities available on Amazon.