Guest Expert: Lexi Revellian
I've been blogging for over three years using Blogger. My blog is a writing one, with a 4/10 Google ranking, and I want to share with you my ideas about what makes a blog popular. You may not agree…which is fine. Every blog is different.
Blogging basics
• Blog regularly, at least once a week. Regard it as you would a paid column for a newspaper – you wouldn't tell your editor, "Sorry, I can't think of anything to write this week," now would you?
• Make sure your spelling and grammar are correct. Don't be sloppy. You are a writer!
• Add a device to give information about your visitors. I use Statcounter, which tells me the number of visitors, popular keywords and pages, time spent on my blog, and where visitors came from. (The information it gives may surprise you – my most popular post ever is 'One space or two after a full stop?') And Statcounter is free.
• Be patient. It will take you time to build a following, and I don't think there are any short cuts.
Content
• Like all writers, when I started my blog I posted short stories, or particularly good bits from my novels. But they never got much reaction from readers, and I realized I never read these on other people's blogs. My advice is, don't do it unless you have hordes of fans hanging on your every word, like Neil Gaiman.
• Vary the content. If you harp continually on the same theme you will bore your readers; they will get fed up and not bother to return. I occasionally have quizzes, videos or cartoons instead of writing an article.
• Keep it brief. Readers are daunted by great wodges of text.
• Controversial is better than bland.
• Links: these are vital. A list of links to interesting and useful sites and blogs is a big plus to your readers. Update it frequently as you come across new sites, and be ruthless with those that go downhill.
• Of course you will want a link to where readers can buy your book, if you have one.
• Widgets and gadgets: on the internet you can find some fun things to put in your sidebar. I have the moon's phases, a virtual hamster, and of course my novel in Bookbuzzr format.
• Invite guest bloggers. Most people are pleased to get the opportunity to post to a new lot of readers, and the favour may be returned.
Visual appeal
• Use images – a picture is indeed worth a thousand words. Google images is a good resource; aim for striking images that are relevant (it doesn't have to be in an obvious way).
• Think about the layout and colours of your blog, and the fonts you use. It's easy to make your blog wider, if that's what you want (look up how to do it on the internet). Make it different from other people's blogs. Remember that the colour black, though it's a dramatic background for pictures, isn't sensible if your blog has a lot of text. It's too hard on the eyes.
• Tweak the appearance of your blog from time to time. Good can always get better.
Comments: you want comments, right? They show to you and to anyone passing that your blog is busy and popular. So make it easy for people to comment, not hard.
• Do not make your commenters do word verification – they are doing you a favour, don't give them work.
• Do not enable blog moderation – when readers post, they want to see their comment appear immediately. Blogger now has spam filters, and you can remove inappropriate comments, if you get any.
• On Blogger's Settings, if you select not to show profile images on comments, you will save commenters having to tick the secure/non-secure viewing options.
• Never ignore people who bother to comment. Respond to the points they make. This is not only polite, it's fun, like having your own mini-forum.
Attracting readers
• It's worth joining Twitter, since this will alert a lot of new people to your blog. The thing to aim for is retweets, which will reach people outside your ambit.
• Put a link to your blog in your email signature, and add to your signature in any forums you frequent.
• Comment on other people's blogs (and follow the best). People are curious; if you make an amusing or interesting remark, they will come and look at your blog.
There, I think that's the sum of my knowledge about How To Blog. Best of luck with your blogs, and you are welcome at mine any time!
---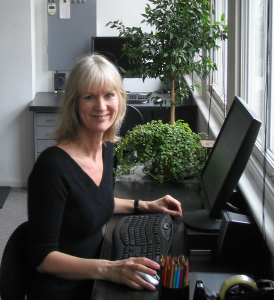 Lexi Revellian has written three novels, and has self-published the most recent, Remix, in e-format with the paperback version available soon. Her day job is designing and making silver and jewellery – commissions include fruit bowls for 10 Downing Street and the Royal Household's Jubilee gift to the Queen. Her dream is to sell lots of her books…