Guest Expert: Phyllis Zimbler Miller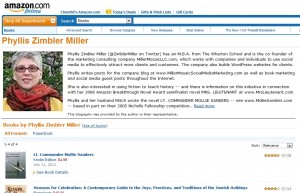 If you are traditionally published and your publisher hasn't done this for you, or if you are self-published and didn't know to do this yourself, take advantage now of an Amazon author marketing opportunity by creating an Amazon Author Page.
I just self-published my 86-year-old father's comedy short story book (The Love Life of Howard Handsome and Other Short Stories) through Amazon's CreateSpace. When the book was first displayed on Amazon, if you clicked on his name you went back to the book listing shown in search results for his name (the screen BEFORE you click on the book title and land on the actual book page).
Once I set up his Author Page, when you click on his name you now go there.
What is an Amazon Author Page?
An opportunity to let prospective book fans know more about you, the author.
On your Author Page, besides having a short bio and author photo, you can upload:
• Your blog posts (you can have feeds from more than one blog)
• Author events
• Additional photos
• Video
• Your latest tweet on Twitter
Of course all your books are there too.
To create an Author Page:
Go to Author Central at https://authorcentral.amazon.com/ and click on "Join Now" next to the home button.
Answer the questions and then get your confirmation email. Once you've done this, you can start adding info to your Author Page.
And while sometimes you may want to send people to a specific book page of yours on Amazon, other times you may want people to see everything you have on offer.
In this second case you can create a shortened URL for the link to your Amazon Author Page. (As an example see my Amazon Author Page at http://budurl.com/PZMAmazonPage ) Then you can give out this shortened URL when you want people to see all your books at one time.
Having a robust Amazon Author Page gives you an excellent opportunity for prospective book fans to "connect" with you. Make sure you take advantage of this opportunity!
Amazon Kindle tip: If you don't have a Kindle, you can still buy Kindle eBooks and read these on your computer. Go to Kindle Support and you can download free Kindle software for a PC or a Mac.
---

Phyllis Zimbler Miller (@ZimblerMiller on Twitter) is the co-founder of the marketing consulting company MillerMosaicLLC.com, which works with clients including book authors to effectively use social media marketing. Phyllis is also a fiction and nonfiction author, and her newest novel is "Lt. Commander Mollie Sanders".