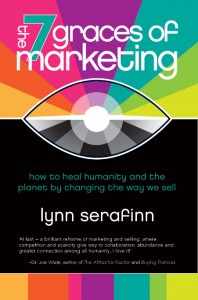 Today we have the great pleasure of being the host on Day 3 of the Virtual Blog Tour of author Lynn Serafinn whose book The 7 Graces of Marketing: how to heal humanity and the planet by changing the way we sell launches on Amazon on Tuesday December 13, 2011.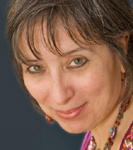 Lynn Serafinn, MAED, CPCC is a certified, award-winning coach and teacher, marketer, social media expert, radio host, speaker and bestselling author. Her eclectic approach to marketing incorporates her vast professional experience in the music industry and the educational sector along with more than two decades of study and practice of the spirituality of India. In her work as a promotional manager she has produced a long list of bestselling mind-body-spirit authors. Passionate about re-establishing our connection with the Earth, she supports the work of the Transition Town network in her hometown of Bedford, England.
Yesterday, Lynn visited Roy Martina at his blog Emotional Balance, where they talked about marketing disease, traps and the positive side.
Today, we'd like to share with you a recent interview we had with Lynn when we got to ask her some questions on purpose and 7 Relationships/Sins in marketing. We hope you enjoy it.
——-
BookBuzzr: What is the purpose behind your book? Is it inspired by events and experiences from your life?
Lynn Serafinn: Well, the original purpose of the book was quite different from what it turned out to be, and certainly when I started writing it, it was definitely inspired by events and experiences from my own life. The first thing that kicked it off was the fact that, about 5 years ago, I was really stuck in my business because I hated the "traditional" ways of marketing that so many business advisors and coaches were feeding me. But as I started to develop my own strategies for marketing, I noticed I was getting more and more coaching clients (I was a life coach back then, not a book marketer) who came from holistic professions (Reiki, Homeopathy, Reflexology, nutritional therapy, coaching, etc.). All these clients seemed to hate marketing just as much as I had in the past. The problem was, they were going out of business because they had no idea how to help their businesses grow. So as I started to evolve into a "holistic" marketer, I thought a book for these kinds of people would be very useful, as I could talk about different ways to market yourself that were in alignment with the kinds of values these people tended to have.
However, as I started to write and research the book, I began to realise that this subject was MASSIVE. The historical impact of marketing I uncovered, and its parallels with the increase of disease and environmental devastation, was nothing short of shocking. I began to see a much larger picture of how modern marketing had shaped our society and our worldview over the past century. It was then that the book took on a life of its own, and it began to take me on a journey of unravelling the many complex and powerful strategies marketers use—some conscious, some unconscious—to influence public behaviour, and the impact this has upon our health, our economy and our natural world.
So The 7 Graces of Marketing turned into a book to empower both business owners and consumers with information and alternatives, so we can start to undo the damage marketing has done over the past 100 years.
BookBuzzr: What are the "7 key Relationships" that impact marketing and life?
Lynn Serafinn: In the book, I talk about the "7 Key Relationships", which are:
Our Relationship with Self
Our Relationship with Source
Our Relationship with others
Our Relationship with our businesses
Our Relationship with our audience
Our Relationship with money
Our Relationship with marketing
Every one of these relationships impacts both the way we do business as business owners, and the way we consume goods as consumers. To me, the first two—our relationship with Self and Source—form the foundation for all the other relationships. When we are in good relationship with Self and Source, it becomes easy and natural for "The 7 Graces" to flow through us. We would never dream of exploiting or harming the planet, and would never create businesses or marketing campaigns that would contribute to any kind of imbalance in the natural world. We would be more likely to have a good relationship with other people and our business. We would have a respectful and engaging relationship with our audience, rather than an exploitive one. We would see money as the means of trade, and not the end in and of itself. We would view our business at a holistic level, ever mindful of its impact upon the world around us. And as a result, our marketing would be clean, clear, informative, inspiring and truthful.
BookBuzzr: Would you tell us a little about the "3 Furies" of Marketing and the "7 Deadly Sins of Marketing"?
Lynn Serafinn: In the book I sort of use the term "3 Furies" rather flippantly to describe the 3 cornerstones that are taught by many marketers: fear, sex and humour. In nearly every example of modern marketing, you will see one of these Furies appearing in some form or another. I talk a lot in the book about the long-term negative impact of being fed "fear-based messages" on a daily basis. It can have a devastating effect upon our health, and also on our society in general. Sex in marketing is usually used to induce feelings of sexual inadequacy, or to challenge vulnerable gender identity. Humour in marketing is largely used as a distracter, i.e., a way to take our attention away from the product/service, and simply build either brand awareness or some kind of camaraderie with the consumer. It's very subtle, and I give many examples of this in my book. in all cases, fear, sex and humour disempower consumers in some way, manipulating them to react with primal emotions, rather than to respond with forethought and choice.
The 7 Deadly Sins, all of which can carry any or all of these 3 Furies, are:
Disconnection
Persuasion
Invasion
Distraction
Deception
Scarcity
Competition
The section on these "sins" is probably a good 100 pages long, so I won't go into detail here. But this much I'll say: Disconnection (from Self, Source, etc.), is at the foundation of all the others. When we have a heart disconnection within us, it gives rise to all the other "Deadly Sins" over time. Our key mission in marketing and in life should be to re-establish our Connection.
That then brings us to "The 7 Graces", which are:
Connection
Inspiration
Invitation
Directness
Transparency
Abundance and
Collaboration
The more I meditate on this paradigm, the more I can see clearly whether or not someone's marketing (including my own) is helping or harming society. Take a moment to reflect upon them and you will see that, just as Disconnection is at the foundation of all the Deadly Sins, Connection is at the very foundation of all the other Graces.
I wish I had time to say more, but I've got to "move" on to another "stop" on the blog tour now! I do invite your readers to hop along to check out some of the other stops on the tour, and also to check out the book The 7 Graces of Marketing, where all these topics, and a lot more, are discussed in great detail.
Thanks so much for the interview, today!
———-
We hope you enjoyed this interview with Lynn Serafinn and that you'll check out her book The 7 Graces of Marketing: how to heal humanity and the planet by changing the way we sell
Here's why:



The 7 Graces of Marketing Telesummit
A FREE 7-Part Online Happening!
December 6th-9th, 2011
Register at http://the7gracesofmarketing.com/free-telesummit
When you visit the page at the link above and request a "launch reminder", you will automatically receive a FREE pass to Lynn's 7-Part online happening "The 7 Graces of Marketing Telesummit" with an illustrious panel of 24 bestselling authors and world-renowned speakers and media experts on society, business and marketing coming together to discuss how we can bring ethics and values back our business and marketing practices, and restore balance to our health, our economy and our natural environment.
Here's the spectacular list of guests speakers for the event:
Dr. Joe Vitale * Greg S. Reid * Dr. Eric Pearl * Dan Hollings * Pamela Slim * Liz Goodgold * Allison Maslan * Suzanne Falter*Barnes * Tad Hargrave * Misa Hopkins * Richard S. Gallagher * Ward Vandorpe * Barbara Altemus * Andrea Conway * Renee Baribeau * Renee Duran * Michael Drew * Chris Arnold * Jeffrey Van Dyk * Tanya Paluso * Kate Osborne * Shelagh Jones * Paula Tarrant * Lynn Serafinn
You can listen to the telesummit online in the comfort of your own home, and even ask questions during the broadcast.
If you are reading this after Dec 9th, 2011 you can still access the playback for a limited time when you register at http://the7gracesofmarketing.com/free-telesummit
This telesummit is a completely free
"no purchase necessary" gift from Lynn
FREE GIFTS
When you buy Lynn's book on Tuesday December 13, 2011, you can ALSO receive the MP3 download of all 10 hours of this historic telesummit, plus a complete library of beautiful personal development gifts from authors, speakers, coaches and other enlightened professionals from around the globe.
To claim your FREE pass to the 7 Graces of Marketing Telesummit and read about the free gifts, go to:
http://the7gracesofmarketing.com/book-launch/pages/pre-launch.html
Thanks for reading! As usual, please feel free to share your comments and thoughts below. I love reading your feedback.
AND… be sure to follow Lynn tomorrow when the next stop on the Virtual Blog Tour is Rich Gallagher, who will be interviewing Lynn on collaboration, getting started and her personal music career. To visit that "stop" on the tour, go to http://point-of-contact.blogspot.com