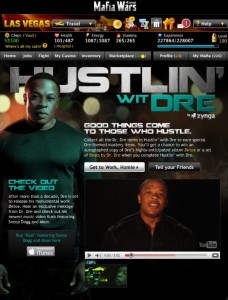 Dr. Dre, is a highly successful American record producer, rapper, record executive, and actor.
He has recently partnered with Zynga to market his music and brand inside the Mafia wars game. This is yet another sign that social games are emerging as a promotional platform of potential significance.
At BookBuzzr, we've recognized the importance of social gaming for book promotion. The CoverMatcher game that we've launched on Freado.com is an important first step in this direction. We're seeing tens of thousands of games being played with associated exposure to authors subscribing to the BookBuzzr Author Pro. We're working on several important improvements to the game. One of the major advances that you'll see in the game is the ability to challenge your Facebook friends from within the game. It works like this … you play a game of CoverMatcher. Then you send a "challenge" to one of your Facebook friends. If your friend accepts the challenge, your friend plays the CoverMatcher game. If your friend beats your score, your friend gets all of the points that you earned in that game. Else, you get all of your friend's points. You also get points just for sending out challenge invitations.
You'll also see several other improvements in the coming weeks.