Guest Expert: Aggie Villanueva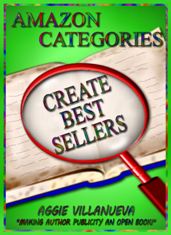 Amazon is much more than just the world's largest bookstore.
As an author you've made sure your book is listed on Amazon.com because everyone in the writing/promotion fields says you must. So what's the big deal? You've actually made more sales to family and friends on your own than through Amazon.
Valid question. But here's a question more to the point: once your book is published on Amazon do you let it just sit while waiting for sales that never come? That may be why you're not making sales to anyone but family and friends. You haven't yet learned how to "work Amazon,"
Did you know they give you free marketing youcould never afford to buy? But only if you work their simple system.One reason you don't make many sales through Amazon could be you haven't yet discovered that your book's catalog sales page is shrewdly structured to promote itself continually and on multiple levels, if you work it.
I'm a writer and author publicist and I know a good marketing setup when I see one.I've spent a lot of time researching the Amazon setup with no professional help except for calling their number and asking; which doesn't always garner an answer. I've studied their setup from the purely non-techie author's perspective, which is admittedly, what can they do for ME.
And the answer is a whole heck of a lot. A lot more than just listing my book in the world's largest retail book store where it would otherwise get lost in the crowd, as it does at most online bookstores.
Other book sellers just aren't set up the same way. That's why the algorithms they use are a closely guarded secret. For example, I could not have earned the title "multiple category bestseller" so easily elsewhere. And I couldn't have held that status steadily over the years, especially for self-published books, if I hadn't made use of the free automated publicity engines in place for me at Amazon.
Supplyingthe means to earn multiple category bestsellers is just one of the site's many paybacks. Unfortunately these promotional layers and automated systems are unknown to many authors. Also unknown is the importance of, and how easy it is, to ranktop 100in several high-profile lists, some without even selling one book. Yet being seen in these lists nearly always generates sales.
One of my books also made the reader's choice Top Rated list in three Kindle categories simply because I paid just a little attention to the Customer Review section of my Amazon sales page. It also made the top ten in several Tag Communities.
And I'm just skimming the surface of the ratings you can earn and the lists you can top. Once there you may forever place those titles in your promotional material. Readers trust even an unknown author if you have rated highly in lists, and/or earned bestseller status, maybe trusting you enough to buy your book though they've never heard of you.
Amazon wisely structured their site for auto-promotion, promotion and more promotion for each and every book. There are tendrils of opportunity extending from your sales page to your target audiences. And those lead to more and those lead to… Here are a few examples.
Category Bestseller: Just choose the smaller categories that are more tightly targeted to your subject. Sounds simple but you'd be surprised how many seasoned authors forget this. For example, instead of placing your book in the Reference category choose the smaller, less competitive and more precise sub-category under it, Handbooks & Manuals.
Why are the proper categories so important? Without the right categories you may never earn a category bestseller, therefore never gain the publicity needed for higher visibility, never be recognized by Amazon's algorithms which gains you rankings in the numerous other Amazon top 100 lists, which generates more sales, which gains higher visibility, which gains rankings, which generates more… You get the picture.
Tags: The Tags section of your Amazon sales page is much more than just a search engine assistant. And we all know search engines are not that great of an assistant in sending buyers to your book. Even if someone types your tags into the Amazon search bar, your book may be so far down the results list chances are no one will ever see it.
So counter this by paying a little attention to the Tags section on your book's sales page. The importance of tagging books sometimes gets lost in the shuffle, but Tags are yet another slice of the Amazon promotional pie, gaining you high visibility to a tightly targeted audience and free advertising to the millions who visit these customer Tag Communities.
You won't believe how easy it is to rank on the first few pages there, and you don't have to sell even one book to earn placement. Choose tags that best describe your topic and ask friends to "agree" with them by clicking on them. Get as many as possible to click the checkboxes because this gives you higher ratings in those Tag Communities. For complete instructions purchase my industry report on tags.
Top Rated List: This is another Amazon top 100 list where you need not outsell anyone to make the list, or even top the list. That's right. You don't have to sell one book, yet inclusion in this list nearly guarantees sales.
Amazon's search algorithm finds and tallies the number of reviews for each book and its star rating. The more good reviews your book has the higher up this reader's choice Top Rated list you go. So be sure to urge all your readers to write a small review on your sales page.
Other Amazon Lists You May Qualify For
Bestsellers in Books – These lists, updated hourly, contain the top 100 bestselling book sold by every author in every category combined.
Best Books of the Month – These are monthly Editors Picks.
Best Books of the Year – Editors Picks. As books editors at Amazon, they read all year with this page in mind, always asking, "Is this a keeper? Is this one worth telling people about?" These are the books they've been telling each other about all year, and ones they've watched customers spread the word about too.
Customer Favorites; Top 100 of the Year – Ranked according to yearly customer orders through October.
Top Rated – Kindle Bookstore only. The Amazon Top Rated calculation is based entirely on Customer Reviews. In addition to average star ratings, the calculation takes into account an item's total number of reviews and compares it with other items within a category or subcategory. This allows books with strong star ratings across many reviews to outrank items with a better average rating but only a few reviews. The Top Rated calculation also gives less value to older ratings in favor of more recent ratings to ensure that the Top Rated lists highlight items that customers currently think are best.
Hot New Releases – The bestselling new & future releases in Books.
Movers & Shakers – Movers & Shakers identifies the biggest gainers in sales rank compared to twenty-four hours ago. For example, if a music item has a current sales rank of ten, but was ranked 30 twenty-four hours ago, its Movers & Shakers increase would be 200%. You can read reviews and discussions of these books too.
Most Gifted – These lists, updated daily, contain books most often ordered as gifts.
Most Wished For – These lists, updated daily, contain books most often added to Wish Lists and registries.
If treated as a simple bookstore you'll never garner the vast benefits of selling books at Amazon. They have created an ingenious marketing engine that drills through several layers of free and automated publicity, each layer completely unique, and each layer reaching millions of readers every minute of every day.
If you don't utilize the system then Amazon is indeed just the world's largest bookstore. What a waste if that's all they do for your book when they could be making it a bestseller.
For complete details on how to become a category bestseller, and much more, watch for my upcoming interactive eBook, Amazon Categories Create Best Sellers.
---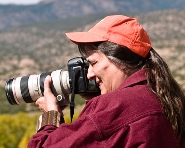 Published at Thomas Nelson before age 30, award-winning author Aggie Villanueva is now a self-published multiple fiction & nonfiction Amazon/Kindle category bestseller, for The Rewritten Word and Rightfully Mine. Aggie founded Promotion á la Carte, author promotional services and 6 months later was voted #2 at Predators & Editors in the Promotion category. She teaches author promotion and rewriting across the Web, and is also a critically acclaimed photographic artist represented by galleries nationwide, including Xanadu Gallery in Scottsdale, AZ.
.