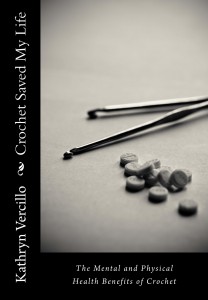 I recently released my newest book, Crochet Saved My Life, using Amazon's CreateSpace self-publishing tool. There were pros and cons, ups and downs, but all in all I've been really happy with the CreateSpace experience.
The Decision to Self-Publish
As an experienced author with other published books I came to this title not sure what route I wanted to go with publishing. I originally thought that I would get an agent and publish through a large publishing house. However, I really wanted to work with the right agent, was very selective in who I pitched to and that small circle of people ended up not being interested in taking on the title. At that time, I reassessed and weighed my options and decided that self-publishing was right for me.
I chose to self-publish for many reasons including:
Self-publishing allows the most creative control over the entire product and process
I have self-published in many other formats ('zines, blogs, etc.) and it always resonated right with me
At the core I have a very DIY spirit and self-publishing goes hand-in-hand with that; it especially made sense for a title related to crafting and creativity!
I have a strong business sense and willingness to learn marketing and promotion so I felt confident that I could fill in the gaps of not having a publisher's support in that area
I want to release periodic updated versions of this book as more studies and research are completed and that's easier to navigate with a self-published title than in working with a publisher
 
Why I Chose CreateSpace
There are three major good options for self-publishing that I'm aware of: CreateSpace, Blurb and Lulu. I have heard wonderful things about Blurb and would consider using them if I was publishing a full-color book because that's their area of strength but it was cost-prohibitive for a text-focused title. That left Lulu and CreateSpace. I chose to look at CreateSpace first because I have had good general experiences with the Amazon brand. I self-published a small booklet of crochet articles in 2011 to get a sense of the experience and felt like the process was really easy for me so that confirmed that I would use CreateSpace for my new title, Crochet Saved My Life.
Interior Layout
There was a learning curve for me in developing the interior layout of the book because I'm not extremely knowledgeable about formatting tools. I work mostly in Word and don't use a lot of the features it has so I had to learn that from the ground up. For example, I included individual stories throughout the book and I wanted to create a separate Table of Contents for that, so I had to figure out how to do that properly and it involved a lot of scouring the Word "help" section. I should note here that CreateSpace offers a service that will help with this. I chose not to pursue that because I wanted to save money and also wanted to figure it out for myself but it's nice that they have this option.
Once I uploaded the interior to the CreateSpace tool, the site provided me with really clear information about the errors that would affect printing. For example, I didn't have the right margins and I had used a font that didn't work for their printing requirements. I felt like the way it was explained was really clear, CreateSpace made it easy to figure out what the solution was and then all I needed to do was fix it in Word and re-upload the new version. I did have to do this several times but that was because of my own inexperience with formatting, not any problems with the CreateSpace system.
Book Cover Design
CreateSpace offers multiple options for cover design. Options include:
Use a template and choose one of their images for the cover.
Use a template but use your own image for the cover.
Use a more open template that allows you to upload a complete front cover or full front and back cover entirely of your own design.
Use their paid service to create a unique cover.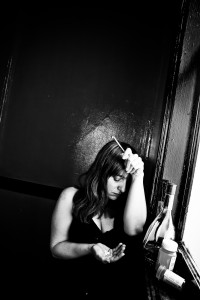 I knew that I wanted to use my own cover image. I did a terrific photo shoot with a local photographer whose work I love, Julie Michelle. I'm even less experienced at graphic design than interior Word layout so I wanted to explore the use of the CreateSpace templates for a cover layout. For the most part, I was happy with this option.
I did feel like the templates had some limitations:
Each template only offers a limited number of fonts, which differ from template to template. I'd find a font I liked on a template I didn't like as much and then couldn't recreate that on the template I did like.
Many templates just didn't suit the photographs I'd chosen so my options were limited because of that. For example, the title would have covered the image's core features on many templates.
Some templates I liked generally had features I didn't like. For example, I would like everything except the fact that there was no "about the author" option on a template.


I think that in general the template selection is good. I ended up very happy with the design of my cover but it took me a long time to get there. It would have been nice to have more flexibility in using the template. However, I can understand that if you want that much freedom then you can either design a cover entirely yourself and upload it or work with one of their designers at a cost. Neither of those options suited me personally, but they're available so I think this provides a nice range of cover design options for authors.

Previewing the Final Version

I loved that CreateSpace allowed me to view my proof either as an online copy or as a print version. I ordered the first proof as a print copy because I wanted to see exactly what it would look like in my hands. I used that to determine my final edits, which I uploaded to CreateSpace. I was happy with what I had so I used the online proof tool for the very final proofing. This offered immediacy, which was nice. Then I was ready to make my book available for sale.

Printing and Ordering

Once you approve your CreateSpace order, the book almost immediately becomes available in your own CreateSpace store. You can edit the details of this store easily and start telling people what the URL is so they can start buying copies. Soon after, your book also becomes available on Amazon. I was happy with how quickly this happened. I also ordered print copies for myself to send out for reviews, giveaways, etc. and I felt like they arrived fairly quickly at a good price. All in all, I have been very happy with the entire ordering process, and I've had good positive feedback from readers who have ordered online.

Making an eBook

I'm an old-fashioned print book reader but I know that many people want to read ebooks these days, so I wanted to make sure my title was available in a digital format. CreateSpace has an easy tool to convert your book to Kindle format. I used that. It was really easy to understand and took me under an hour to wrap it up and get it available on Kindle. I later figured out that I needed to contact Amazon to link the Kindle and print versions so customer reviews would show up on both versions but that was a simple matter of emailing them and it happened quickly. I've sold almost as many eBooks as print books, so I'm glad that I used this CreateSpace service.

Book Marketing and First Month Success

I have opted not to use any of the CreateSpace marketing tools. They offer services for press releases, promotional postcards, etc. I chose to do that on my own using other service providers that I felt offered a better rate than what CreateSpace offered. That was just a matter of shopping around and seeing what would best for me personally. I had a lot of experience with this from promoting other writing so I felt comfortable shopping around. I also relied heavily on marketing through my existing contacts in the blog and magazine world.


I set a goal of selling a minimum of 100 copies of Crochet Saved My Life in the first month of availability. I'm proud to share that I succeeded in exceeding that goal. Reader feedback has been very positive and several people have commented on the great quality of my CreateSpace self-published title.

This is a guest post by Kathryn Vercillo, author of Crochet Saved My Life. Kathryn has 10+ years of writing experience. She blogs at Crochet Concupiscence.