Expert: Faraaz Kazi
Earlier on we had writers wholly dependent on the publisher to print and market their book. The major drawback however, was that the book became just a face in the crowd and the marketing also was not quite upto the mark. Globalization has reached most countries and there is an information overload, thanks to the internet. With the advent of the social media revolution, this practice has gone for a toss as publishers themselves are looking for authors who are confident enough to promote their own work through dedicated platforms.
So now we have more and more authors across the world making profiles and building fan pages on social networking sites, interacting with fans and promoting their own work. Issuing online press releases, networking with fellow authors and doing virtual blog tours are just equally rewarding tools. A case in point is of noted marketing personality, Seth Godin who is very active on his blog and lays a platform for his books through the articles there. Fantasy author Neil Gaiman has approximately 4.5 lakh followers on Twitter and blogs on a continuous basis.
The most important aspect of building such a vast platform is to have an audience following your every move. And trust me you don't have to be a Lady Gaga or a Justin Bieber to do that! The trick lies in giving them relevant content. For example, if a large part of your audience consists of aspiring authors then it would be worthwhile to narrate them your experiences in the industry or write about your writing habits, inspiration, etc. Similarly, when you are coming out with a book, people expect to know about it and uploading a small synopsis which is also available on the back jacket of the book, no longer makes the cut. It is useful to give them a small extract, a couple of sample chapters may be on your website or blog. Blog tours are another important tool which can direct a large number of people to your site/blog. The interview should be done on a blog with a prominent following and one which reflects in search results. This is useful considering if people search for you on say, Google, they will get many such links and it is important that they get relevant information about you and your work in every such link.
Blogging consistently is another must for today's authors. As a good blog with relevant content pulls people towards it and also gives you an active platform to interact with them. Posting your content on Facebook and Twitter as an update on your profile/page or messaging it to the members of your group also helps in reaching out to the audience. However, it is important to focus your content around your work, for example if your book is on social media practices, it would do good if you could tweet about companies engaging in the practice, give case studies, etc. It also helps in posting about books of fellow authors, that way you create a mutual exchange program where they might post about your work to their audience and a viral chain is formed.
Personal experiences
On the personal front, I have tried utilizing social media to the best of my abilities for my debut contemporary romance novel 'Truly Madly Deeply' which sold out its first print run within forty-five days. 'The Young Marketer' blog, I started in early 2010 went on to become one of the highest followed Indian marketing blogs. This gave me a relevant platform to build an audience. Combine it with the people on my Facebook profile, fan page, friends' profiles and also the publisher's couple of pages, we had a decent reach to promote the book.
The first thing I did as soon as I got a publishing contract was to start working on a viral promo trailer of the book. I posted the trailer on almost all social networking sites I was a part of including Youtube. Still unheard of in India, where traditional publishing still abounds, the trailer took the social circuit by storm and caused a flurry of excitement amongst youngsters, whom my book was aimed at. Then it was time to get a website where I could gather all the relevant content on me and my work. That was not all, a week before the book was to be released in the market, I came up with a teaser promo. It acted as a subtle reminder to people who had seen the first trailer and also got me some new eyeballs.
The book received a good opening and I had fans calling in from distant cities to congratulate me. Of course, the Facebook fan page of the book and the group saw new members pouring in all the time and posting appreciative comments on the book. This acted like a decent word of mouth tool, prompting others around them to try the book. Then came the 'Truly Madly Deeply' instrumental for the novel composed by a leading Bollywood music director, such a thing had been done for the first time in India for a romance novel. The soul-stirring tune saw more than 15000 downloads within the first few weeks through all the sites it had been put up on.
I started sharing blog reviews of the book on my Facebook profile and page and requested my friends to share the same. This acted as a recommendation to their friend list and again created a kind of viral effect. Most of the time the same bloggers requested me for an interview and I obliged but I approached some of the major sites to feature me. A couple of interviews with customer oriented sites like Bookchums and Indian Book Reviews saw me gaining some space in their mind. I also organized a giveaway with Buzzr, a prominent online store that passes on super-saver offers to customers and later on, they even interviewed me.
I arranged for a tie-up with the biggest online retailer of India, Flipkart to offer signed copies of the book to customers. Flipkart, in turn helped me promote the book through their site. Signed copies were in so much demand that later on they were being auctioned by a couple of vendors on eBay and then I had to tie-in with another online retailer, Indiaplaza for the same. The book caught the fancy of people even on Goodreads (where it was nominated for the Goodreads annual awards in three areas including the 'Best male character' and the 'Best cover') and we had people from other countries enquiring about the book, and I subtly guided them to Amazon (sells a kindle version) as the international edition is yet not available. And now the result is clear; 'Truly Madly Deeply' is now into its refreshing second edition. Trust you me, this would not have been possible without the platform called social media.
---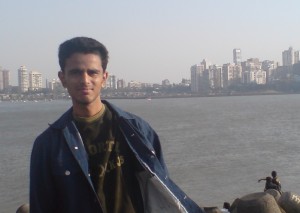 Faraaz Kazi is currently pursuing his post-graduate studies in management in Mumbai. He is a certified soft-skills trainer and runs his own academy in the same field. He completed his creative writing from XIC and obtained a diploma in freelance journalism from the British Institutes. He is fondly referred to as 'The Young Marketer' and operates a revolutionary blog with the same name and writes for major media houses on the same subject. He is a fellow member of the esteemed 'Film Writers Association of India'. He can be reached at contact@faraazkazi.com and to know more about him do log onto www.faraazkazi.com. Of course, he does 'Face' books and 'tweets' when he is not speaking!