A Facebook fan page (aka Public Profile) has become one of the most basic tools for authors to engage with their audience and find new readers. Almost every author that is serious about engaging with his or her readers has one.  If you don't have a Facebook fan page and you are a reasonably famous author, chances are that your fans have created a Facebook fan page for your book. Your Facebook fan page is rapidly becoming more important than your author page. If you have an author page and a fan page, chances are that your fan page will come up higher in a Google search (since Google provides a higher value to pages on Facebook than pages on other domains.) In other words, if you have a domain name called www.myauthorpage.com and a Facebook page called www.facebook.com/myauthorpage, the page on Facebook will come up higher in search rankings. Further, users on Facebook tend to not want to leave the Facebook environment when they are looking for content. So if you run an ad campaign on Facebook or if your link is shared with Facebook users, the users are likely to click on the link if the link leads to your Facebook fan page. With time your Facebook fan page is going to become more important as Facebook introduces new e-commerce features (imagine readers being able to click on and buy your book from within Facebook.)
So you are willing to get onto Facebook or you've already gotten on to Facebook and have created a Facebook fan page. What is your next challenge?
It is the competition for the attention of your readers. The problem with Facebook fan pages is that the basic design of Facebook is too 'plain-vanilla' and most of your readers are unlikely to spend more than a few minutes on your Facebook fan page. There is of course a solution and that is to hire a designer and spend a few hundred (or thousand) dollars to get a spiffy looking fan page with lots of little bells and whistles.
Or you can use the AuthorPages widget from BookBuzzr.
As many of you know, BookBuzzr has launched a new Facebook Fan Page Widget called AuthorPage. This new book marketing technology is available to all BookBuzzr Author Pro subscribers at no extra cost. Think of it as your Facebook fan page's welcome mat or red carpet for your fans. You can add this technology to your existing Facebook fan page or to a new page that you are just creating. It simply works as an additional link on your Facebook fan page.  Here are three reasons why you need this new book promotion technology:
1. Provides tabbed design for better engagement with fans
Facebook made some changes to its fan pages in the first quarter of 2011. The primary change was that it moved the tabs from the top to the left menu bar. The problem with this is that when a visitor visits your fan page, she will not easily be able to see the various sections of your fan page. BookBuzzr's AuthorPage technology circumvents this by providing a tabbed browsing interface with 'Books', 'About' and 'Fun' being the tabs. Further, the landing page (or "squeeze page" as it is sometimes called) has one single objective of getting the reader to preview a few pages of your book. In this live example of author Karen Mallory, you can see how clearly visible the tabs are to a visitor of his page (click on image to enlarge):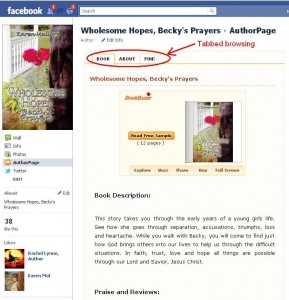 2. Increases likelihood of more people "Liking" your page
One of the more important goals for your Facebook fan page is to get visitors to click on the "Like" button. Having lots of "Likes" creates social proof and gives you a certain level of credibility. The challenge is that even if your readers like your book, they are unlikely to click on the "Like" button on Facebook unless they have a specific motivation to do so. With the BookBuzzr AuthorPages widget, once visitors come to your fan page a few of them are likely to click on the "Fun!" tab. When they do so, they will be asked to "Like" your page before being able to access the Fun content on your page. This incites their curiosity and they will click on the Like button before being able to go in and access the Fun stuff on your fan page. This live example of author Rachel Lynne, shows the 'like-inducer' in action: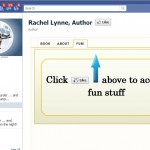 3. Increases likelihood of people returning back to your page
BookBuzzr's AuthorPages technology also integrates your Twitter stream with your Facebook account. So visitors to your Facebook page can see what you've been up to and follow you on Twitter. Further, once they click on the "Like" button on your page, they can play fun casual games on your Facebook fan page which integrates the Hangman word game and the CoverMatcher game featuring your book cover. They are able to earn points that they can use to win prizes on Freado. All this acts as a magnet to get your readers to return back to your Facebook fan page again and again. In this live example of author Jarrell Hayes, you can see the Hangman game that Jarrell has created. The page also features the CoverMatcher game, free points for use on the Freado.com website and more.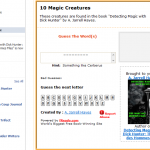 So go ahead. Spice up your Facebook Fan Page to find new readers for your book! Click here for step-by-step instructions.