How I discovered Roald Dahl
Growing up, I had never heard the name of Roald Dahl (for some reason, he was not a big name in India when I was a kid.) However, a few years ago, my daughter began reading Charlie and the Chocolate Factory. I did not read the book but the name caught my eye and registered somewhere in my head.  And when I chanced upon Roald Dahl's autobiography – Going Solo – in the library, I picked it up. Now I've moved on to a giant book of his collected short stories and devour one or two stories every night.
More Books = More Disoverability  = More Readers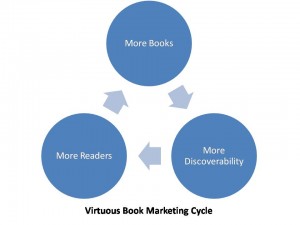 The idea of a debut author landing up with a best-selling book is an appealing one. But in reality, very few authors break into the big time with just one book. Most best-selling authors have more than one book to their credit.
Of course, one of the questions we need to ask is whether publishing success caused the author to write more than one book or whether writing more than one book caused publishing success. The answer is probably both. But here are some examples which give credence to the theory that writing many books improves your odds of succeeding:
John Locke did not even try to start marketing his books until he had finished three of them.
Amanda Hocking wrote 17 novels in her free time and then began self-publishing them as ebooks in April 2010
Joe Konrath's first nine books got rejected 500 times over a period of 12 years before his tenth book Whisky Sour was released.
When you write multiple books, each of the books acts like a small advertisement on Amazon for you. Marketers say that you should see a message dozens of times before the message registers in your brain. When your name repeatedly shows up in the recommendations, your readers are more likely to recognize it sometime in the future.
Also, writing multiple books helps you refine your craft which, these days includes not only writing, editing and cover design but also marketing and social media management. You need to make mistakes, many mistakes, before you start seeing patterns and avoiding the common traps.
Finally, should one of your book become successful, having more than one book out there will help you to meet the hunger of your fans from their favorite author. The last thing you want is for a reader who has just discovered you to be disappointed because she can't find anything else from you.
The perfect situation is to get on to a virtuous book marketing cycle where more books lead to more discoverability which leads to more readers which in turn gives you the confidence to put more books out there.
There is one important caveat to this commandment and it is this: You need to treat every one of your books as your magnum opus and not churn out half-baked stuff. From story to editing to cover design, it should all be there. And most importantly each book should be reader tested and released in to the wild only when you are sure that there is a market for it.
This concludes our series about the ten commandments of book marketing. Apply these principles and there is a good chance that you will see substantial success with your books. Good luck and happy book marketing.
Links to other articles in this series:
3. Have a book worthy of marketing
4. Commit sufficient resources
7. Experiment to find what works
8. Practice generosity creatively