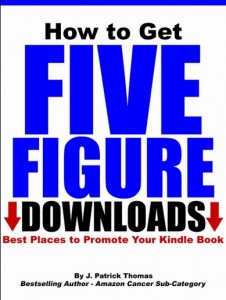 J. Patrick Thomas is a four-time cancer survivor who wrote a book titled 'A Call to Faith'. The book became an Amazon best seller in part because of Patrick's intelligent use of the Amazon Select's 5 Free Days Promotion feature. Using the ideas and resources outlined in this book, Patrick was able to get five figure downloads and scores of reviews for his book. The book promises to do the same to you if you put in the effort to take all the steps outlined.
The book is quite short and I was able to get through it quite fast.  It is reasonably priced. In fact, it seems to be available for free at the moment but that could be because JP's running a free promo.
Even though there are a few other free resources out there it still makes sense to get this book. With thousands of books available on Amazon for free and competing for the eyeballs of your readers, it makes sense to gain access to any information that can give you an edge.
I particularly liked the tips and tricks section of this book which includes ideas such as raising the price of your book just before your free promotion so as to increase the perceived value of your book in the eyes of your readers. The list of resources including list of hashtags to use, list of people who tweet about free Kindle books on Twitter and the list of places to promote your giveaway is also quite valuable.
Get this book if you don't have the time to do the research on your own for the resources and tips and tricks. Also, make sure that you have at least one month time to work on the ideas suggested in this book.