The Seven Book Marketing Mistakes That Authors Make (Part 3 of 8 )
The other day I was at a party when I met a serene looking man. I asked him what he did and he immediately replied that he was the author of a yoga book. His second sentence (even before he found out my background or interest) was to offer a copy of his book to me for sale. Needless to say he did not get a sale out of me. Worse still, I (and many other people like me) moved away from him.
If you've ever read a book on sales or if you've ever taken a class on selling here's an important piece of advice. Forget everything you've learned. Remember that you're seducing your readers into opening your book … not selling a used car or a computer system.
This does not mean that you don't think like a sales person. It just means that you don't act like a sales person. In marketing and sales, you learn about the sales pipeline or marketing funnel. At BookBuzzr, we've created a modified version of this kind of a funnel. Take a look at the BookBuzzr Book Marketing Funnel to understand the book buying process.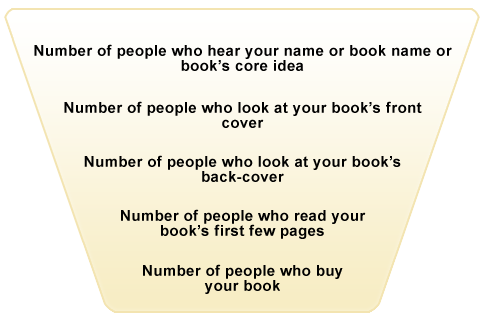 Your goal then is to get people to hear about your book's core idea (or about you or about the story behind your book.) The goal of your book front cover is to get people to look at the back cover. The goal of your back cover is to get people to look inside your book. The goal of the first few pages of your book is to entice your readers to continue reading (and buy the book.) So you are really selling on every page of your book.
If you have written a book on poetry or fiction think of yourself as an artist. If you have written a non-fiction book think of yourself as a teacher. Do not think of yourself as needing to sell or market or promote your work. For this reason alone, it's important for you to get other people to promote your book on your behalf. Write guest posts on other people's blogs. Interview other authors whose works you enjoy or your readership may enjoy. Get interviewed by other authors. Make it easy for your fans to share your book on their own personal websites and Facebook profiles. Get onto podcasts. Help other authors from your sub-genre and they will help you back. Help your readers with helpful advice on discussion forums and they may think of you as someone whose work they may enjoy discovering. Here's a little haiku I wrote to capture the sentiment of this particular point:
If you write it will they come?
Actually no.
But you make it appear so.
Sean D'Souza from Psychotactics refers to this as "the spider's secret." A spider does not go out and hunt for its prey. It simply sits and weaves its web. Think of yourself as a spider weaving a web of information and entertainment inviting your readers to step into your parlor. Of course, your end-game (entertaining your readers or helping them with your information) is much more honorable than the spider's end game but the tactic is worth emulating.
Another marketing concept that illustrates this point is "Push" versus "Pull" marketing. Push marketing is the notion of pushing your product (like a door to door sales guy or an email marketer who sends out hundreds of emails.) The other idea is to pull people towards your product by orchestrating the market conversation. Get people to talk about your book at parties, on Facebook and on Twitter and you've created a successful pull marketing campaign.
(Next: Book Marketing Mistake Number 3 – Not Promoting the Personality Behind the Book)
(NOTE: The author wishes to thank Chetan Dhruve, Freya and other members of the BookBuzzr team for their inputs into this series of articles.)