Joel Friedlander runs a popular and useful blog. He recently sent us a copy of his book 'A Self Publisher's Companion' for review. This book derives much of its content from Joel's blog writings. But this is not your average "blog-to-book" kind of book. In spite of being a long time reader of Joels' blog, I found the book to be stimulating and thought-provoking. It provided me with several new insights and ideas. In fact, the organization and structure of the ideas in this book make it an essential addition to every author's library. Here's why: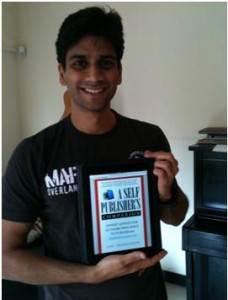 1. Inspiration – the book has several sections that serve to inspire you. Joel talks about the fact that the playing field is levelling and that anyone with a reasonable amount of passion, persistence and pluck have a shot at self-publishing success. Talking of inspiration, I found that the section titled '22 Ways to Win at Self-Publishing' got my blood pumping faster! It made me want to go out there and begin my own self-publishing venture.
2. Knowledge – this book also describes the publishing landscape in sufficient detail but in a readable manner. I got a quick recap of the nuts and bolts of the publishing business. On finishing this book the reader will have a framework to help determine whether a particular publisher is a traditional publisher, a cooperative publisher, a subsidized or vanity publisher or self-publisher. You will also have answers to several critical questions such as "Why you should not re-use ISBN numbers?", "Should you start your own publishing company?" and more.
3. Self-Evaluation and Understanding – the 'Self-Publishing Questionnaire' on page 28 is excellent at helping you evaluate your own desires and competencies in an objective, unbiased manner. That section apart, there are several other parts of the book that help you better understand your own mind and discover whether you really want to self publish.
4. Interesting Titbits – Joel has been in the business of self-publishing for nearly 3 decades. As such he is in a privileged position to provide commentary on its evolution and history. The book is sprinkled with interesting facts. For example, Joel talks about the book – 'What's Wrong with Dorfman' which was rejected 75 times before its author – John Blumenthal decided to self-publish (the book was selected by January magazine as one of the 50 best books of the year and was eventually sold to St. Marin's Press.)
5. Marketing Advice – Joel's own journey towards selling 10,000 copies of his book provides a ring-side view of an author's marketing adventure. As the founder of a company that specializes in providing book marketing technologies for authors, I found this section to be especially enlightening. Most authors don't do enough to market their book and believe that once they've finished writing their book, their job is done. The reality is that finishing a book is just a milestone. Marketing the book takes a huge amount of persistence, creativity and courage. This book offers ideas on optimizing your efforts when it comes to book marketing and promotion.
6. Avoiding Minefields – Self-publishing is a little like the wild-west. There are opportunities and dangers everywhere. This book has several sections that help you avoid minefields. The section titled "The 10 Worst Self-Publishing Mistakes – Explained" is especially revealing and can save authors a lot of heart ache.
7. Resources – The "Sources" section at the end of the book also acts as an excellent starting point for authors. The links pointing to articles that talk about personal branding is especially useful to authors attempting to gain recognition and a following in a highly crowded and noisy marketplace.
If you are an author who already has some knowledge about how the publishing industry works, this book will supplement your understanding and help you organize your ideas better. If you are a newbie to the publishing world, this book is an essential companion. Ignore it at your own peril.