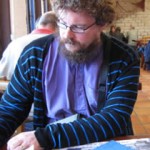 Dan Holloway is a Year Zero Writer; Organiser of the Free-e-day indie culture festival; blogger promoting the interests of readers and writers throughout the world and cyberspace; futurologist of publishing. Author of literary fiction; presenter of cultural studies papers; in search of a twenty-fifth hour in the day.
BookBuzzr recently interviewed Dan Holloway who is the author of the book 'Songs From The Other Side Of The Wall' which is attracting plenty of interest on BookBuzzr.
Songs from the Other Side of the Wall is a coming of age story that inhabits anti-capitalist chatrooms and ancient wine cellars, seedy bars and dreaming spires; and takes us on a remarkable journey across Europe and cyberspace in the company of rock stars and dropouts, diaries that appear from nowhere, a telepathic fashion mogul, and the talking statue of a bull.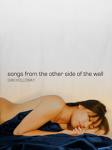 1. Could you tell us a little bit about yourselves?
Year Zero Writers is a collective for 26 writers of literary fiction from 8 countries. We got together in January 2009 because we were concerned at the lack of openings in the publishing mainstream for new writers of contemporary and experimental literary fiction. None of us wanted to compromise our writing for the sake of fitting the comercial mould, so we formed Year Zero as a group to promote our self-published work. We've brought out 7 novels so far, and Thirteen Shadows Waiting for Sunrise is our second anthology.
Back in October we started putting our work on the blog as well
(www.yearzerowriters.wordpress.com), and now we have new fiction on the site every day. We have a manifesto that's all about providing the highest quality fiction we can direct to our readers – the blog is a great way of doing that. We've also begun asking questions about writing as a group. Thirteen Shadows is the product of one of these discussions – about how an author goes about writing in such a way as to evoke the reader's pain.
2. Are there any other writers (published or not) in your family?
I can't speak for the others, but not in mine to the best of my knowledge.
3. Do you have a specific place or time that you write?
I write when I get in from work for an hour every day. I spend the bus ride home thinking what I'm going to write, so by the time I'm home I can just write without having to think. I usually get 1000 words or so done in an hour.
4. What kind of research did you do for this book?
Most of our stories came from conversations we'd had with each other on our website, but apart from that, I don't think there was much research. This was an intensely personal project for each of us. We just had to go deep into ourselves.
5. What is the most important lesson you have learnt when marketing your book?
There's no point writing a book and then trying to sell it. If you care about a career as a writer, you have to build a relationship with your readers over a period of time. You have to hang out where your readers do, talk to them, respect them, be at least as interested in them as they are in you – these are people you'll be sharing the next 30 years with – treat them right.
6. What do you do in your free time?
My what? I love music and I love art, so I often go to gigs and galleries with my wife. I do a fair bit of music journalism so sometimes I need to remind myself it's OK to enjoy the gig rather than constantly thinking what would make an amusing opening anecdote. I love cooking,too. Pretty much anything to do with food, and at opposite ends of the health and stodge spectrums – I love cooking rich, wholesome dishes like cassoulets and stews but I also love sashimi.
7. What's next for you?
We're taking Thirteen shadows on tour, doing a series of live readings, many in conjunction with some of our favourite bands. It all started with a big show at Rough Trade Records in Brick Lane on 4th February, where we had 5 writers and 3 bands, following which we did read from the anthology in England and the US. People will be able to buy our novels, as well as tour programmes and T-shirts
For me personally, I'm about to start a love story about a middle-aged woman, an art teacher, whose son dies, and she suddenly realises she's had her life on hold for the past 30 years. She spends a year literally giving away everything she does, herself even, for free to anyone who's interested, in the hope that she'll finally reach an audience. She has relationships with an alcohiolic ex-model and a 16 year-old student, who takes her on a trip to the place where her son died. I guess it's a meditation on what exactly we mean by free.
BookBuzzr thanks Dan for such a fantastic interview. Connect with Dan Holloway on fReado.
Where to find Dan Holloway online:
Website        : danholloway
Twitter         : agnieszkasshoes
Facebook     : Facebook profile
MySpace      : myspace
Blog           : agnieszkasshoes.blogspot.com
Where to buy in print: lulu.com