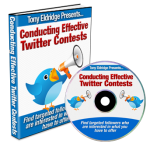 'Conducting Effective Twitter Contests' a new product by Tony Eldridge launches tomorrow March 1st 2010. It is an innovative learning method that combines traditional e-book and video training into one effective way to learn.
Tony says this material will help the author or professional make their Twitter account more productive. It does this by using a Twitter contest to help them find more targeted followers. It also teaches them how to build collaborative business relationships that can be profitable long after the contest is over.
What makes 'Conducting Effective Twitter Contests' unique is that it has a PDF format to deliver the text training while embedding two types of videos – skill based and knowledge based into the training. For the end user, it's a single file product that has a written portion and a video portion that work together. The video is embedded along with its respective written portion in the training.
By placing your order before 1st March, you will be preording your copy at a special price. Tony is also offering a 30 day unconditional money back guarantee.
I have been a subscriber to Tony's Video Marketing Tips for a while now and look forward to his new product – 'Conducting Effective Twitter Contests'. Don't forget to check it out!

Tony Eldridge is the author of The Samson Effect, an action/adventure novel that Clive Cussler calls a "first rate thriller brimming with intrigue and adventure." Tony is also the creator of the Marketing Tips for Authors blog and a free Video Marketing Tips For Authors newsletter, where subscribers have access to free weekly video tips on marketing.