Have you ever wished that your book broke into a best seller list on Amazon?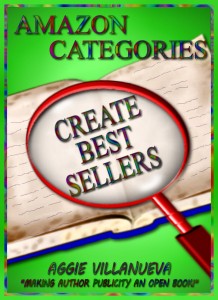 Aggie Villanueva has written a book that gives you tips and ideas to use the categories feature on Amazon in order to break into a best seller list. We reached out to Aggie in order to get her to share some of her learning with the BookBuzzr author community.
The interview follows:
Hello Aggie! Can you tell us a little about yourself?
Hello Vikram. Thank you so much for having me. I am so enjoying this little virtual visit.
My writing related bio is easy because it's below, so I'll tell you a little about the other part of myself! And thank you for asking.
I'm a baby boomer who quit school at 15 to run away and "change the world." I didn't do it – Imagine that! I got caught up in the hippie drug culture which negated the hippie ideals that drew me out to begin with. It's a common coming of age story for the 60s.
A few of my major influences were the Black Panthers (pre violence philosophy), the Freedom Riders, Martin Luther King, Maya Angelou freeing all caged songbirds, Malcolm X, Jerry Rubin, Abbie Hoffman and President Kennedy for sending in the troops to enforce civil rights and founding the Peace Corp. But most of all, my grandparents who raised me, humble Baptist preachers who lived what they preached.
I'm also a photographer. I was dubbed the Grandma Moses of the American Southwest, but last summer I moved from New Mexico to the Blue Ridge Mountains. Maybe I've now become the Grandma Moses of the South rather than Southwest?! Either way, I'm honoured by the moniker, and can't wait to aim my lens at this southern mountain beauty.
What's the story behind your latest book – 'Amazon Categories Create Best Sellers'? Is it really that easy to become a best-selling book?
Well, of course we all know the first step is to write a quality manuscript on every level through editing and publication. And we all know that's as easy as sweating blood onto virtual paper for several months and then paying editorial professionals to wring us out. BUT, once that shining book is in hand, it really is often just a matter of what I call "working Amazon." And the first step is to understand what they offer and simply utilize it.
Amazon has created an ingenious free publicity machine with one purpose in mind – to sell books. And if your book is listed there, their automated system will work for you too, if you just pay the system a little attention. Amazon wisely structured the site for auto-promotion, promotion and more promotion applied to each and every book without bias.
Many are unaware of the tendrils of intertwined opportunity extending from your sales page to your target audiences. And those lead to more and those lead to more and…you get the picture. But you must put a little effort into identifying your audience. Amazon pretty much does everything else on auto-pilot.
I would never presume even slight understanding of the workings of their automated algorithmic tendrils, but my experience there points to this: everything is based on the important thread of tightly targeting your audience.
Amazon knows that. Booksellers all claim to know that. But Amazon.com is the only site I'm familiar with that actually implements it into an automated system that goes far beyond tallying bestsellers, it permeates layer upon layer of interconnected promotion, advertising, direct email marketing and more. You'd spend 100s of thousands of dollars to purchase what Amazon offers for free.
In my book, through the eyes of this fellow writer (and I'm no techie genius or legal authority) I show how categories are set up to nudge your book toward category bestselling status if you choose them wisely. You'll also start to see the connections between all their other layers of promotion. Amazon also offers numerous top 100 lists, and I touch on several of them you can use to target your audience. Everything in Amazon's system seems to come full circle back to tightly targeting your audience.
What is the single biggest mistake that authors make when it comes to promoting their books on Amazon?
The biggest mistake is to publish a book to Amazon and Kindle and just let it sit there waiting for sales. Sales that will probably never come if you continue to do nothing.
Amazon is much more than just their own spot-on branding as the world's largest bookstore. Being so huge it's easy to mistakenly trust customers will flock to your sales page. If you don't utilize their system then Amazon is just the world's largest bookstore. What a waste if that's all they do for your book when they could be making it a bestseller.
What are some of the activities that authors should not do in order to avoid being banned or blacklisted by Amazon?
It does seem to be easy to get in trouble with The Giant doesn't it, even though you're innocent?
For the last year or more book reviews disappearing has been a big controversy in the writer's world because those reviews are a vital element in Amazon's publicity system. Many times legitimate efforts at writing and/or receiving reviews are attacked by Amazon. They've deleted thousands for no reason, or for mistaken reasons, and refuse to reinstate them.
And many have been deleted because of unwitting violations. It seems to be an over-reaction to the illegitimate use of reviews by the unscrupulous, but Amazon hasn't commented publically so we can only guess. And as usual, the innocent are the ones to suffer.
I am by no means schooled in copyright law or any legal matters, but something I've found that I think shocks authors new to Amazon is also something contrary to the way it is everywhere else; when you write (or receive) a book review on Amazon, you have no rights to it. They own it completely.
I know some authors who simply reprinted an Amazon review in an online press release, and Amazon threatened to pull the books from its "shelves."
There are a few obvious violations here (but commonly unknown to authors). Let me state again that I'm not a lawyer; this is my opinion drawn from studying their help files. The first violation I see here is that the review was reprinted without permission, and permission is already denied in black and white at Amazon.
Possible workaround: Quote from your book's review on Amazon using only the excerpts you would use according to the Fair Use laws. Or call Amazon each time you want to quote them and ask how you might do that legally.
The second violation I see was that the press release, naturally, contained promotional URLs. That's the whole purpose of a press release. So when Amazon's 'bots ferreted out the press release it was tagged in violation to the rule that no reviews could contain promotional URLs. There may be more violations I'm unaware of.
I delve further into this in the book. But I must stress that these are just my studied opinions. You'd have to talk with Amazon to confirm your own questions. Whether my opinions are drawn correctly or not, the result is the same – wrongful restriction/termination/deletion of well-meaning authors and reviewers. For further insight, I enjoy reading the articles at The Big River Review, Ethical Standards & Reviews on Amazon.com.
What are some simple steps that authors can take to improve their book's rank on Amazon and improve sales?
Simply changing your categories to more tightly target your audience is the first step. But it's a vital one. Some authors I've worked with checked to discover there were no categories attached at all to their print books. This happened to me too.
Without attached categories you aren't even eligible to be tallied for a bestseller or any of Amazon's top-100 lists. This alone could account for the fact that your book is not a bestseller many times over. You can change or attach categories in your Author Central account.
You can also try and rally your readers to write an honest review of your book on Amazon. Large numbers of high ranking reviews is the only way to rank in the Top Rated list. This is my favorite because this list is reader's choice. You don't have to outsell anyone to top the list, but inclusion, especially in the top 20, nearly guarantees sales. Readers really do frequent this list.
There are more top-100 lists and ways to utilize them touched on in the book, and more to be covered in my upcoming books. But don't wait around for me to write about it. Crawl all over your sales page and study what each section is all about. You just might be rewarded with a bestseller or two or three…
You are also a BookBuzzr subscriber. Which is your favourite BookBuzzr technology and why?
That's a hard choice, but I have to choose the games, specifically QuickQuiz. I created one called What Do Authors Really Know About Amazon.com, and I think I'm hooked.
I want to find time to study up a bit more. Just in the short time I spent creating some Amazon trivia questions I started to grasp the promotional possibilities of games.
I know. I know. I've never played online games so I'm the ONLY one in the world who's just discovering gaming's potential. But I really think you've outdone yourselves at BookBuzzr with this one. Kudos.
Where can users go to get more info about your book and your services?
This is the companion site for Amazon Categories Create Best Sellers. The site has many sections exclusive to my readers – fun, additional information and prizes. With a password provided in the book you can enter on-going contests, learn from growing lists of articles, video tutorials, and interviews. I'll be occasionally hosting marketing experts you can talk to via the discussions and comment boxes, and post your own questions. My favourite offering is the long list of URLs from throughout the book on Recommendations pages, a rich source of information about author promotion. Subscribe to be kept informed.
Authors wanting help with their book promotion can get it at my company, Promotion a la Carte, and My Book Marketing Systems will launch you into the mobile marketing arena affordably and with a growing list of products. For free education on all aspects of book promotion subscribe to Promotion a la Carte Blog. We often offer subscriber freebies so check it out.
Facebook Profile
Facebook Page
twitter
More than you ever wanted to know about Aggie
---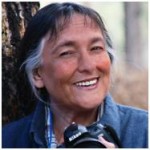 Aggie's how-to, The Rewritten Word, held multiple Amazon category bestseller status for over seventeen months (and still holding), and Amazon Categories Create Best Sellers hit multiple category bestseller three days after release at Kindle. Published at Thomas Nelson before age 30, award-winning author Aggie Villanueva is now a self-published fiction & nonfiction author at Amazon/Kindle with The Rewritten Word, Rightfully Mine and Amazon Categories Create Best Sellers, all of which reached bestseller in multiple categories shortly after release, and also ranking in multiple categories of Amazon's Top Rated and Hot New Releases lists. The Rewritten Word won the 2011 Global eBooks award in Writing/Publishing. Aggie founded Promotion á la Carte, author promotional services July 2010 and 6 months later was voted #2 at Preditors & Editors in Promotion, and #4 in 2011. My Book Marketing Systems is her sister company that save authors $100s – $1,000s, allowing them entry into the author app mobile market of billions. She teaches author promotion across the Web. Villanueva is also an award-winning critically acclaimed photographic artist represented by galleries nationwide, including Xanadu Gallery in Scottsdale, AZ. Contact Villanueva at aggie@promotionalacarte.com.