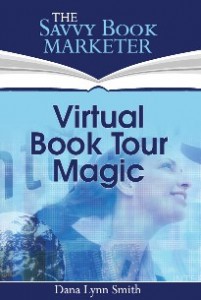 Today's guest post from Dana Lynn Smith, The Savvy Book Marketer, is part of the virtual book tour for her newest book marketing guide, Virtual Book Tour Magic.
Whether you're writing articles or doing interviews, a virtual book tour is your opportunity to shine in front of a targeted audience of potential book buyers.
Here are some tips for creating killer content that will showcase you and your book:
Don't underestimate the amount of time that it will take to create the content for your tour, and start as early as possible. You may find it easier to block out several days and get a lot of articles done at once, or at least get the rough drafts done for polishing later.
First, make a list of potential article topics and feature stories. For nonfiction books, use your table of contents for ideas.
It's a good idea to vary the type of content, with how-to articles, interview articles, book excerpts, feature articles, book reviews by tour hosts, audios and videos.
Find out if your hosts prefer a particular word count. You may find article guidelines on their websites, observe the length of other articles on their site, or just ask. About 400 to 700 words is typical.
Read your hosts' blogs to get a feel for the content and style of the blogs you'll be writing for.
Write your best stuff and proofread carefully.
Add a short introduction to the beginning of the article, explaining that it's part of your virtual book tour and linking to the tour page. Your tour host may expand on this introduction.
To increase the odds of getting traffic to your tour posts from search engines, use important keywords in the title and the article. My favorite tool for finding keywords is the Google Keyword Tool.
Include a call to action at the end of your articles, with a link to where readers can buy the book.
For audio interviews, find out if your host prefers to send you a list of questions or if it's best for you to write the questions. Provide the interviewer an introduction and a conclusion that contain information about your book and where to buy it.
Plan to send articles or interview questions to your hosts at least 10 days in advance and schedule this on your calendar. Be sure to include your book cover image and photo.
To learn how to organize your own successful virtual book tour, check out my new Virtual Book Tour Magic guidebook for authors.
Book Tour Special: Order Virtual Book Tour Magic by December 12 and you'll get an invitation to an exclusive book tour Q&A session with Dana on December 15.
---


Dana Lynn Smith, The Savvy Book Marketer, helps authors and indie publishers learn how to sell more books through her how-to guides, blog, newsletter, and private coaching. For more book promotion tips, get her free Top Book Marketing Tips ebooks at www.TheSavvyBookMarketer.com