Guest Expert: W. Terry Whalin
Years ago when I launched my first website, I worked hard at all of the details of this site—the functionality, the appearance and the contents. I was convinced this website would sell tons of books and generate terrific amounts of new writing business. I was stuck in fantasy and not reality because it did not happen.
I often meet unpublished authors who are convinced a website or lots of activity on Facebook is the single answer to sell many books. They have fallen into this trap of believing the line from the movie Field of Dreams, that if they build it, the people will come.
Today I'm wiser and have written more than 60 books for traditional publishers. As a book publisher, I've helped more than 150 authors launch their own book. From my years in publishing I want to give you five critical actions to take with your book marketing.
1. Decide to take 100% responsibility for your book marketing. Many authors have told me about their dismal book sales whether they have been published from a recognized publisher or a self-published. They always want to blame someone or some event. Anything and everything is responsible except their own actions. Your attitude is critical and yes others will help you but you have to lead the charge for telling others about your book.
2. Be willing to try a limited number of new things. You must focus your book marketing efforts to be successful. I encourage you to be reading books and online materials of others. As you learn about something new, try it and add it to your book marketing strategies. I understand you have to limit the new things or you will run in a million different directions and be completely ineffective at anything. It is important to be open to new opportunities.
3. Always be learning something new. It is a book marketing attitude killer to feel like you know everything there is to know about selling books. No one knows everything. Look for new ideas through blogs and online reading and reading books. With this open attitude, you will find new opportunities to sell your books to others.
4. Meet new people. Whether you go to a local Chamber of Commerce meeting or a conference, get out of your office and interact with others. Listen to their ideas and tell them about your own efforts. The cooperation and networking will increase potential for your own book sales. Many authors spend too much time at their keyboard or computer and not enough face to face time with others.
5. Decide to never give up on your book. Some books are slow starters in the market and take a while to begin selling. Persistence will be your friend when it comes to selling your book. I've read an individual has to hear about your book seven times before they actually make a buying decision. Whether it is five or seven times, these readers have to hear about the value of your book repeatedly to make a purchase decision. Your persistence in telling others and reaching new audiences will pay off for you. Never give up.
Finally I want to give you two free resources to help your book marketing efforts. First is a free traffic newsletter from my friend Jimmy D. Brown. His success in Internet Marketing is legendary. Pick up the first issue of his Traffic Jam Newsletter and 10 Ways to Get Other People to Send You Free Traffic. His newsletter will stir ideas.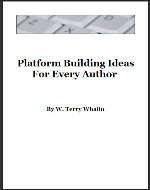 The second resource is my free Ebook, Platform Building Ideas for Every Author. Get it free at: http://terrylinks.com/pb Next read this book and take action on the ideas.
You can build it and they will come but only if you continue to promote your book.
---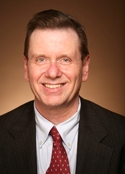 W. Terry Whalin, a writer and editor, lives in Scottsdale, Arizona. He has written more than 60 nonfiction books including Jumpstart Your Publishing Dreams. His website is located at: www.terrywhalin.com.
---