Expert: Carolyn Howard-Johnson
I like to think of myself as a writer of fiction and a poet. So I had a tendency to resist the e-book landslide when it first came tumbling around the ears of creative writers. But then—thankfully—my past retail experience took hold. (See my how-to books for retailers at www.howotoditfrugally.com/retailers_books.htm.)
I realized that that authors are retailers. We sell books. We sell our books to agents. We sell books to publishers. We sell books at the back of the room when we speak. We sell books on online bookstores. We're selling books when we do book signings or workshops. And I remembered that old retail maxim: Give your customer (in this case your reader) what they want, when they want it, and let them pay for it the way they want to.
E-books are all electronic but they come in all sizes from whitepapers (short how-tos or informationals) that should, by all rights, be called e-papers to full-blown books. Some are given away. Some are sold. They are offered as .pdf files, ready for readers to read on their screens or to be printed out. E-books can also be downloaded to multimedia readers. Surely one of these iterations can be used to your advantage.
I believe that every book should be issued as an e-book—either only as an e-book or in addition to the paperback iteration. Here is why:
1. When your book is published as an e-book, in addition to a traditional have-and-hold book, you let your readers get your book in whatever form they want.
2. You let your customers who want to read your book immediately get it fast.
3. People who live in other parts of the world can access your book without the wait and without the shipping expense.
4. E-books can also be published fast. Once written, I was able to have the first edition of The Frugal Book Promoter ready to use as a syllabus of sorts for my UCLA Extension Writers' Program class in less than thirty days.
5. You can update your book fast. Maybe you discovered a last-minute typo in your novel. Books on tech, as an example—require frequent updates.
6. E-books can be offered inexpensively to starving students or budget-conscious readers.
7. The number of pages is not an issue; you can include whatever you think best fills the reader's (or your story's) needs.
8. You can reach niche markets without much upfront expense. That means you could take a book aimed generally at marketing and refine it to meet the needs of the publishing industry. Or the retail industry. Ahem!
9. An author can publish an e-book absolutely free.
10. But mostly—tada!—e-books are great tools for promotion.
And just how do you use an e-book to promote or drive your writing career? Lots of ways.
Write an e-book to get your readers to sign up for your newsletter. Give it away free if they do.
Write an e-book to get your readers to subscribe to your blog. Give it away free if they do.
Get your reader to love your writing by giving away one of your books as an e-book. Be sure to include a teaser for your new book in the backmatter.
Write a sequel to your book and publish it as an e-book to spur sales that have become stale.
I'm sold on e-books. I even make the poetry chapbooks I publish myself available as e-books (www.howtodoitfrugally.com/poetry_books.htm) . People who love poetry take their Kindles when they travel to Paris as readily as people who read nonfiction business books.
Photo Credit: Sean Kelly
---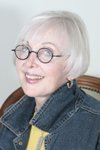 Carolyn Howard-Johnson is the author of the multi award-winning HowToDoItFrugally series of books for writers including the second edition (Updated! Expanded!) of The Frugal Book Promoter as an e-book (www.budurl.com/FrugalBkPromoKindle) or as a paperback (www.budurl.com/FrugalBkPromo). She has been an instructor at UCLA Extension's world-renowned writers program for more than a decade and has professional experience as a publicist, journalist, retailer and market—all great training ground for the business of writing and selling books. Learn more about her at www.howtodoitfrugally.com where you will find Writers' Resources like list of accessible contests, media release disseminators, MFA programs and more.